You are here
Ali highlights government measures to help industries
By Petra - Feb 09,2016 - Last updated at Feb 09,2016
Industry, Trade and Supply Minister Maha Ali speaks during a meeting with members of the Jordan Chamber of Industry, on Tuesday (Petra photo)
AMMAN — The government is keen to support various economic sectors in this difficult phase characterised by turmoil in Syria and Iraq, and its repercussions on the national economy, Industry, Trade and Supply Minister Maha Ali said on Tuesday.
At a meeting with members of the Jordan Chamber of Industry (JCI) to acquaint them with government measures to support the industrial sector, Ali said the government extended the programme of exempting profits of industrial exports from the income tax for three years until the end of 2018.
The government also exempted the service sector's exports from the income tax for 10 years, she added, noting that a committee of stakeholders was formed to draw an alternative programme for the industrial sector after 2018.
Ali told the industrialists that ministries and public institutions were instructed to remain committed to giving pricing preference for local industries by 15 per cent and to limit government purchases to national products in case there are three manufacturers until the end of 2016.
There are also deliberations with the Europeans to open their markets for Jordanian products through facilitating rules of origin to benefit from customs exemptions as stipulated in the EU-Jordanian partnership agreement and in light of the London Conference, the minister elaborated.
She also referred to the challenges the industrial sector has faced in the past few years, revealing that national exports during the first 11 months of 2015 declined by 6.1 per cent, by 41 per cent to Iraq and 38 per cent to Syria, compared to the same period of 2014.
The industrial sector is an investment-attracting business, which can be seen by the occupancy rates at the Kingdom's industrial estates, she said.
The minister noted that occupancy rate is 100 per cent at the King Abdullah II Industrial Estate, 98 per cent at El Hassan Industrial Estate, 60 per cent at Al Hussein Industrial Estate and 51 per cent at Muwaqqar Industrial Estate.
JCI figures showed that facilities registered at industrial chambers in the Kingdom increased in 2015 by 1,444, of which 400 were new factories and the rest were old institutions that renewed their memberships at the chambers.
Ali noted the industrial sector contributes around 24 per cent of the gross domestic product, employs 220,000 workers and houses 17,589 industrial institutions.
Related Articles
Jul 30,2016
AMMAN — The private sector must take the initiative in order to benefit from the Jordanian-EU agreement on simplified rules of origin, a gov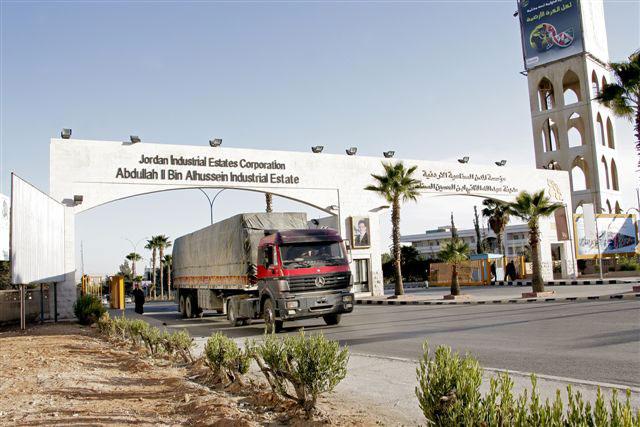 Dec 29,2014
Jordan Industrial Estates Corporation (JIEC) attracted more than 700 industrial companies in 2014, 12.5 per cent higher than the 617 firms in the same period of 2013, its chief executive said Monday.
May 09,2015
Prime Minister Abdullah Ensour on Saturday said his government is not targeting the industrial sector, which employs around 250,000 Jordanians who support more than 1 million people.
Newsletter
Get top stories and blog posts emailed to you each day.