You are here
Billion-dollar facelift as Bahrain bids to join Gulf boom
By AFP - Mar 29,2023 - Last updated at Mar 29,2023
MANAMA — With a multibillion dollar economic revamp in full swing, tiny Bahrain is vying to keep pace with its Gulf neighbours after more than a decade beset by political unrest.
It's a difficult path for the island nation that is a neighbour to gas-rich Qatar and connected by a causeway to Saudi Arabia, a key ally and the world's biggest oil exporter.
The United Arab Emirates, another regional powerhouse with well-developed trade, tourism and financial industries alongside its large oil sector, is just a short flight away.
Bahrain has witnessed turbulence since the crushing of an uprising in 2011 but has since begun a modernising facelift, instigating economic and fiscal reforms.
Extensive land reclamations are literally changing the shape of the country, while a host of gleaming new buildings dot the skyline and cranes work above nascent housing developments.
The small, non-OPEC oil producer, is seeking to decrease its reliance on its oil sector which accounts for 80 per cent of revenues, much of that from refining.
"The principles are clear: We want to grow. We want to grow faster than the world," Khalid Ibrahim Humaidan, head of the government's Economic Development Board, told reporters this month in Manama, the capital.
An unexpected boost could come from the announcement of diplomatic ties between Saudi Arabia and Shiite-majority Iran, which Bahrain accused of stoking unrest during the 2011 protests.
"In an optimistic scenario, the Saudi-Iran rapprochement would gather pace and create a more conducive environment for political conciliation within Bahrain which in turn could derisk the economy," Gulf Economist Justin Alexander, director of consultancy group Khalij Economics, told AFP.
Building spree
Bahrain, a monarchy whose Cabinet is appointed by the king, boasts a rich commercial tradition dating back to its days as a flourishing pearling centre.
Consisting of one large island and about 30 smaller ones, it was a British protectorate until 1971, becoming a financial hub that initially led its neighbours in terms of economic diversification.
Increased regional competition, mainly from Dubai and Doha, but also political instability and economic challenges, especially after global oil prices plunged in 2014, have all hurt Bahrain.
The 2011 uprising, inspired by revolutions sweeping the region, ended in a crackdown against demonstrators who had demanded an elected government.
Sunni-ruled Bahrain, assailing the movement as a plot by Shiite theocracy Iran, banned opposition parties and jailed political opponents, drawing harsh international criticism.
In 2018, wealthier Gulf countries agreed to support Bahrain's economic goals with $10 billion in loans, giving rise to the current building spree.
As well as land reclamations for new housing projects and skyscrapers around Manama, Bahrain is building diving centres including an underwater park.
A new $1 billion passenger terminal at its international airport opened last year, doubling annual capacity to 14 million passengers.
Bahrain has also built one of the region's biggest conference centres, aiming to attract international events and visitors.
Investors' concern
The country's financial planners aim to balance the national budget by next year, with its Economic Vision 2030 focused on reducing reliance on oil and gas and developing finance, logistics and tourism.
Many visitors to Bahrain stream across the 25 kilometre King Fahd Causeway from Saudi Arabia where alcohol is banned, unlike its more laid-back neighbour.
Manama wants tourism to contribute 11.4 per cent of GDP by 2026, up from around seven percent currently.
Last year, real GDP increased 4.9 per cent, the kingdom's highest growth since 2013, the finance ministry said on Monday.
"We're confident that we will continue going down that path and achieve the results that we desire," said Humaidan, who spoke as Bahrain hosted its annual Formula One Grand Prix, an event it has held since 2004.
With a footprint the size of New York City, Bahrain is a Western ally and hosts the US Navy's Fifth Fleet and a smaller British base.
The kingdom of 1.4 million, half of whom are foreigners, enjoys a strategic location along shipping routes — making it an important logistics hub, but also placing it at the heart of regional conflicts.
"Bahrain has tried to develop new sectors, such as fintech... However, since the 2011 protests and crackdown, the tensions in Bahrain's society have become a concern for investors," said Alexander.
But after the Chinese-brokered deal to end Iran and Saudi Arabia's seven-year rift, Tehran said it would also welcome restoring ties with Manama.
At the same time, Bahrain's Crown Prince Salman Bin Hamad Al-Khalifa, 53, who was appointed prime minister in 2020, is among a new generation of Western-educated Gulf leaders positioning themselves as a force for change.
Related Articles
Jun 18,2015
DUBAI — Bahrain said on Thursday it had seized explosives and bomb-making materials earmarked for use in Bahrain and neighbouring Saudi Arab
Sep 09,2015
PARIS — Bahrain's national carrier Gulf Air is planning to buy up to 50 Airbus aircraft.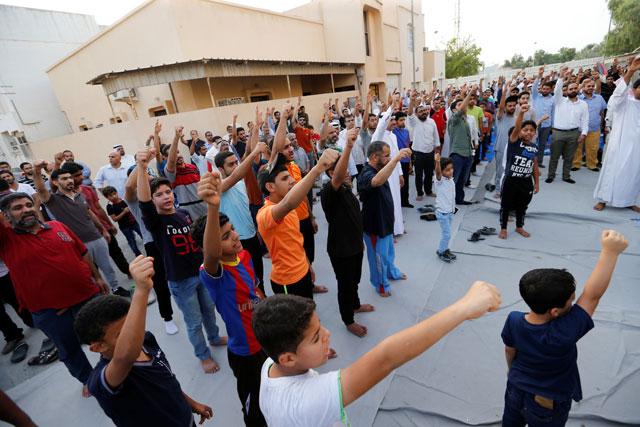 Jun 22,2016
DUBAI — Iran has warned Bahrain that it is fanning armed rebellion and "will pay the price" after an escalating crackdown on the country's S