You are here
China Telecom, local tycoon team up to win Philippine telco licence
By Reuters - Nov 07,2018 - Last updated at Nov 07,2018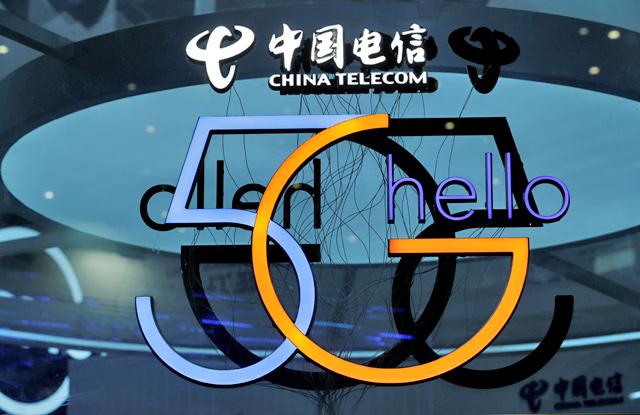 A sign of 5G is pictured at the booth of China Telecom during an Internet expo at the fifth World Internet Conference in Wuzhen, Zhejiang province, China, on Wednesday (Reuters photo)
MANILA — A consortium of China Telecom and firms controlled by a Filipino tycoon was provisionally named winner of the Philippines' third telecoms licence on Wednesday, after two rival bids were rejected and foreign players opted out.
State-controlled China Telecom joined businessman Dennis Uy — whose interests include real estate, energy, shipping and logistics — to form the consortium Mislatel and challenge existing players Globe Telecom and rival PLDT.
The third licence was offered at the behest of Philippine President Rodrigo Duterte and aims to boost the country's notoriously patchy services and end a domestic duopoly long accused of being uncompetitive.
Duterte has made strong business ties with Beijing his top foreign policy priority and expressed a desire to have a Chinese firm in the domestic market. He even "offered" the licence to Chinese Premier Li Keqiang.
Uy's ties to the president are well known and he was a contributor to his 2016 election campaign, hailing from Davao, the city where Duterte was mayor for 22 years.
In a statement issued moments after being declared winner, Mislatel called it a "historic opportunity to provide the best telecommunications services that Filipinos have been aspiring for".
The Mislatel consortium includes China Telecom and two of Uy's firms — Udenna Corporation, a holding company, and Chelsea Logistics Holdings, one of its units.
Foreign firms that had shown interest opted out, including Norway's Telenor, South Korea's KT Corp. and Vietnam's Viettel.
Foreigners were required to join a consortium due to a 40 per cent ownership cap in a local telecoms outfit, which experts say has limited competitiveness in a sector worth about $5 billion a year in revenue.
Mislatel agreed to meet the telecom regulator's 140 billion pesos to 240 billion pesos ($2.65 billion-$4.55 billion) capital expenditure requirement over five years.
There were only two rival bids — Philippine Telegraph & Telephone Corp. and a consortium of TierOne and LCS Group — but both were rejected for being incomplete.
Both said they would appeal.
Analysts see the Philippines and its 105 million people as a potential growth market, with its thriving $23 billion business process outsourcing sector and its underdeveloped mobile and fixed-line services, which consumer groups complain are unreliable and expensive.
Newsletter
Get top stories and blog posts emailed to you each day.