You are here
Chocolate demand falls as candy bars shrink and Asia growth slows
By Reuters - Feb 06,2016 - Last updated at Feb 06,2016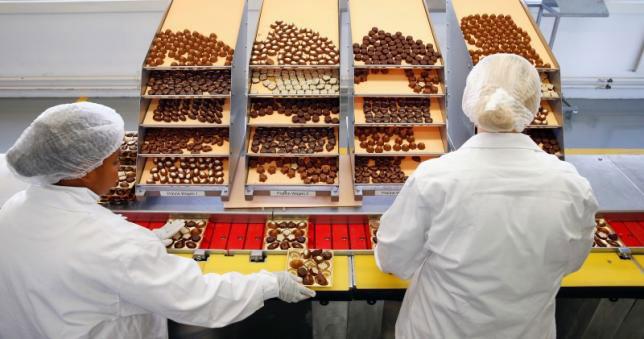 Employees of Swiss chocolate maker Lindt & Spruengli control the packaging of pralines at the company's plant in Kilchberg, Switzerland, September 24, 2015 (Reuters photo)
LONDON/NEW YORK — Candy bars have shrunk and economic growth in Asia has slowed, meaning people are eating less chocolate and its key ingredient cocoa, which has seen its price fall this year after defying commodities trends to soar in 2015.
High prices for ingredients last year, including nuts and milk as well as cocoa, helped make chocolate a less affordable treat for consumers in emerging markets such as China and India. Chocoholics in North America and Europe, meanwhile, opted for quality at the expense of quantity.
Market research firm Nielsen has estimated there was a 3.7 per cent year-on-year decline in global chocolate confectionery demand in the September-November period.
With food retailers pressing manufacturers to minimise price rises, one response was "shrinkflation". Some companies put smaller bars in the pack but kept the price unchanged.
"It used to be you had 'fun sizes' and now it's bite sizes," said Judith Ganes-Chase, soft commodities expert and president of New York-based J Ganes Consulting. "Fun size" bars in North America are two or three bites big.
A much lower-than-expected crop in Ghana, the world's second largest producer, helped push global cocoa prices up by more than 10 per cent last year.
The early weeks of 2016 have already seen prices fall back again by as much as 15 per cent, as production in Ghana rebounded and some investment funds reduced their holdings in commodities such as cocoa.
But those hoping for chunkier bars or cheaper chocolate are likely to be disappointed, with manufacturers likely to pocket most of whatever they save on ingredients.
Euromonitor analyst Jack Skelly indicated that most chocolate makers are focused on cutting costs at the moment, noting that cocoa prices are still much higher than a few years ago.
"Profit margins are at the forefront for companies at the moment due to global market slowdown," he said.
Consumers in more affluent countries have developed a taste for premium chocolate, with the extra cost partially offset by less frequent purchases.
Premium chocolate maker Lindt & Spruengli reported sales growth of more than 7 per cent in 2015, while mass-market rivals such as US-based Hershey Company have struggled.
The maker of Hershey Kisses and Reese's Peanut Butter Cups reported a bigger-than-expected 5 per cent drop in quarterly net sales last month, noting weak demand in China and North America.
"We believe the macroeconomic environment and competitive activity in the international markets where we operate will continue to be a headwind for the chocolate category and Hershey in 2016," John P. Bilbrey, president and chief executive of Hershey Co. said during a conference call.
According to Euromonitor analyst Skelly, price rises has stunted demand growth in Asia.
"In emerging markets like China and India I think affordability is a real issue which means chocolate isn't growing as quickly as it could," he said.
Grinding recovers
The fall in prices for cocoa has already begun to revive demand for grinders, who turn cocoa beans into ingredients like the cocoa butter used to make chocolate.
"We are seeing very keen demand and off-take which is unusual for this time of the year," indicated Jeff Rasinski, vice-president of procurement and risk management for Blommer Chocolate Company, the biggest cocoa grinder in North America.
Last year's rise in cocoa prices had made it less profitable to grind cocoa. In the 2014/15 (October/September) crop year, the International Cocoa Organisation estimated global grindings fell by nearly 5 per cent to 4.1 million tonnes.
Analysts and traders said the revival in demand for processed cocoa may be driven by manufacturers restocking inventory, and doesn't necessarily mean people will soon be eating more chocolate.
"There are a lot of people who delayed purchasing when prices were high. They're going to look to take advantage of the lower prices. That's going to help improve grind," Ganes-Chase said.
"It has nothing to do with how much chocolate is being sold on the retail level. This is more about inventory management and trying to lock in lower price levels for manufacturers, bakeries or confectionery manufacturers," she added.
Related Articles
Oct 30,2014
The cost of ingredients in chocolate bars is rising, and the nation's biggest candy makers have already warned of price hikes next year. 
Feb 09,2014
Deep in the Mekong Delta, two Frenchmen have their heads buried in a sack of cacao beans. The pair — co-founders of Vietnam's first artisan chocolate maker — resurface, murmuring appreciatively.
Aug 02,2014
An upstart US food technology company has developed a unique fermentation process using mushrooms to reduce bitterness in cocoa beans that it believes will cut sugar content in chocolate candy.
Newsletter
Get top stories and blog posts emailed to you each day.