You are here
Egyptians suffer austerity squeeze as economy stabilises
By AFP - Jun 07,2018 - Last updated at Jun 07,2018
People ride a train at a metro station in the Egyptian capital, Cairo, on May 28 (AFP photo)
CAIRO — While Egypt's economy is displaying the green shoots of recovery, citizens are enduring relentless price rises covering everything from water to metro tickets.
At Cairo's El Zahraa metro station, nestled among red-brick apartment blocks in a middle income neighbourhood, 46-year-old Omm Mohamed laments the government's economic overhaul.
"The burden has become too heavy, it has become unbearable," she said, dressed in a black full-length dress with her hair covered.
Standing alongside her teenage son, Mohamed said she was especially worried about her daughter who takes the metro to work at a private hospital.
"The rise in ticket prices has hit her especially, with her modest salary," she said.
On top of the metro fare, Mohamed's daughter is one of many Cairo residents who has to take tuk-tuks and microbuses to work.
On May 11 a uniform two-pound ($0.11) metro ticket was replaced with fares ranging from three to seven pounds. Barely a year ago, fares cost just one pound.
The latest fare rises brought street protests last month.
Around 30 people were arrested in the May protest, with some later freed.
'The burden will double'
Egypt's austerity policies are tied to $12 billion in loans from the International Monetary Fund, secured by Cairo to ease a fiscal crisis that saw its deficit balloon to 12.5 per cent of GDP in 2015/16.
On Saturday, the government announced a hike in drinking water prices that in some cases exceed 45 per cent.
Further measures are to come, with energy prices due to rise in July.
"The burden will double," said Mohamed.
Seeking to cut the country's deficit, authorities have also introduced a value-added tax, cut fuel subsidies and increased electricity prices.
Officials are repeatedly warning of more electricity price hikes and a reduction in fuel subsidies, prompting media outlets to prepare the public for the changes.
Last week state-run Al Ahram newspaper ran a front page about the price of oil, stating fuel subsidies cost the public purse 104 billion pounds annually.
The government has yet to announce the scale of the next price increase and cut in subsidies.
But Alia El Mahdi, an economics professor at Cairo University, said the metro protest set off "alarm bells".
"The Egyptian people have suffered many shocks in the last two years in consecutive price increases," she said.
The metro ticket change alone saw transport costs jump from five or six per cent of poor Egyptians' total spending to 20 per cent, Mahdi explained.
'Sacrifices' required
The rising costs come against a backdrop of economic recovery, with GDP growth increasing in the past year from 4.2 per cent to 5.2 per cent.
Meanwhile, inflation eased to 12.9 per cent in April, after reaching a peak of 34.2 per cent last July.
The unemployment rate dropped to 10.6 per cent in the first three months of 2018, against 12 per cent a year earlier, according to the government's statistics bureau.
Despite the positive figures for the national economy, price rises have disproportionately affected low earners according to Omar Adly from the American University in Cairo.
"There are other means to reduce the budget deficit which could reduce the pressures on the poor and lower middle income-class," such as tax rises, said Adly, a development professor.
But the IMF contends that the bitter reform medicine will benefit everyone.
"While the process has required sacrifices in the short-term, the reforms were critical to stabilise the economy," the lender said on May 17.
Such an economic overhaul will "lay the foundation for strong and sustained growth that will improve living standards for all Egyptians", the IMF added.
Related Articles
Jul 06,2014
Egypt raised the sales tax on cigarettes by up to 120 per cent on Sunday and doubled the tax on alcohol as part of a series of measures to curb the budget deficit and reform the economy.
Jul 05,2014
Egypt's prime minister has sought to justify politically sensitive subsidy cuts on fuel and natural gas which took effect on Saturday, saying they were a necessary part of fixing an economy hammered by three years of turmoil.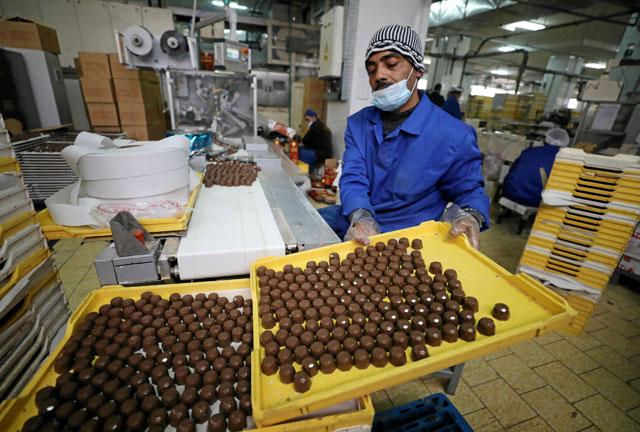 Feb 12,2017
CAIRO — Egyptian chocolate spread maker Swifax has doubled its sales and is struggling to keep up with demand since the pound currency dived
Newsletter
Get top stories and blog posts emailed to you each day.