You are here
Egypt's foreign reserves fall amid fears of devaluation
By Agencies - Oct 08,2015 - Last updated at Oct 08,2015
A general view of old buildings in Cairo on Wednesday (Reuters photo)
CAIRO — Egypt's foreign currency reserves fell for the third consecutive month in September, according to central bank figures, putting pressure on authorities to devalue the currency, limit non-essential imports and take urgent steps to promote investment.
Reserves dropped 9.7 per cent to $16.3 billion from the previous month, the lowest since March, after the central bank repaid $1.25 billion in loans that matured last month, the bank said Wednesday.
"They are getting closer and closer to the critical level," said Hany Farahat, a senior economist at CI Capital in Egypt. "If reserves go below $15 billion with the current state, the pound will come under severe devaluation pressure."
Egypt has been struggling to maintain its foreign reserves since the 2011 overthrow of longtime autocrat Hosni Mubarak. President Abdel Fattah Al Sisi, has staked his legitimacy on stabilising the country and reviving the economy.
Years of unrest have taken a heavy toll on Egypt's vital tourism sector and its investment climate.
Sisi's government has launched a number of mega projects to attract investment but they could take years to get off the ground. Meanwhile, analysts say concerns about a virtually inevitable devaluation are dampening interest.
"Everyone is expecting a devaluation, and since the expectation is there but it's not materialising, then investment will not come until after the devaluation takes place," said Amr Elalfy, global head of research at Mubasher Financial Services.
At the same time, the central bank has "social factors" to consider, he indicated. "Devaluing the pound will increase costs and will increase prices."
Import restrictions on consumer goods, "if the products are selected correctly without compromising local industrial and economic activity", could free up some foreign currency wasted on importing non-essentials, Farahat added.
Sisi hinted at such measures during a Cabinet meeting Saturday, saying the country imports "many unnecessary goods" that could be provided locally, according to a statement from the president's office.
Separately, a high-profile housing project signed by Abu Dhabi-run contractor Arabtec with the Egyptian government in March 2014 and seen as a sign of the Gulf Arab state's support for Sisi, has stalled, possibly risking his reputation and highlighting Egypt's habit of promising grandiose ventures and then struggling to deliver.
Egyptians were promised one million homes by 2020 at a cost of about 280 billion Egyptian pounds ($35.76 billion) and a raft of other projects to help the economy get back on its feet after the political upheaval that followed the 2011 uprising.
Sisi was counting on billions of dollars in pledges of help from Gulf Arab oil-producing allies. Some of this money has failed to materialise, and local banks are unable to finance the Arabtec project.
"Egyptians want these projects now but in fact they will take years to finish," said a Western diplomat in Cairo.
Egypt signed a memorandum of understanding for the project with Arabtec, which built the world's tallest building, the Burj Khalifa for Emaar Properties, but now it has ground to a halt. A source familiar with the matter pointed to disagreements over the contract and funding difficulties.
Work has not started and Arabtec has yet to submit a building plan. Arabtec declined to comment, while Abu Dhabi officials could not be reached for comment.
Abu Dhabi, the dominant member of the United Arab Emirates (UAE) and home to the country's federal government institutions, is the company's largest shareholder in Arabtec through state fund Aabar, which holds a 36.1 per cent stake.
Abu Dhabi officials have been Arabtec's chairmen since mid-2012, with the current board all part of the emirate's government and business elite.
In the original announcement, Arabtec's then chief executive Hasan Ismaik said the project owed much to Abu Dhabi's crown prince "who has been very keen to mobilise all efforts to boost support to our brothers in Egypt through a multitude of humanitarian, economic and social initiatives".
Sisi under pressure
The UAE is still deeply committed to Sisi but when it comes to commercial ventures it is paying closer attention to contract details for a good return on investment, Western diplomats say.
Sisi's success in cracking down on the Muslim Brotherhood, seen by Gulf allies as an existential threat, may mean the UAE has less reason to engage in ventures to back him. UAE finances have also been hurt by a fall in oil prices.
When, as army chief, Sisi toppled Morsi, he promised what he called a political roadmap to democracy. Parliamentary elections on October 18-19 mark the last step in that process.
His performance on the economy will come under greater scrutiny as political turmoil eases.
"At the moment, many ordinary Egyptians, due to the fear of political violence in the country, will be giving Sisi a lot of leeway, but eventually, the public will want to see results in economic terms," said H.A. Hellyer, nonresident fellow at the Brookings Centre for Middle East Policy.
"If the results are not sufficiently big or don't come quickly enough, be it on the Arabtec deal, the new administrative capital, or the Suez Canal expansion, Sisi's popularity could suffer quite substantially as a result," he added.
At an investment conference in March, Sisi said the UAE businessmen Mohammed Alabbar, through Abu Dhabi investment firm Capital City Partners, would lead the construction of a new administrative capital. This would include an airport larger than London's Heathrow and a building taller than Paris's Eiffel Tower.
Nearly four months after the initial memorandum of understanding was signed with Alabbar, Egypt's investment minister said that his company would only take "part of the project" along with other investors, including China Construction, which signed a memorandum of understanding of its own to study "building and financing" part of the project. Capital City Partners declined to comment.
In another example of the difficulties faced by these projects, a year after announcing it would build Egypt's first coal-fired power station, Abu Dhabi-based Al Nowais Investments said last month the paperwork still had to be finalised.
"I don't think the UAE is pulling out, but the UAE companies who tried to jump on the bandwagon are finding it difficult to fulfill commitments that were not planned well," said Mohammed Ali Yasin, managing director at NBAD Securities, the stockbrokerage arm of National Bank of Abu Dhabi.
Funding trouble
On the Arabtec deal, the parties disagree on profit sharing terms, the government's return for providing the land and state insistence labour and materials be sourced mostly locally for a project that will provide very thin margins, said Allen Sandeep, director of research at Naeem Holdings in Cairo.
It is unclear whether Egypt was swept up in the ambitions of Arabtec's ex-CEO Ismaik, who promised in June 2014 to make Arabtec one of the top 10 companies globally by 2018. Ismaik resigned a week later.
Khadem Abdulla Al Qubaisi, considered a close ally of Ismaik, has also left his roles as chairman of Arabtec and managing director of Aabar's parent firm International Petroleum Investment Co. It is unclear whether his departure is a signal of Abu Dhabi's waning support for the builder.
A source at Egypt's housing ministry said it was still waiting for Arabtec, which has posted losses for the past three quarters, to submit a workable plan detailing how it will build 100,000 homes over five years and the parties have yet to agree when work will start.
Arabtec also does not have the cash to fund the project costs upfront — its cash and cash equivalents were 296 million dirhams ($80.59 million) in arrears as of June 30 according to its most recent earnings statement.
Financing from Egyptian banks is unlikely due to insufficient liquidity in the banking system.
Though the Suez Canal extension was raised through a local investment certificate, analysts say this type of fundraising, which drew on nationalist sentiment to encourage scores of Egyptians to buy up certificates, is unlikely to be repeated.
Angus Blair, head of Signet economic forecasting, questioned the wisdom of mega projects.
"There have to be other solutions to grow the economy — it's one of the parts that could be played as an economic vision but these projects and programmes have to be really well thought through so there is maximisation of value and long term sustainability," he said.
Related Articles
Jul 13,2014
From a 59-storey tower in Abu Dhabi, the offices of Arabtec look out over the Gulf towards Middle Eastern and Asian nations where the construction firm hopes to expand. It is a symbol of the company's ambitions — and the way in which they have run into hard reality.
Mar 10,2014
A $40 billion deal for Dubai firm Arabtec to build one million homes in Egypt may mark the start of politically-inspired Gulf investment in the country's creaking infrastructure, from housing to transport, power generation and agriculture.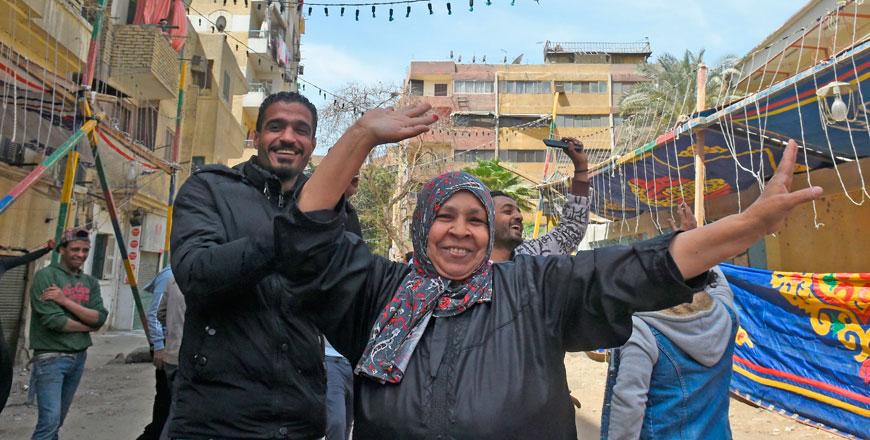 Mar 26,2018
CAIRO — Egyptian President Abdel Fattah Al Sisi has revived economic growth and tackled pressing problems in power and gas supply.
Newsletter
Get top stories and blog posts emailed to you each day.