You are here
EU and Vietnam reach agreement on free trade
By Reuters - Aug 04,2015 - Last updated at Aug 04,2015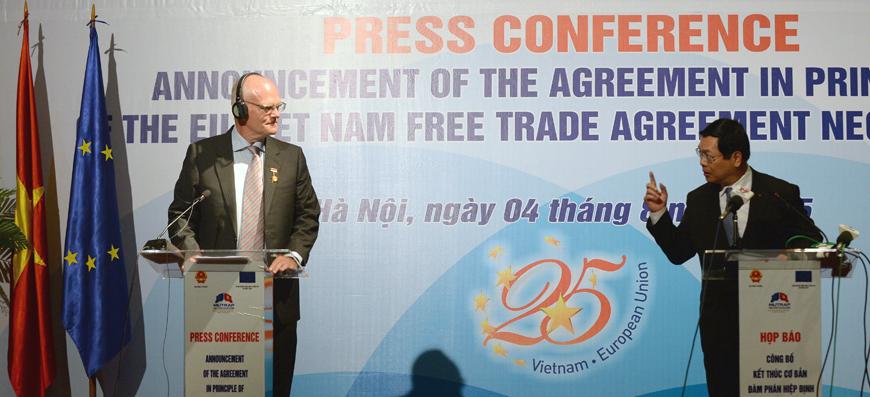 HANOI/BRUSSELS — The European Union (EU) and Vietnam reached a free trade agreement on Tuesday, the EU's second in Southeast Asia, paving the way for deep cuts in tariffs on almost all goods between their markets.
The agreement in principle may take several years to be implemented. A legal text should be completed later this year, after which it must be ratified by the 28 EU member states and the European Parliament.
Free trade with the EU would be a boon for Vietnam, a fast-growing, export-led economy set to receive preferential access to a bloc with a combined gross domestic product (GDP) of $18.46 trillion.
The two already share $31 billion in annual trade, and Vietnam's exports to the EU account for nearly four-fifths of their trade.
"We have a deal. This finely balanced agreement will boost trade with one of Asia's most dynamic economies," EU Trade Commissioner Cecilia Malmstrom told reporters in Brussels. "The agreement with Vietnam sets a new standard on agreements with developing countries."
The agreement would probably take effect in late 2017 or in 2018, she said.
Among the more sensitive issues to be resolved, she added, were commitments on human rights and a provision to avoid shipping material from third countries, to prevent the agreement becoming a channel for cheap Chinese fabric.
Citing complexities, the EU shelved trade negotiations with the Association of South East Asian Nations (ASEAN) and opted to pursue deals separately with ASEAN members as steps towards a multilateral pact.
The EU has reached an agreement with Singapore and begun talks with Malaysia. It says negotiations with Thailand will be on hold until its ruling military junta cedes power to an elected government.
Faced with economic uncertainty at home, some EU members are seeking to expand trade and investment in Asia. British Prime Minister David Cameron took a business delegation to four Southeast Asian countries last week.
Vietnam shipped $24 billion of goods to the EU last year, among them cellphones, electronics, footwear, garments, coffee, rice and seafood. The EU exports mainly electrical machinery and equipment, aircraft, vehicles and pharmaceuticals to Vietnam.
Industry and Trade Minister Vu Huy Hoang said Vietnam still help its exports and investment.
"We can integrate more into the economic life of the world," he told reporters.
Communist Vietnam is implementing broad reforms to its $184 billion economy and is aiming for trade deals with more than 60 of its export markets.
It hopes eliminating trade barriers with the United States, in its low-cost manufacturers, which is already used by Samsung , LG, Gap, Nike and Inditex's Zara.
Agreements were reached in the past 90 days with South Korea and the Russian-led Eurasian Economic Union, while negotiations are edging closer to completion for a Trans-Pacific Partnership, covering 12 countries worth 40 per cent of GDP, including the United States, Vietnam's top export destination.
Related Articles
Sep 06,2017
HANOI — Vietnam and Egypt agreed on Wednesday to nearly triple trade to $1 billion, including with ship-building and IT contracts, as Egypt
Aug 03,2017
MANILA — Southeast Asian ministers meeting this week are set to avoid tackling the subject of Beijing's arming and building of manmade South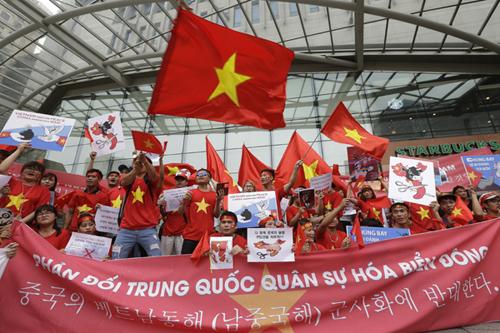 Jul 24,2016
VIENTIANE — Southeast Asian nations failed to agree on maritime disputes in the South China Sea on Sunday after Cambodia blocked any mention
Newsletter
Get top stories and blog posts emailed to you each day.