You are here
EU backs Microsoft's Activision Blizzard takeover
By AFP - May 15,2023 - Last updated at May 15,2023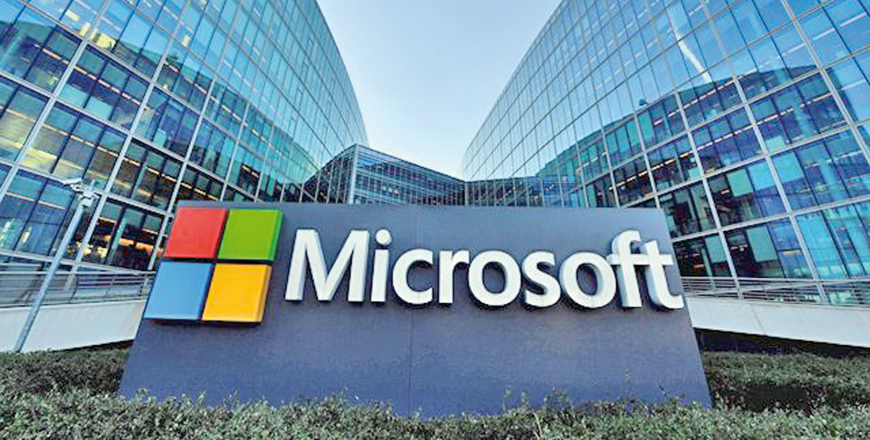 This photo, taken on March 5, 2018, shows the logo of French headquarters of American multinational technology company Microsoft, is photographed in Issy-Les-Moulineaux, a Paris suburb (AFP file photo)
BRUSSELS — The EU on Monday gave the green light to Microsoft's $69 billion takeover bid for US video game giant Activision Blizzard, just weeks after the British competition regulator blocked the deal, putting it at risk.
The deal is also under threat in the US giant's homeland, where last year the Federal Trade Commission launched a legal action to block it, one of Washington's biggest ever interventions to stop tech industry consolidation.
Xbox-owner Microsoft launched its gigantic bid for Activision Blizzard early last year to create the world's third biggest gaming firm by revenue after China's Tencent and Japan's PlayStation maker Sony, provoking antitrust concerns.
Activision Blizzard's hit titles also include "Candy Crush" and "World of Warcraft". If it goes ahead, it will be the biggest deal ever in gaming if it goes through.
The European Commission, the bloc's powerful anti-trust authority, said the approval was "conditional on full compliance with the commitments offered by Microsoft".
"The commitments fully address the competition concerns identified by the commission and represent a significant improvement for cloud gaming as compared to the current situation," it added in a statement.
The European Commission said that if Microsoft lives up to its promises, it will allow gamers to stream Activision's titles on any cloud gaming streaming services operating in Europe.
"The European Commission has required Microsoft to license popular Activision Blizzard games automatically to competing cloud gaming services," Microsoft Vice Chair Brad Smith said.
"This will apply globally and will empower millions of consumers worldwide to play these games on any device they choose."
But, unless Microsoft wins an appeal against the block by Britain's Competition and Markets Authority (CMA) last month, experts say it will be game over for the bid.
The CMA blocked the bid over concerns it could kill competition in the fast-growing cloud gaming market, and lead to less choice for British gamers in the future.
"If Microsoft does not win the appeal in the CAT, it cannot proceed with the acquisition even if the European Commission now approves it," said Anne Witt, a professor of anti-trust law at EDHEC business school in France.
"Unless, of course, Microsoft decides to leave the UK market. But that seems unlikely," she told AFP earlier this year.
If a regulator in one country does not approve a takeover, the merged company would not be able to operate that market.
While Britain is a smaller market compared with the European Union and the United States, millions use Microsoft products, including its ubiquitous Windows operating system.
This is the first major split decision between regulators in the EU and in Britain since the UK's exit from the bloc at the start of 2021. Japan has already approved the acquisition, and there is still a legal process ongoing challenging the merger in the United States.
Cloud gaming boom
Technology firms, including Microsoft, want a slice of the growing demand for "cloud gaming" as gamers move away from physical consoles to subscriptions and virtual access, allowing users to play games over devices like mobile phones and tablets.
The CMA pointed out in an analysis, however, that Microsoft already accounts for between 60 per cent and 70 per cent of cloud gaming services.
Microsoft has insisted to regulators that the merger will not hurt competition, promising that it would give access to Activision's games to 150 million more people.
It has already agreed deals to bring the "Call of Duty" to the Nintendo console and cloud game streaming services offered by Nvidia, Boosteroid and Ubitus.
Sony has alleged that the deal will give Microsoft the power to limit rivals' access to the popular franchise but Brussels said in Monday's decision that it found Microsoft "would have no incentive to refuse to distribute Activision's games to Sony".
The commitments that Microsoft offered that eased the EU's fears include a free licence to European users to stream, via any cloud game streaming services, all current and future Activision Blizzard PC and console games for which they have a licence.
"In such a fast-growing and dynamic industry, it is crucial to protect competition and innovation. Our decision represents an important step in this direction," EU competition chief Margrethe Vestager said.
The US Federal Trade Commission last year filed a suit to block the takeover, alleging that Microsoft had previously acquired smaller gaming companies in order to take the games exclusive.
Related Articles
Jan 18,2022
NEW YORK — Microsoft announced on Tuesday a landmark $69 billion deal to purchase US gaming giant Activision Blizzard, grabbing the sex hara
Oct 01,2022
SAN FRANCISCO — Google on Thursday said it is shutting down Stadia, the cloud video game service it launched three years ago to let people a
Feb 05,2022
PARIS — The global video game industry has undergone a series of blockbuster takeovers, most recently Sony's acquisition of Bungie and Micro