You are here
European stocks regain ground, hoping for smoother US-China trade
STOXX 600 rises 1 per cent, recovering most of Monday's drop
By Reuters - May 15,2019 - Last updated at May 15,2019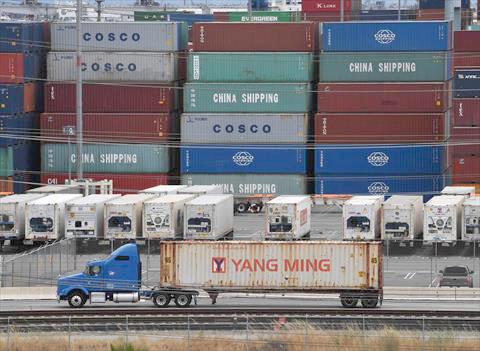 In this file photo taken on May 10, unloaded containers from Asia are seen at the main port terminal in Long Beach, California (AFP photo)
European shares gained on Tuesday, recovering most of the previous session's losses, as optimistic comments from Washington and Beijing helped soothed investors' fears about the top two economies' intensifying trade spat.
US President Donald Trump said he had an "extraordinary" relationship with Chinese President Xi Jinping and trade talks had not yet collapsed.
Earlier in the day, China said it agreed to continue talks on trade.
The pan-European STOXX 600 index climbed 1 per cent, lifting off Monday's two-month low which came after China slapped retaliatory tariffs on US goods, spurring investors into scaling back risky bets as they fled to safer shores.
Robert Griffiths, equity strategist at Credit Suisse, said he believed Trump would not be willing to risk the effect a second round of tariffs would have on the US economy, thus leaving scope for a de-escalation.
Germany's trade-sensitive DAX and London-listed equities tacked on 1 per cent, while French stocks gained 1.5 per cent.
Trade sensitive European auto and tech stocks bounced 2.2 per cent and 1.2 per cent each, after being caught at the heart of Monday's selloff, at which point the STOXX 600 had outperformed the S&P 500.
Lukas Daalder, BlackRock's chief investment strategist for the Netherlands, said hopes the eurozone economy is through the worst and bottoming out, relatively low valuations and optimism around a US-China deal will soon be brokered were helping fuel the gains.
However, the STOXX 600 is down 3.8 per cent this month, set for its biggest monthly loss since December.
Among auto stocks, Ferrari added 3.3 per cent, leading the sector index's rise. On the other hand, Renault tempered sector gains, falling 2.3 per cent.
The French carmaker's Japanese partner, Nissan Motor Co., flagged its weakest annual profit in more than a decade.
Banks rose 0.9 per cent, with Commerzbank up 4.3 per cent after Reuters reported UniCredit had stepped up preparations for a potential bid for the German lender.
Unicredit shares fell 1.7 per cent, on a day when Italian banks' shares were pressured due to their holdings of the country's sovereign bonds.
Italian cable maker Prysmian and German pharma group Evotec climbed 7.5 per cent and 5 per cent, respectively, on positive earnings updates.
Vodafone slid after a dividend cut, walking back on a pledge to maintain one of the biggest payouts in Britain, so it can build 5G networks and complete its looming acquisition of Liberty Global assets.
Newsletter
Get top stories and blog posts emailed to you each day.