You are here
IATA chief describes air travel industry as vital driver of global economy
By Ica Wahbeh - Dec 10,2014 - Last updated at Dec 10,2014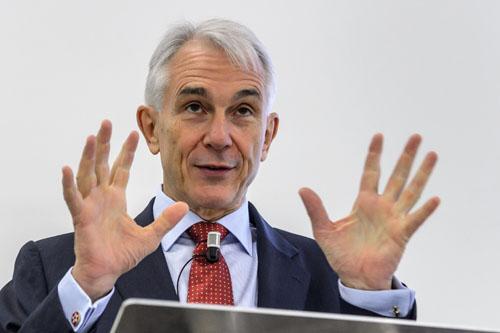 GENEVA — A century after the birth of commercial flight, the industry is a vital driver of the global economy, International Air Transport Association (IATA) Director General/Chief Executive Officer (CEO) Tony Tyler said on Wednesday at the "global media day", with focus on safety.
About 1 per cent of global gross domestic product (GDP) is spent on air travel. Including direct taxation, that will bring the total spending to about $823 billion next year.
This expectation is based on the anticipation that 3.5 billion people will travel and 53.5 million tonnes of cargo, worth some $7.3 trillion, will be transported by air.
The global air industry is expected to report a collective net profit of $25 billion in 2015, up from $19.9 billion this year, but there will be clear differences in profitability among regions.
Over half of the profits, about $13.2 billion, are expected to be generated by airlines in North America. The European industry, by contrast, although similarly sized, is expected to make only $4 billion.
Middle East airlines have one of the lowest breakeven load factors: 58.6 per cent. While average yields in the region are low, unit costs are even lower, partly driven by the strength of capacity growth, said Tyler.
Passenger capacity in the region is expected to expand by 15.6 per cent in 2015, up from 11.4 per cent in 2014, and post-tax net profits are expected to grow to $1.6 billion in 2015, up from $1.1 billion in 2014.
This represents a profit of $7.98 per passenger and a net profit margin of 2.5 per cent, according to IATA.
Given the risks in the world today, economic uncertainty, political instability, public health emergencies and terrorism, among others, the $25 billion profit forecast "is not much of a buffer to absorb a significant change for the worst in the operating environment", Tyler said.
As such, IATA's "top priority" and an area that needs to be modernised is safety and security, the IATA head noted.
"Unless we find a better way to screen passengers, we will never be able to cope with the rising demand," said Tyler, adding that the project "is moving forward, as well as other new initiatives in areas such as cyber security".
The aircraft tracking task force (ATTF) was established by IATA after the disappearance of Malaysian Airlines Flight 370 on March 8, 2014. The ATTF's mandate is to assess what can be done to improve global aircraft tracking capabilities. After evaluating the state of aircraft tracking and conducting an assessment of available and planned aircraft tracking products, services and practices, the ATTF found that "there is a range of existing technologies and services, many already installed on aircraft, which can be used to enhance worldwide aircraft tracking in the near term".
It also established that existing procedures need to be amended and new or improved communications protocols between airlines and air navigation service providers have to be developed.
Safety statistics are still good, said Captain Kevin L. Hiatt, chairman of the ATTF and senior vice president of IATA, who acknowledged that "commercial aviation is not sustainable if the public does not have confidence in the safety of the system" and that "public trust and confidence in aviation is at risk when large and modern aircraft cannot be located", an issue that his team "has attempted to consider" before issuing a report and recommendations that "will serve to improve the collective ability to identify and track aircraft globally, significantly reducing the remote probability of such an occurrence".
The MH370 and MH17 tragedies have made airlines "take the tracking issue very seriously", said Tyler, adding that "the industry is working to improve, but some issues such as tamper proofing will take time to address and implement".
Challenges facing the industry could be easier overcome through partnerships with governments, which are critical, said Tyler, adding that while "some very enlightened governments understand the strategic value of aviation connectivity", others, like in Europe, impose "heavy taxation and onerous regulation [which] are among the root causes of the struggles that European airlines are experiencing".
IATA, said Tyler, is "asking governments to regulate airport monopolies with a firmer hand than currently exists in most markets" and also "calling for rigorous economic regulation to ensure that there is an incentive to deliver cost-efficient infrastructure... at agreed services levels".
In its 100 years of history, the air travel industry has evolved in many ways, often leading the development of global systems.
"We had global reservation and telecommunication systems well in advance of the Internet, simply because, to a greater extent than most other industries, we were ahead of the curve in developing networks that spanned the globe," said Tyler.
The Internet has changed the way industries do business, aviation included, and IATA "is taking the lead in helping the industry in several areas".
Regarding cargo, "infamous for its paper-laden processes", eliminating the paper trail that accompanies every air cargo shipment is a "critical development that must happen" if the process is to get modernised, said the IATA CEO.
The distribution process, when it comes to passengers, "also needs some shaking up".
Airlines sell a growing array of product customisations and innovations using Internet technology, but "moving this innovation into the distribution processes for travel agents is a challenge".
IATA's "new distribution capability" programme aims to make it easy for airlines to distribute their full range through travel agencies.
Fact Box
In 2014, aviation connected 16,161 city pairs, almost double the 1994 number. Over the same period, airlines have halved the cost of air transport, after inflation, which has been a major stimulus for trade, tourism and foreign direct investment associated with global supply chains.
Total direct employment in the sector is expected to reach 2.45 million in 2015, up 1.5 per cent from the 2014 figure. Average unit labour costs are expected to drop by 2.5 per cent in 2015 as productivity per employee improves by 4.8 per cent, almost double the 2.5 per cent improvement in 2014. Airline employees generate gross value added (the company level equivalent to GDP) of $108,610 per employee, up 6.3 per cent over 2014).
Airlines are expected to use about 282 billion litres of fuel in 2015, which is expected to emit 751 million litres of carbon, a 5.1 per cent increase over this year.
In 2015, airlines are expected to take delivery of 1,700 new aircraft worth $180 billion. Of these, about half are expected to replace the less fuel efficient older planes.
Related Articles
Dec 10,2015
Geneva — The International Air Transport Association's (IATA) outlook of the airline industry for 2016 sees an average net profit margin of
Feb 09,2014
Top Asian airlines' profit margins are being eroded by a struggling air cargo business, even as they capitalise on increasing passenger demand, industry executives said Sunday.
Dec 05,2017
GENEVA, Switzerland — The International Air Transport Association (IATA) forecasts global aviation net profit to increase by around 11
Newsletter
Get top stories and blog posts emailed to you each day.