You are here
IEA takes oil market bulls to the slaughterhouse
By AFP - Feb 13,2016 - Last updated at Feb 13,2016
Iraqi workers are seen at the Rumaila oil refinery, near the city of Basra 550km southeast of Baghdad, Iraq (AP file photo)
PARIS — Oil prices may have rebounded off 12-year lows struck last month, but any hope for a broader recovery in the market would be misplaced, the International Energy Agency (IEA) said Tuesday, blaming the Organisation of Petroleum Exporting Countries (OPEC) for the latest glut of supplies on the market.
The IEA said in its monthly report that "it is very hard to see how oil prices can rise significantly in the short term... with the market already awash in oil..."
On the contrary, it added "...the short-term risk to the downside has increased".
Crude prices collapsed from over $100 per barrel in July 2014 to under $30 last month on a slowdown in Chinese growth and as the OPEC oil group stepped up output in an attempt to force out higher-cost production.
While low oil prices are usually good for oil consuming nations and global economic activity, investors have uncharacteristically in recent months begun to take the oil price as a proxy for economic demand, roiling global markets in volatility.
After the price for the main international oil contract struck a low below $28 last month, it rebounded to above $35 and now sits around $33.
But the IEA said "before victory over the bearish forces is declared we should look at the main factors driving the optimism".
It then proceeded to debunk the factors driving the market higher, first among them the prospect of an agreement between OPEC and non-OPEC nations to cut output.
The IEA said "the likelihood of coordinated cuts is very low".
OPEC glut
Another widely held view in the market is that increases will slow in OPEC production, except for Iran which is returning to the market after years of international sanctions, the IEA continued.
But it pointed out that Iraqi production struck a new record in January and that there are indications Saudi Arabia has stepped up shipments.
The Paris-based IEA, which advises oil consuming nations on energy issues, noted that OPEC is currently responsible for the glut of supplies hitting the market the past year.
While non-OPEC production levels are roughly flat from one year ago, at 32.6 million barrels per day (mbpd) in January, OPEC supplies were up by 1.7 mbpd from a year earlier.
"It is OPEC's business whether or not it makes output cuts either alone or in concert with other producers but the likelihood of coordinated cuts is very low," said the IEA.
At current levels, OPEC production means oil stocks are likely to increase further, it indicated.
Another driver of the recent bullishness in the crude market has been the view that low oil prices will boost growth in demand.
But the IEA said it holds on to its "...view that global oil demand growth will ease back considerably in 2016" to 1.2 mbpd from a five-year high of 1.6 mbpd in 2015.
It trimmed by 0.1 mbpd its forecast for world oil demand in 2016 to 95.6 mbpd.
Any change likely downward
The International Monetary Fund (IMF) last month cut its forecast for global growth this year by 0.2 percentage points to 3.4 per cent.
While this would still be an improvement from 3.1 per cent in 2015, the IEA noted the forecast is "heavily caveated with risks to growth in Brazil, Russia and of course slower growth in China".
"Economic headwinds suggest that any change will likely be downwards," it said.
The IEA also expressed doubt that the value of the US dollar, the currency in which oil is traded could be a sustainable factor to boost consumption.
While the value of the dollar has dipped in recent weeks as prospects of a series of interest rate hikes recedes, thus making oil cheaper to buy in other currencies, the IEA noted concerns over the state of the global economy work in favour of the US currency.
"...the dollar is still likely to remain strong as it benefits from its safe haven status with other economies faring relatively worse," it said.
Another factor driving oil prices higher is expected output cuts in non-OPEC production later this year.
The IEA, which forecasts a net drop of 0.6 mbpd in 2016, noted that drops in production have so far been slower than the market has predicted.
"Perhaps resilience still has some way to go," it said.
In Asian trading on Tuesday, the price of Brent crude edged up two cents to $32.9 per barrel, while the main US contract, WTI, climbed 31 cents to $30.
Related Articles
Jan 20,2016
LONDON — Unseasonably warm weather and rising supply will keep the crude oil market oversupplied until at least late 2016 and could push the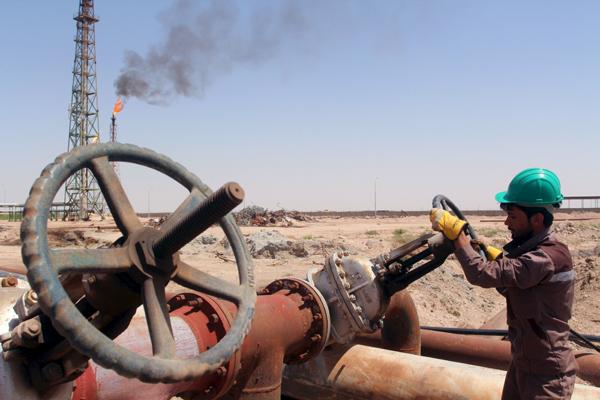 Apr 17,2016
DOHA — Saudi Arabia demanded on Sunday that Iran join a global deal on freezing oil output, jeopardising the chances of an agreement between
Oct 14,2014
Global demand for oil is still weighed heavily by weak economic growth, and this together with a supply glut is pushing down prices which may fall further, the International Energy Agency (IEA) said on Tuesday.
Newsletter
Get top stories and blog posts emailed to you each day.