You are here
IFC commits $1.3 billion in MENA to combat poverty
By JT - Sep 19,2016 - Last updated at Sep 19,2016
AMMAN — IFC, a member of the World Bank Group, committed over $1.3 billion in the Middle East and North Africa (MENA) last fiscal year, leveraging the power of the private sector to create jobs, improve local infrastructure and spur economic growth in countries from Morocco to Afghanistan.
During the fiscal year 2016, which ended in June, IFC worked on addressing the fundamental barriers to economic development in the region through a range of investments and advisory projects, according to an IFC statement.
The statement said the total amount included $331 million mobilised from other investors. The organisation also launched 20 new projects to advise both governments and private businesses on issues ranging from regulatory reform, to corporate governance and dispute resolution.
"From a political and economic standpoint, it has been a challenging year for many countries in the region," said Mouayed Makhlouf, IFC regional director for the MENA. "But MENA has tremendous long-term potential and by tapping into the creative force of the private sector, we can help create jobs, support infrastructure, and bring sustainable growth to the region."
During the last fiscal year, IFC's work focused on promoting gender equality, supporting states affected by conflict, bolstering local infrastructure, especially power supplies, combating climate change, and expanding access to finance for smaller businesses, according to the statement.
Among other projects, IFC arranged a $375 million financing package for Iraqi power company Mass Global Energy Sulimaniya, helping to increase access to energy for 3 million people in the Kurdistan region of Iraq. IFC also provided $74 million in loans to Jordan's Fotowatio Renewable Ventures, helping the company build a 50-megawatt solar power plant north of Amman.
IFC worked to extend access to finance for micro, small and medium enterprises, the backbone of most regional economies. The organisation provided a $100 million loan to Egypt's Arab African International Bank and $75 million to the National Bank of Kuwait-Egypt, helping the firms scale up their lending to small and medium enterprises.
IFC also invested $10 million in Afghanistan International Bank, helping it reach out to SME borrowers, and provided a loan to Lebanese micro-lender Al Majmoua, helping it to provide financing for entrepreneurs, including women, in the rural areas of the country.
Related Articles
Jan 16,2018
AMMAN — The International Finance Corporation (IFC), a member of the World Bank Group, has arranged a financing package of up to $188 millio
Jun 29,2017
AMMAN — The spectre of climate change looms large over Jordan, as it does for many other countries in the Middle East and North A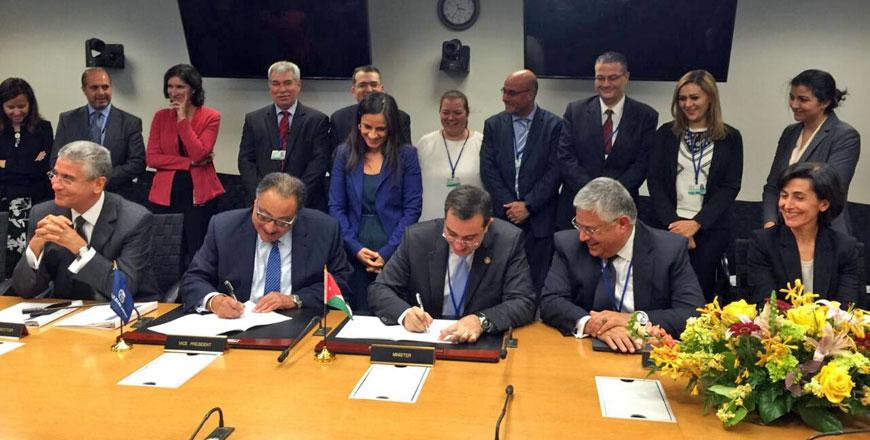 Oct 12,2016
AMMAN — Jordan signed an agreement for a $300 million soft loan with the World Bank Group (WBG) during the annual meeting of the group and t
Newsletter
Get top stories and blog posts emailed to you each day.