You are here
IFC, Swicorp support Luminus Education with $18 million
By JT - May 26,2015 - Last updated at May 26,2015
AMMAN — Luminus Education, a vocational and technical education provider, announced Tuesday in a press statement the launch of a regional expansion strategy funded by a multimillion-dollar investment initiative of the International Finance Corporation (IFC), a member of the World Bank Group, and Swicorp.
"The $18 million agreement will support Luminus Education's plans to diversify its offerings and expand both locally and regionally as a growing number of education experts is currently calling for increasing the number of vocational and technical colleges to combat the region's youth unemployment predicaments," the statement said.
According to a report published by IFC's E4E Initiative for Arab Youth for 2011-2012, the region demonstrates the highest unemployment rate among youth (25 per cent) and the lowest participation of females in the labour force (3/4 working-age women).
The report reveals that the formal private sector employs no more than 20 per cent of the workers in any country in the region. However, employment growth (3-5 per cent per year) has been insufficient to absorb the youth entering the labour market, mainly in low value added sectors.
"Vocational and technical education is no longer an option. It is a grassroots solution to curbing unemployment in the region, a conduit for bridging the gap between work skills and education outcomes," Luminus Chief Executive Officer Ibrahim Safadi said in the statement.
"Around 40 per cent of firms in the Middle East and North Africa identify the available skill level in the labour market as a major constraint for business," Safadi indicated.
"Vocational education is principally designed to offer Arab economics alterative options, which is no doubt a challenge given that the majority of youth still prefer university degrees and public sector jobs over technical and vocational career tracks," he added.
"Bridging the gap between education outcomes and labour market needs is a major challenge addressed today by educational institutions in the Arab World. It is a critical issue that even countries with flourishing economies in the region need to address," said Ahmed Ali Attiga, IFC Middle East & North Africa head of mission.
"It is the very reason why our organisation is strategically focusing on finding real solutions to this predicament, which has serious economic and political repercussions," he added.
"Luminus Group's regional expansion strategy and the model it adopts in addressing learning and workforce readiness is exemplary. IFC is synergising with the group's plans to roll out its model across MENA, which will no doubt empower Arab youth and help them develop the skills very much sought by the private sector," he continued.
"IFC is not only funding the roll out of this model. It will also offer consultancy and know-how concerning governance and risk management issues related to this endeavour. We will also study international best practices that would allow us to leverage the Luminus model regionally," Attiga concluded.
"We are really excited about the partnership between Luminus, IFC and Swicorp. The international success of vocational-based education in achieving a fit between learning outcomes and workforce readiness has become a topic of the greatest importance for countries tackling the challenges of youth unemployment," said Nabil Triki, managing director and co-head of private equity at Swicorp in a press release commenting about the agreement that has been officially announced last Friday during the World Economic Forum at the Dead Sea.
The group, which has the largest community college in Jordan, has adopted an innovative strategy to enhance the delivery of quality education services by addressing the mismatch between the skill-sets of Arab youth and labour market needs, in line with IFC's E4E Initiative for Arab Youth.
E4E works diligently to license and disseminate internationally-accredited programmes in technical and vocational education (City & Guilds and Pearson), establish one umbrella for the sector, and allow colleges to offer BA programmes in specific technical fields in partnership with international universities.
Luminus is targeting 20,000 students by 2020 with offerings focused on vocational education and technical training, workforce development, creative media and language training.
Related Articles
Feb 24,2015
The ICT Association of Jordan ([email protected]) on Tuesday said an agreement signed this week between Jordanian universities and the International Finance Corporation (IFC) will play a key role in reducing unemployment among ICT graduates.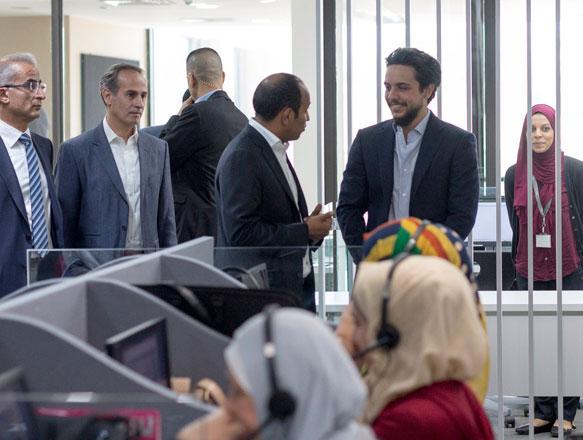 Jun 23,2016
AMMAN — HRH Crown Prince Hussein on Wednesday visited Luminus Education, which offers technical and vocational training programmes in Jordan
Sep 18,2017
AMMAN — Prime Minister Hani Mulki on Sunday visited Luminus Group, which provides vocational and technical training programmes under the Nat
Newsletter
Get top stories and blog posts emailed to you each day.