You are here
IMF cuts global growth outlook
By Reuters - Jan 20,2015 - Last updated at Jan 20,2015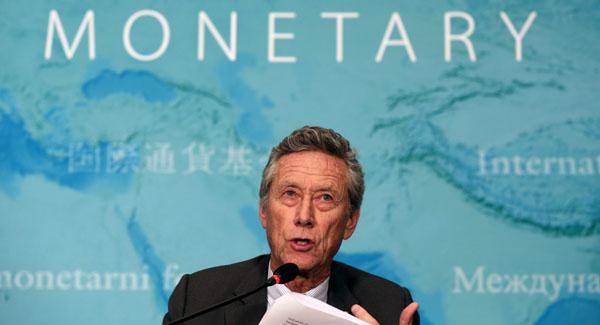 BEIJING — The International Monetary Fund (IMF) lowered its forecast for global economic growth in 2015, and called on Tuesday for governments and central banks to pursue accommodative monetary policies and structural reforms to support growth.
Global growth is projected at 3.5 per cent for 2015 and 3.7 per cent for 2016, the IMF indicated in its latest World Economic Outlook report, lowering its forecast by 0.3 percentage points for both years.
"New factors supporting growth, lower oil prices, but also depreciation of euro and yen, are more than offset by persistent negative forces, including the lingering legacies of the crisis and lower potential growth in many countries," Olivier Blanchard, the IMF's chief economist, explained in a statement.
The IMF advised advanced economies to maintain accommodative monetary policies to avoid increasing real interest rates as cheaper oil heightens the risk of deflation.
If policy rates could not be reduced further, the IMF recommended pursuing an accommodative policy "through other means".
The United States was the lone bright spot in an otherwise gloomy report for major economies, with its projected growth raised to 3.6 per cent from 3.1 per cent for 2015.
The United States largely offset prospects of more weakness in the euro area, where only Spain's growth was adjusted upward.
Projections for emerging economies were also broadly cut back, with the outlook for oil exporters Russia, Nigeria and Saudi Arabia worsening the most.
The drop in world oil prices, which have fallen more than 50 per cent since June, is largely the result of organisation of Petroleum Exporting Countries (OPEC) not cutting supplies, a decision that is unlikely to change, Blanchard said.
"We expect the decrease in price to be quite persistent," he told reporters at a news conference launching the report. "We expect some return, some increase, but surely not an increase back to levels where we were, say, six months ago."
The IMF predicts that a slowdown in China will draw a more limited policy response as authorities in Beijing will be more concerned with the risks of rapid credit and investment growth.
Slower 2015 growth in China "reflects the welcome decision by the authorities to take care some of the imbalances which are in place and the desire to reorient the economy towards consumption and away from the real estate sector and shadow banking", Blanchard added.
The IMF also cut projections for Brazil and India.
The forecasts are far rosier than World Bank predictions last week that the global economy would grow 3 per cent this year and 3.3 per cent in 2016.
Lower oil prices will give central banks in emerging economies leeway to delay raising benchmark interest rates, although "macroeconomic policy space to support growth remains limited", the report said.
According to the IMF, falling prices will also give countries a chance to reform energy subsidies and taxes.
The prospects of commodity importers and exporters will further diverge.
Oil exporters can draw on funds they amassed when prices were high and can further allow for substantial depreciation in their currencies to dull the economic shock of plunging prices.
The report is largely in line with remarks by IMF Managing Director Christine Lagarde last week, in which she said falling oil prices and strong US growth were unlikely to make the IMF more upbeat.
The eurozone and Japan could suffer a long period of weak growth and dangerously low inflation, she said.
Both Lagarde and the report indicated that money flowing back to the US as it tightens monetary policy could contribute to volatile financial markets in emerging economies.
The US Federal Reserve is widely expected to begin raising interest rates some time this year.
Related Articles
Jul 24,2014
The International Monetary Fund (IMF) lowered its 2014 global economic growth forecast Thursday, warning of "negative surprises" from the United States and China and geopolitical risks in Ukraine and the Middle East.
Dec 31,2015
FRANKFURT — Global economic growth will be "disappointing and patchy" in 2016, the head of the International Monetary Fund (IMF), Christine
Apr 14,2015
Growth in emerging markets will slow for a fifth consecutive year, the International Monetary Fund (IMF) said Tuesday, as exchange rate swings and oil prices plunge, and China's economic growth slows.
Newsletter
Get top stories and blog posts emailed to you each day.