You are here
IMF head advises Africans to 'build infrastructure, institutions, people'
By Agencies - May 29,2014 - Last updated at May 29,2014
MAPUTO — Africa is "taking off" with strong, steady growth but poverty is unacceptably high so that governments need to build infrastructure and institutions and educate people to share the benefits more widely, the head of the International Monetary Fund (IMF) said on Thursday.
Sub-Saharan Africa is expected to grow by around 5.5 per cent this year — well above the global average — with some of its poorest countries expanding by closer to 7 per cent, Christine Lagarde, IMF managing director, told an IMF conference in the Mozambican capital Maputo.
But the IMF chief said although the region had become a growing investment destination for both advanced and emerging economies, with a record $80 billion of inflows expected this year, the economic benefits of the growth surge had yet to be widely distributed across the region's population.
"Poverty remains stuck at unacceptably high levels — still afflicting about 45 per cent of the region's households," Lagarde told the meeting of African finance ministers and development experts.
Despite forecasts of continuing strong expansion for the region, its positive outlook has been darkened this year with flare-ups of conflict, insurgency and violence.
This has ranged from civil war in the world's newest state, South Sudan, an insurgency waged by radical Boko Haram group in Africa's largest economy Nigeria and attacks by militants hurting tourism and business in Kenya.
As African countries tap new sources of funds through natural resource discoveries and international dollar bonds, questions have also arisen about how governments are managing this money in fast-growing economies like Ghana and Zambia.
With the international recovery still looking weak and uneven, Lagarde indicated that Africa's positive outlook also faced risks from slower growth in the world's advanced economies and in emerging markets, which are the region's main trade partners.
The region could face lower demand for its exports should growth slow in increasingly important emerging markets like Brazil, India and, in particular, China.
Beijing is a top buyer of African resources from copper to oil and gas.
In rapidly growing cities like Maputo, the Chinese presence is manifest, from a Chinese-built airport to the country's businessmen chattering on cell phones as they walk from meeting to meeting.
Other risks included lower prices for some commodities, tighter external financial conditions and market volatility.
The IMF head recommended three priorities to ensure the region's growth can be wide, inclusive and sustained: "Build infrastructure, build institutions, and build people."
Infrastructure, jobs
Lagarde said Africa still had big infrastructure gaps, which represented huge costs to businesses and to people.
She cited as an example the fact that over the past three decades, per capita output of electricity in sub-Saharan Africa remained virtually flat. Only 16 per cent of all roads were paved, compared with 58 per cent in South Asia.
The investment needs to address this in the region were estimated at about $93 billion annually, she pointed out.
The IMF chief said Africa also needed to improve governance, transparency and create sound economic frameworks for growth — she called this "building institutions".
This would ensure that revenues and benefits from the continent's mineral riches — Africa has more than 30 per cent of the world's mineral reserves — could be better captured for national budgets and generating more jobs.
According to Lagarde, Africa needed to "build people" in order to reap the dividends of its rapid population growth.
She cited estimates that a one percentage point increase in the working age population could boost gross domestic product (GDP) growth by half a percentage point.
"For this to happen, however, 'good' jobs need to be created in the private sector. Today, only one in five people in Africa finds work in the formal sector," Lagarde indicated.
"This must change. With wider access to quality education, healthcare and infrastructure services, it can change," she stressed.
Technology could extend access to financial services to millions, and this was already happening in several countries, such as Kenya.
"Africa Rising will benefit the lives of people on the continent. Beyond that, Africa Rising will benefit the world," Lagarde said describing the leaps made by African economies in the last decade as "nothing short of remarkable".
Lagarde added that it was time to kick start the "next phase of its economic development".
Yet, rights groups questioned the current optimistic view of "Africa's rise".
"Africa is not rising for ordinary citizens," said Oxfam International's Executive Director Winnie Byanyima, who said she intended raising issues of growing inequality at the IMF conference.
She added that tax dodging multinationals were draining revenue from the continent.
"We have six of the top 10 fastest growing economies in the world, and the fastest rising number of dollar millionaires of any other region in the world," Byanyima indicated. "Yet sub-Saharan Africa is home to six out of the 10 most unequal countries in the world. The 50 richest people in Africa own about 15 per cent of Africa's GDP."
The conference's host nation Mozambique, provides a stark example.
According to Byanyima, it is still one of the poorest countries in the world despite recording galloping economic growth of over 7 per cent a year over the past decade.
Two decades after the end of a devastating civil war the country is experiencing vast foreign capital inflows on the back of coal and natural gas discoveries.
Separately, a report by Ernst & Young (EY) said international investors putting money in Africa are increasingly looking beyond the oil and mineral sectors and Africa's top economies as they hunt for new business.
The London-based advisory firm's survey of more than 500 global business leaders showed investors "are looking beyond the more established markets of South Africa, Nigeria and Kenya to expand their operations".
The number of projects in South Africa and Nigeria actually declined in 2013, while there were notable increases in Ghana, Mozambique, Tanzania and Uganda.
South Africa in particular has seen a significant slowdown in economic growth in recent years, amid labour unrest, policy uncertainty and vast unemployment.
According to Capital Economics, Africa's most developed economy grew at the slowest pace in five years in the first quarter of this year, slumping to 0.2 per cent quarter-on-quarter.
Investors are also moving away from sectors like mining and energy — which no longer figure in the top ten for number of investments — "into more consumer-related sectors as Africa's middle class expands," the report indicated.
The largest number of projects were found in technology, media and telecoms; retail and consumer products; and financial services.
"Resource driven sectors are expected to remain the industries with the highest potential over the next two years. The actual numbers show that infrastructure and consumer-facing sectors will increase in prominence as the middle class expands and consumer spending on discretionary goods increases," said EY's Michael Lalor.
According to the International Monetary Fund, about 150 million people can be considered firmly in the continent's middle class.
Ernst & Young reported most of the investments came from Britain, the United States and South Africa, with a "sharp uptick" in investments from Japan and Spain.
Related Articles
Aug 21,2014
So while a western corner of Africa writhes in the deadly grip of the Ebola virus, there are signs this emergency may serve as a wake-up call to strengthen spending and investment on public healthcare in the world's least developed continent.
Apr 05,2016
FRANKFURT — The global economy's already modest prospects will decline further unless authorities take stronger action to boost growth, the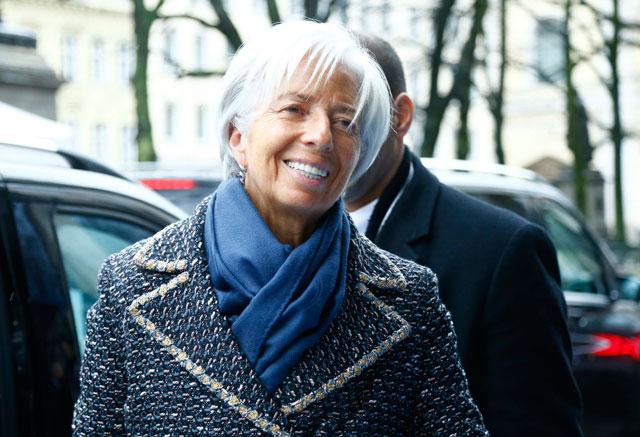 Feb 17,2018
PARIS — International Monetary Fund (IMF) chief Christine Lagarde warned on Saturday that economic stimulus from US tax cuts may lead to a r
Newsletter
Get top stories and blog posts emailed to you each day.