You are here
Indonesia unveils 'big bang' for foreign investment, boldest move in 10 years
By Reuters - Feb 11,2016 - Last updated at Feb 11,2016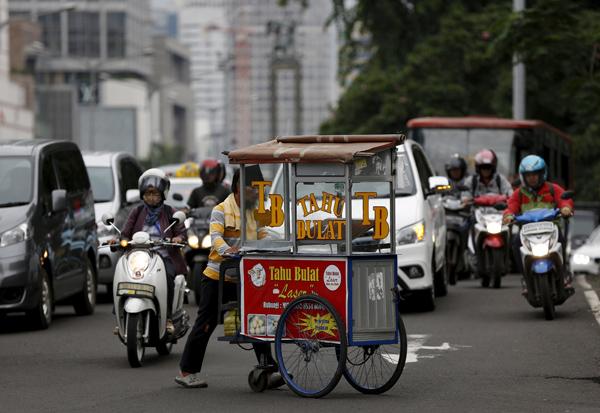 A vendor pushes his fried tofu cart across a busy street in Jakarta, Indonesia, on Thursday (Reutes photo)
JAKARTA — Indonesia on Thursday opened dozens of sectors to foreign investors in what President Joko Widodo has described as a "Big Bang" liberalisation of its economy, Southeast Asia's largest.
President Joko Widodo's administration loosened foreign investment restrictions on everything from restaurants and agriculture to transportation and movie theatres.
"Today's revisions represent our largest opening to international investment in 10 years," Trade Minister Tom Lembong told Reuters.
"More international investment will bring more capital, more world-class expertise, more technologies to Indonesia. Domestic players must seize those opportunities," he said.
Twenty-nine sectors including restaurants and the movie industry were removed from the "negative investment list" (DNI) altogether, meaning that foreigners can operate in those areas without restrictions.
The negative investment list sets out which parts of Indonesia's economy are partially or fully closed to foreign investors, who in recent years have complained of rising economic protectionism and nationalism as they look to expand into the market of more than 250 million people.
Widodo indicated in an interview on Wednesday he was opening up more room for foreigners in the latest of 10 policy packages since last September aimed at stimulating the economy, which grew 4.8 per cent last year, the slowest since the 2009 global crisis.
The investment revisions were supposed to come out in early January, but Widodo postponed the announcement because he was not satisfied that the reform was radical enough, Lembong said.
The president still needs to approve the new measures, which will be sent to him within days.
Thursday's announcement was not all about opening up Indonesia's industries, however. Twenty sectors, including low-tech construction, were added to the list of industries with foreign investment restrictions.
Although foreign direct investment into Indonesia has risen in recent years, it remains among the lowest in Southeast Asia in relation to total investment and gross domestic product.
Foreign investors have pushed for years for a greater access to opportunities in Indonesia's vast domestic market, valued at some $840 billion.
Foreign businesses applauded the latest move as a sign that Widodo was moving in the right direction.
"This will help restore confidence that Indonesia is open for business," said Adrian Short, chairman of the British Chamber of Commerce in Jakarta.
But he stressed that "implementation of the regulations will be key".
Others were not as impressed.
"Our initial impression is that this is not entirely broad-based and has fallen short of the 'big bang' moniker used to preview the stimulus package," said Glenn Maguire, chief economist at ANZ.
"They have clearly opened, but one or two gatekeepers have been added," he added.
Related Articles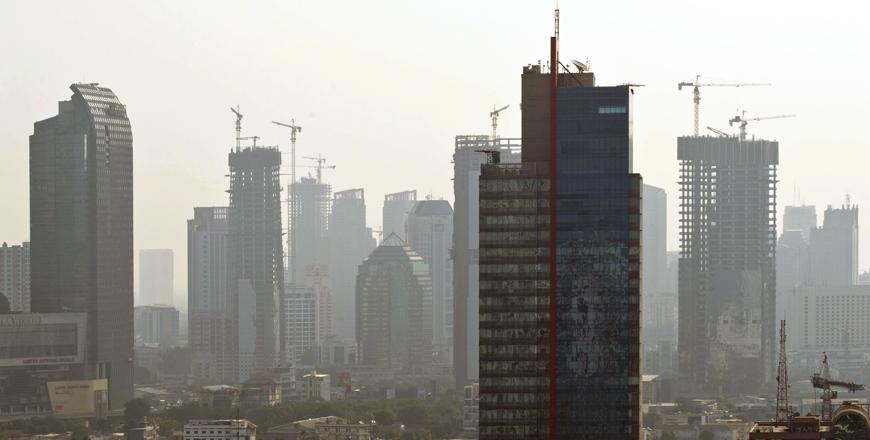 Sep 29,2015
JAKARTA – Indonesia on Tuesday introduced more stimulus measures to woo desperately needed investment, in its latest bid to boost the slidin
May 05,2015
Indonesia will stop sending new domestic workers to 21 Middle Eastern countries, reports said Tuesday, after the recent execution of two Indonesian women in Saudi Arabia angered Jakarta.
Oct 20,2014
Joko Widodo, Indonesia's first president from outside the political and military elite, got a rock-star welcome from a cheering crowd at a celebration marking his inauguration Monday but takes power facing challenges to enact an ambitious reform agenda.
Newsletter
Get top stories and blog posts emailed to you each day.