You are here
Investment climate a priority — Turkish finance minister
By Reuters - May 25,2016 - Last updated at May 25,2016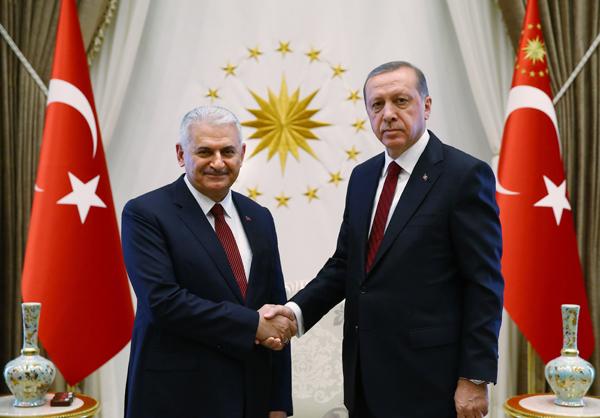 Turkey's President Recep Tayyip Erdogan (right) and Turkey's incoming Prime Minister Binali Yildirim shake hands prior to the government's first Cabinet meeting at the presidential palace in Ankara, Turkey, on Wednesday (AP photo)
ANKARA — A presidential system in Turkey will make it easier for the government to take decisions and boost the economy, Finance Minister Naci Agbal told Reuters, saying the new Cabinet is as focused on the investment climate as on changing the constitution.
In an interview hours after being reappointed to the new Cabinet late on Tuesday, Agbal said the government would take "swift and bold" economic decisions this year and promised reforms — which many investors say are overdue — to boost exports and employment.
Investors are concerned that reform momentum will become more sluggish under new Prime Minister Binali Yildirim, a close ally of President Recep Tayyip Erdogan who has promised to introduce the executive presidential system that Erdogan wants.
Agbal dismissed such worries, saying a reform package on financial markets and the real economy would be presented to the Cabinet soon, adding that he would do "whatever it takes" to attract foreign investors.
"Improving the investment and production environment is as important to us as making a new constitution and introducing the presidential system," he said in an interview at his office in Ankara.
"We will especially work on attracting foreign investors to Turkey... we will do whatever it takes legally to attract them within this year."
The reappointment of Agbal and of Deputy Prime Minister Mehmet Simsek, an anchor of investor confidence who has been in charge of economic policy, helped to reassure financial markets.
Still, the new administration's focus on winning popular support for the presidential system is seen as an obstacle to progress on economic reforms. Investors want measures to boost the savings rate, liberalise the labour market and develop a higher-value manufacturing sector to reduce reliance on imports.
Turkey also needs to lure foreign investment to plug a yawning current account deficit of around 4.5 per cent of the GDP and finance its heavily indebted companies.
Such reforms are likely to prove unpopular in the short term, economists say, making a government bent on winning votes less likely to push them through.
No downgrade to growth
Agbal said there would be no need to downgrade the government's forecast of 4.5 per cent economic growth this year. However, the World Bank expects growth at 3.5 per cent this year, citing slowing exports and weak private investment.
He also said discipline in the budget would be maintained. Recent central bank interest rate cuts would also help the economy, he said.
Erdogan, who favours consumption-led growth, has repeatedly said high interest rates cause inflation, a stance at odds with orthodox economics.
"The central bank is cutting rates as inflation falls. This is positive news for investment and production," Agbal said
Turkey's central bank cut rates for a third month running on Tuesday, lowering its overnight lending rate — the highest of the multiple rates it uses to set policy — by 50 basis points.
He also expressed confidence that the government may finally be able to privatise the national lottery after two failed attempts last year.
The sale had been expected to bring in $2.76 billion for the government.
"The national lottery tender has become feasible, we are getting positive signals, local and foreign companies are interested," he said.
Related Articles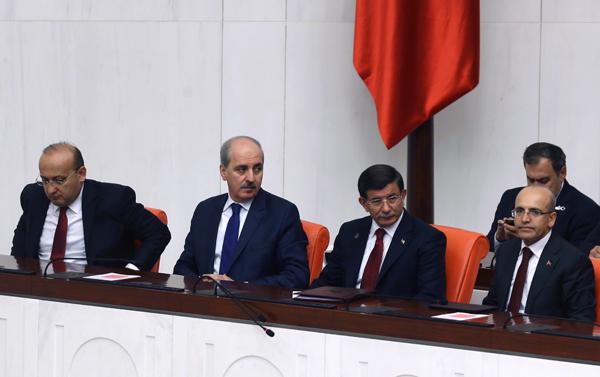 Nov 28,2015
ISTANBUL — As a onetime Wall Street banker and former finance minister, Turkey's new economy tsar Mehmet Simsek is widely seen as a proponen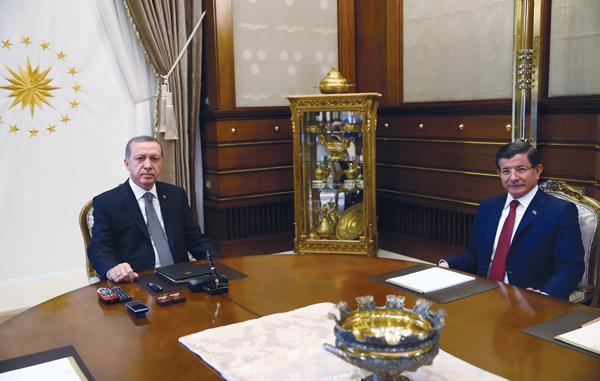 Nov 03,2015
ANKARA — Turkey's new Cabinet will bear the firm stamp of President Recep Tayyip Erdogan with a slew of loyal advisors set for ministe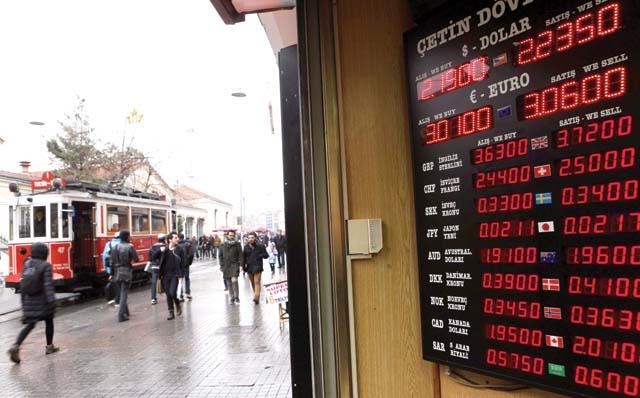 Jan 29,2014
A massive rate hike may have stalled the Turkish lira's fall and salvaged the central bank's credibility, but it stunts growth at a politically fraught time for Prime Minister Recep Tayyip Erdogan and may not shield Turkey from a fragile global backdrop for long.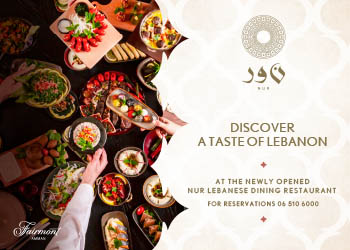 Newsletter
Get top stories and blog posts emailed to you each day.