You are here
Iraq's only Kurdish airline takes off with Europe flight
By AFP - Jun 18,2018 - Last updated at Jun 18,2018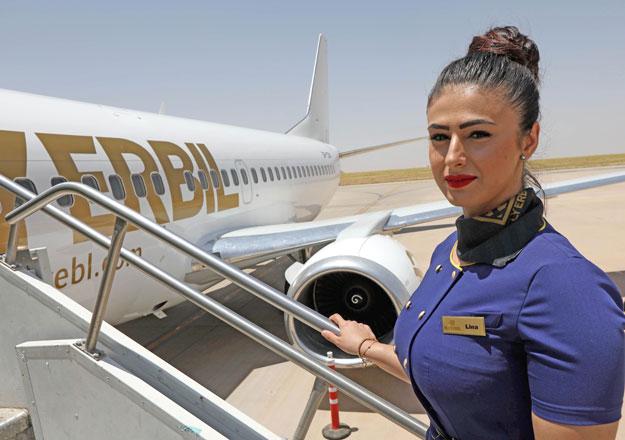 A Fly Erbil airline hostess poses outside a plane scheduled to fly from Erbil International Airport in the capital of the Kurdish autonomous region in northern Iraq to Stockholm on Monday (AFP photo)
ERBIL, Iraq — Iraq's only Kurdish airline launched on Monday with a flight to Sweden, after years of delays because of the offensive by the terror group Daesh in the country.
Officials hope Fly Erbil's take-off is a sign of changing fortunes in the autonomous region, which has suffered from the militants onslaught and a failed independence bid.
Daesh delayed our project "but today, we mark real progress", said the airline's chief executive, Laund Sheikh Mamundi, explaining the three-year delay since Fly Erbil first announced its launch.
The airline currently has three planes and hopes to increase its fleet to ten, Administrative Director Ahmad Jamal told AFP.
The company advertises flights to five European countries including Germany and the UK, targeting destinations with large Iraqi communities and investors who operate in Iraq, Jamal said.
Dressed in a navy blue uniform with golden buttons to match the airline's logo, flight attendant Nisrine Rachid was thrilled the crew would be working in the Kurdish language.
"I think that makes them happy and we are delighted to serve them in Kurdish," she said, ahead of the Boeing jet departing from Erbil airport.
Iraqi Kurdistan benefitted from an economic boom after the 2003 US invasion of Iraq, while the rest of the country descended into violence.
But the lightning offensive of Daesh in 2014 — with the militants coming to within around 40 kilometres of Erbil — led to a significant fall in investments.
According to a 2015 World Bank study, the economy of Iraqi Kurdistan was hit by the influx of people fleeing violence from within Iraq and Syria.
The region's poverty rate more than doubled from 3.5 per cent to 8.1 per cent, the World Bank said.
Last year, a controversial referendum on Kurdish independence led to a series of retaliatory measures by Baghdad which ruled the vote illegal.
Disputed areas and their oil fields were retaken by the central government — a massive hit for the region — while a nearly six-month air blockade was imposed on Erbil and Sulaimaniyah airports.
Kurdistan has relied on its oil wealth to pay back its debts, having borrowed more than $3 billion over three years and paying up with monthly installments of oil barrels.
Newsletter
Get top stories and blog posts emailed to you each day.