You are here
Jordan Investor Confidence Index up by 3.79 in March
By JT - Jun 22,2016 - Last updated at Jun 22,2016
AMMAN — Jordan Strategy Forum's Jordan Investor Confidence Index increased in March 2016 by 3.76 to reach around 97.87 points compared to 94.11 points in February 2016.
Confidence, as measured by each sub-index, differed in performance in March 2016, according to a forum statement. The sub-index of confidence in the Amman Stock Exchange (ASE) drove the overall increase in the Jordan Investor Confidence Index with an increase of 3.55 points to reach 100.45 points in March 2016. This increase is attributed to the positive change in foreign investment in the ASE whereby the inflow of foreign investment was over 4.5 times the size of the outflow of foreign investment in that month. This increase in confidence in the stock exchange was accompanied by a slight decrease in the Monetary Sub-Index, which dropped by approximately 0.55 points, and an increase in the Real Economy Sub-Index, which rose by 0.75.
The forum attributed the decrease in confidence in the monetary system to a decrease in CBJ's foreign reserves by JD 253 million to reach 12,450 million in March 2016.
This is in addition to a decrease in money being denominated in the Jordanian Dinar from 85.3 per cent in February of 2016 to 85 per cent in March 2016. The Forum's statement did not disclose reasons for the drop.
The Real Economy sub-index witnessed a drop in the capital of companies registered, in spite of an increase in the number of companies registered, which increased to 616 in March 2016, compared with 605 companies in February 2016.
Moreover, this month private sector credit relative to total remained at 60 per cent in March. In spite of these changes, the slight increase in the value of the sub-index can be attributed to the increase in the Manufacturing Quantity Production Index, which settled at 161.8 points, compared to 155.1 points in February 2016. This is in addition to an increase in the number of construction permits and real estate activities.
The Jordan Investor Confidence Index is a monthly-issued index published by Jordan Strategy Forum. It aims to measure the confidence of investors operating in the Jordanian market through three aspects: confidence in the Jordanian Dinar and the monetary system, confidence in the real economy, and confidence in the Amman Stock Exchange.
Related Articles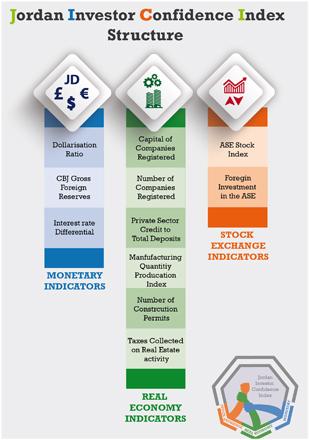 Nov 20,2016
AMMAN — The Jordan Strategy Forum "Investor Confidence Index" has increased for the first time since March by 0.24 points, reaching 91.44 po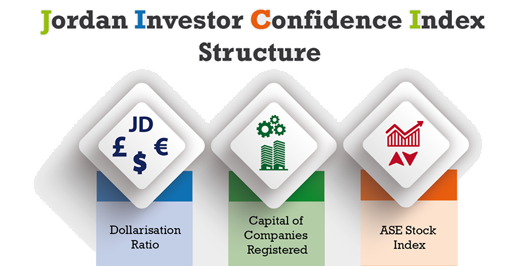 Aug 17,2016
AMMAN — Jordan Investor Confidence Index (JICI) dropped in May this year by 0.43 points to reach 95.69 points compared with 96.12 points in
Jul 13,2016
AMMAN — Jordan Investor Confidence Index dropped in April 2016 by 1.75 points to reach 96.12 points compared to 97.87 points in March 2016.&
Newsletter
Get top stories and blog posts emailed to you each day.