You are here
Korea Brand & Entertainment Expo 2019 capitalises on MENA opportunities
Representatives of around 130 companies take part
By Abeer Numan - Oct 20,2019 - Last updated at Oct 21,2019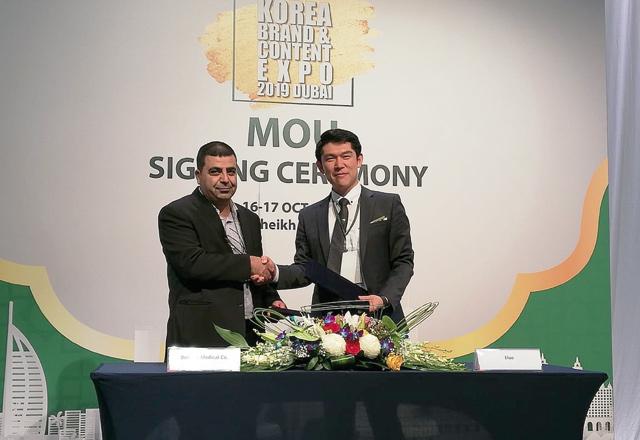 Ibrahim Rawashdeh, general manager of betunia shakes hands with Kim Gyuri, ELOU Co. Limited's export manager after signing a memorandum of understanding on Thursday during Korean Beauty & Entertainment Expo 2019 (Photo courtesy of KOTRA-Amman)
DUBAI — With solid strides made in the world of manufacturing, South Korea is working to reach more clients and to expand its markets, especially in the Middle East and North Africa (MENA) region.
Therefore, Korea Brand & Entertainment Expo (KBEE) 2019 was held at Dubai World Trade Centre last week so that Korean businessmen would have the opportunity to meet with as many clients as possible.
Organised by Korea Investment Promotion Agency (KOTRA), KBEE attracted businessmen from several MENA countries, including Bahrain, Saudi Arabia, and the UAE, along with Jordan.
Representatives of Korean cosmetic, food and beverage, fashion, broadcast, medicine and education businesses, among other services, attended the event. They displayed their products and provided information to customers at B2B and B2C meetings.
"Dubai, from a long time, has been the region's business hub. That's why we host the occasion here," Kwanseok Lee, regional president of KOTRA MENA, told The Jordan Times.
"This is the first time in MENA," he noted, as KBEE, a government event that is part of the Korean Wave (Hallyu) which refers to the global popularity of South Korea's cultural economy exporting pop culture, entertainment, music, TV dramas and movies.
"We will take part in Dubai Expo 2020," Lee said.
A buyer from Bahrain, Abdel Rahman Al Koheiji, said he is interested in animation and tele-medicine products, noting that he has more than one business.
"Korean products are good. That is why I am here, but I wish the exhibition would have been bigger," he conceded.
Noting that KOTRA's choice of Dubai as this year's KBEE's venue is wise, he said, "In Dubai, all people come from worldwide. Dubai is well-known and serves as a platform for world businesses."
Another buyer, Ehab Al Malahmeh from Jordan, said, "We are interested in seeing the goods they have… They want to export while we want to import the best. So it is beneficial for both sides."
While Mohamad Abou Chaer, a Lebanese visitor, representing a Saudi company, said he was looking for "meso foundation".
"There is a new kind. Instead of putting foundation on daily basis, you put it once a month," he said.
"Koreans are very innovative in this field," he added.
Sameh Gad, an Egyptian buyer who has also come from Saudi Arabia indicated that there is a good interest in Korean brands.
"This is the first time it is entirely Korean products. We are looking to see what is available, to see new things and new additions in the market."
Noting that business has been slow, in general, he expressed hope that things would get better.
MoU
A memorandum of understanding (MoU) was signed between a Korean cosmetics company and a Jordanian medical Company during KBEE 2019, according to Ahmad Barqawi from KOTRA-Amman.
Under the MoU, signed between betunia and ELOU Co. Limited, the two sides have agreed to cooperate for an initial $10,000 trial order over a year, Barqawi indicated.
K- Beauty Brand Seminar
KBEE 2019 hosted a Korean-Beauty Brand seminar, during which speakers asserted Korea's compliance with safety regulations, saying that Korea has become a global beauty leader, and encouraging buyers to opt for Korean cosmetics products.
Speakers, including Junwoo, a Korean makeup artist, focused on the importance of skin care and cleansing, as a first and most important step in applying makeup, drawing the audience's attention, mainly women, businessmen and media people, to the many different kinds of cleansing, hydrating and brightening facial masks Korean manufacturers produce.
"Make-up trend in Korea is the natural," he told the audience.
Paul Lee, general manager of Innisfree, which is described as one of the most famous beauty brands in Korea, was one of main speakers at the seminar.
He asserted his company's interest in Middle East markets, noting that it is currently exporting to many world countries.
Innisfree products are reasonable, he said.
Korea, located in northeast Asia, has an AA national credit rating, and it has become the world's 12th largest economy and 6th largest exporter.
Difficult times
Manufacturers recognise that the world of business has become very competitive, so taking part in such exhibitions to acquaint buyers with products, especially new ones, is of great importance, according to Seetha R who has an MBA in marketing.
"We have new platforms coming out everyday, but our role as a distributor… our role is diminishing. We have to restructure ourselves," she said.
Many are trying to eliminate middlemen, she explained, adding that at her company, business people are looking for strategies.
"It is a difficult time, she said, adding that there has been a silent recession. But now it is coming out more loudly," she said.
"It is always difficult to stay afloat. You have to have the best, for acquisition and sales," she elaborated.
"Nobody would want to take risks. They are playing it more safe these days, because of the conditions… of the media industry, especially in the media industry," she added.
A Jordanian businessman, who preferred to remain anonymous, expressed concern about slow economic changes. He said many people in Jordan are working just to keep themselves busy, citing low salaries and the difficulties a person usually goes through to land a job.
K- Pop
On the sidelines of the trade event, a K-pop concert featuring groups, SF9 and Seventeen was held at the World Trade Centre in Dubai.
Long queues of young people lined up ahead of the concert to get tickets, and many fans showed up the following day at the signing ceremony.
This is all part of the Korean wave, spreading Korean products and culture. They go in parallel, according to a KOTRA representative. Moreover, visitors had the chance to taste some kinds of Korean fruit, like Korean pears and dishes.
Newsletter
Get top stories and blog posts emailed to you each day.