You are here
Kuwait posts $45b budget surplus
By AFP - Oct 01,2014 - Last updated at Oct 01,2014
KUWAIT CITY — Kuwait posted Wednesday a budget surplus of $45 billion for the latest fiscal year, its second largest on record, but the International Monetary Fund (IMF) warned of underlying risks despite the bumper returns.
The finance ministry indicated in a statement on its website that the surplus came in at 12.9 billion dinars ($45 billion) in the 12 months to March, capping a run of 15 straight years of windfalls.
Revenues came in at 31.8 billion dinars, of which oil accounted for 29.3 billion dinars, and spending at 18.9 billion dinars.
It was the second biggest budget surplus on record, after the 13.2 billion dinars achieved in 2011-2012.
The oil-rich emirate of Kuwait has now posted a budget surplus in each of the past 15 fiscal years worth a total of 92.5 billion dinars, based on official figures compiled by AFP.
Sustained surpluses have boosted the assets of the Gulf state's sovereign wealth fund to more than $500 billion, according to unofficial estimates.
A majority of the dividends are attributed to high oil revenues which make up about 94 per cent of Kuwait's overall income.
The IMF warned, however, that a drop in oil prices could plunge Kuwait into deficit in the medium term if it fails to adopt measures to halt the rise of current spending.
"A $20 decline in oil prices... would result in reversing of the fiscal position from a surplus to a deficit in the medium term," the IMF said in its latest report on Kuwait.
The fund added that the breakeven oil price — needed to balance the budget at current expenditure levels — had risen in the past few years and was estimated at $75 a barrel in 2014-15.
The price of Kuwaiti oil averaged $103 a barrel in the latest fiscal year but is currently hovering around $94.
The IMF advised Kuwait to soon start implementing measures aimed at cutting spending which has trebled in the past decade.
These included containing the number of public jobs, gradually phasing out of subsidies worth $16 billion a year, subjecting Kuwaiti companies to corporate tax, and revising fees for public services.
According to the IMF, the government has decided in principle to end subsidies on diesel and is in advanced stage of proposing a similar end on power subsidies.
Kuwait has a native population of 1.25 million, in addition to 2.8 million foreigners, and pumps about 3 million barrels of oil per day.
Related Articles
Jan 04,2014
Kuwait's provisional budget surplus shrank 15 per cent in the first six months of the current fiscal year mainly due to a sharp jump in expenditures, according to the finance ministry.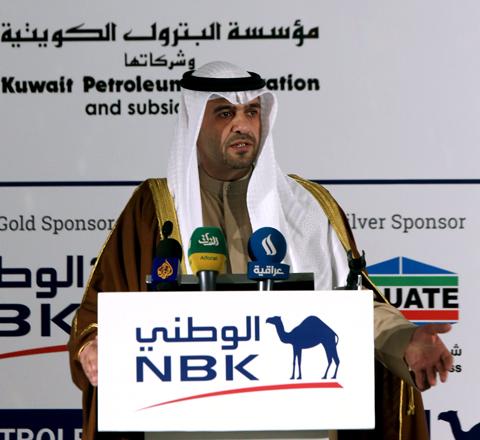 Jan 28,2016
KUWAIT CITY — Kuwait, a member of the Organisation of Petroleum Exporting Countries (OPEC), projected a record budget deficit for the fiscal
Feb 10,2014
Kuwait's provisional budget surplus shrunk in the first nine months of this fiscal year as spending rose 18 per cent and income was unchanged, according to official figures released Sunday.
Newsletter
Get top stories and blog posts emailed to you each day.