You are here
Lafarge Jordan awaits gov't response to determine fate of Fuheis factories
By Omar Obeidat - Feb 03,2016 - Last updated at Feb 03,2016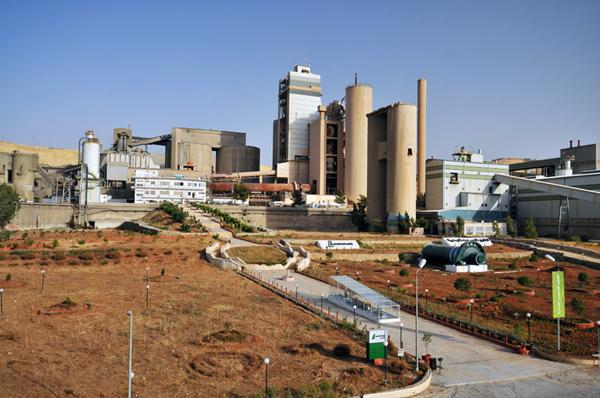 A general view of Lafarge Jordan's cement factories in Fuheis (JT photo)
AMMAN –– Lafarge Jordan has a plan to turn its dusty site for cement production in Fuheis into an "environment-friendly urban hub", but is still waiting decision makers' nod, the company's Chief Executive Officer (CEO) Amr Reda told The Jordan Times Monday.
The envisioned project, Reda said, would be an entire clean energy city that would include shopping malls, residential and commercial properties, medical facilities and restaurants, describing the scheme as "a great" investment opportunity" for the regional and international developers, the local community and the country.
Lafarge Jordan is considering the development plan as it seeks economic salvation to problems facing its factories in Fuheis, a town just few kilometres northwest of Amman. The plant has been non-operational for several years due to pressure of the local community over environmental impact, according to Reda.
On the value of the project, Reda said it would exceed JD2 billion, indicating that the company sent an official letter to the Jordan Investment Commission in October 2015 informing them about the plan but still has not received any response.
The size of the land, fully owned by Lafarge, is 1,880 dunums, according to the CEO, who said that the Paris-headquartered leader in the cement and building solutions industry has the expertise and knowhow to develop environment-friendly schemes.
"This would be the group's first of its kind project in the world, if approved," he said, adding the company can bring in an international engineering firm to design the project and invite local, regional and global developers to invest.
"If we get government approval for this development project, economic returns for the country and the area would be double. It would create a large number of job opportunities," he said, adding the firm is ready to work on this project as soon as possible.
"We would love to meet His Majesty King Abdullah or Royal Court officials to present the idea," he continued.
Reda said the vision for the development project was initiated after Lafarge completed merger with Holcim to create LafargeHolcim, a new leader in the building materials industry.
"The company seeks a new strategy to end the status quo here," he said.
'A heavy inheritance at Fuheis'
"The status quo of losses cannot continue," Reda said when commenting on the halt in operations at the cement factory in Fuheis.
Established in 1951 as the Jordan Cement Factories owned by the government, Lafarge entered in 1998 as a strategic partner through buying 33 per cent of the government shares.
Now the France-based Lafarge Group owns 51 per cent of the shares, 25 per cent owned by state-run Social Security Investment Fund, while the rest are owned by individual shareholders.
The company owns two cement plants, one in Fuheis and another in Rashadiyah.
The factory in Fuheis was described by Reda as a heavy inheritance in terms of dispute with local community over operations and environmental impact and other issues related to labour.
He said between 2005 and 2009 the company developed the factories to reduce the environmental impact by using the latest technology to monitor emissions to be in line with international standards. Previously, production used to rely on heavy fuel.
In 2009, competition was allowed and currently there are five factories operating in Jordan.
Other firms were allowed to use cheaper energy, which is coal, he said, adding that, unfortunately, Lafarge did not have the same privilege due to local community pressure.
In 2011, Reda said Lafarge established a factory to be run on piteoke in Fuheis but again the local community objected, leaving the two lines of production and 200 engineers and workers in complete halt for several years.
Rashadiyah factory was allowed in mid-2013 to use coal for production.
"We have to pay JD5 million a year in compensations for the local community as environmental impact. What impact and the factory is not operational?," he asked.
Reda talked about a rising phenomenon, which he described as the mafia of lawyers.
"If someone buys a land near the factory, lawyers approach landlords to get compensations for them for loss in value of property," he said.
Despite the fact that factory is not producing, demands of the local community are increasing, Reda complained.
"Do we still need the factory now? It is unfeasible anymore," he added.
Asked if LafargeHolcim, which has factories in 90 countries, would consider quitting the Jordanian market, Reda said it could be a possibility if the group comes to a conclusion that it is unfeasible to stay anymore.
He indicated that the company's accumulated losses between 2010 and 2014 are estimated at JD60 million, attributing losses to operational costs and compensations.
The company employs 580 people currently, most of them are not needed because its business in Jordan is not fully operational.
Reda said the company is also burdened by health insurance costs for pensioners that is estimated at JD2.5 million a year.
The insurance system covers dependent males until 18 and females until marriage. It is a huge legacy as the number of beneficiaries ranges between 5,000 to 6,000 people.
Cement production
Reda said Lafarge production ranges between 3.9 to 4 million tonnes a year but he expected a drop in demand for cement this year that could reach 15 per cent.
He attributed the projected drop to an expected slowdown in building activity in the Kingdom in 2016, adding that residential projects consume around 75 per cent of the cement production in the Kingdom.
Related Articles
Feb 03,2016
AMMAN – Lafarge Jordan has a plan to turn its dusty site of 1,880 dunums for cement production in Fuheis into an "environment-friendly urban
May 02,2016
AMMAN – Lafarge Jordan on Monday said that its shareholders have unanimously approved the company's future development plans that include tu
Dec 04,2016
AMMAN — Several Fuheis residents have again expressed their rejection of projected plans to turn the Lafarge cement factory in the area into
Newsletter
Get top stories and blog posts emailed to you each day.