You are here
New bodies are on the table to fund SMEs — Fariz
By Dana Al Emam - Apr 17,2014 - Last updated at Apr 17,2014
AMMAN — Central Bank of Jordan (CBJ) Governor Ziad Fariz revealed this week that new specialised bodies are on the table to fund small-and medium-size enterprises (SMEs), if banks are unable to do so.
Speaking at the Annual Arab Banking Conference on Wednesday, he called on the private sector to support innovative and creative projects indicating that banks' financing of SMEs' investment expenditures do not exceed 10 per cent.
"The increasing regional and international attention towards micro-projects and SMEs makes it imperative that banks develop measures to fund such projects," he stressed, underlining the role that banks have in development and in achieving financial stability within the objectives of economic growth.
"By adopting CBJ policies, Jordan's banks created a more solid banking system, which enhanced their adaptability to face internal and external shocks," the governor said.
According to Fariz, the current regional and international economic challenges compel Jordan to adhere to best economic practices in order to avoid possible economic shocks in the future.
He credited the national programme for economic reform as an efficient security that safeguarded the Kingdom's economy despite regional and international turbulences.
The governor indicated that regaining trust in Jordan's economy and the increase in foreign reserves to their highest levels (JD8.78 billion) were the main fruits of reforms.
Fariz told participants in the conference that high fuel prices and repetitive cuts in the Egyptian gas placed a heavy burden on the local economy during the past few years.
The increasing influx of Syrian refugees and the accompanying requirements exacerbated the situation, he remarked.
"The economic reform project, which started in cooperation with the International Monetary Fund two years ago and is to continue, addressed the increase in the government's spending and sought to diversify the Kingdom's energy sources, in addition to helping the National Electric Power Company reduce its losses," the governor concluded.
Related Articles
Feb 25,2015
Jordan's banking sector is "highly liquid" but the private sector has to come up with bankable projects to ensure funding, Governor of the Central Bank of Jordan (CBJ) Ziad Fariz told businesspeople on Wednesday.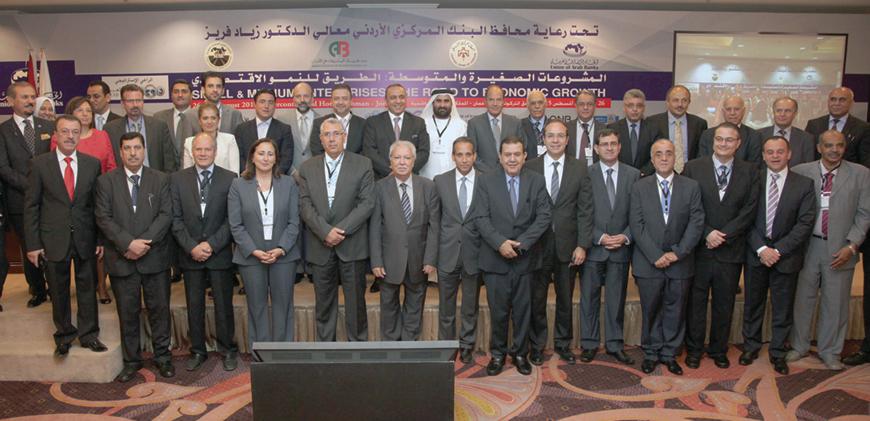 Aug 26,2015
AMMAN — Developments in the region, especially the drop in oil prices, require a "genuine" stance to empower small-and medium-sized en
Feb 18,2015
Arab banks should extend a wider share of their credit facilities  to small-and medium-sized enterprises (SMEs) due to their role in improving socio-economic development, banking experts said Wednesday. 
Newsletter
Get top stories and blog posts emailed to you each day.