You are here
OBG updates investors with The Report: Jordan 2015
By JT - Sep 03,2015 - Last updated at Sep 09,2015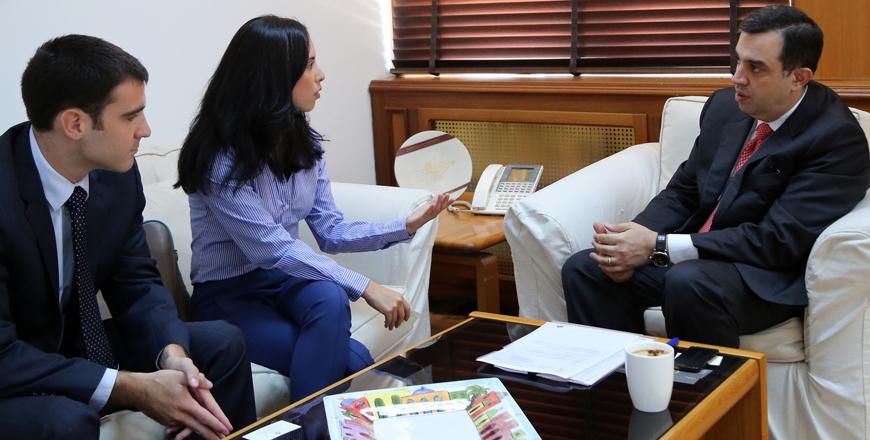 Planning and International Cooperation Minister Imad Fakhoury (right) speaks to representatives of Oxford Business Group on Thursday (Photo courtesy of OBG)
AMMAN — Oxford Business Group (OBG) announced in a press statement this week that it will be publishing a wide-ranging interview with Planning and International Cooperation Minister Imad Fakhoury in its forthcoming "The Report: Jordan 2015", on the country's economy.
It indicated that the report will contain a detailed, sector-by-sector guide for investors, alongside contributions from leading personalities, including Prime Minister Abdullah Ensour, Finance Minister Umayya Toukan, Jordan Investment Commission President Montaser Oqlah and Central Bank of Jordan Governor Ziad Fariz.
"A raft of reforms that includes new legislation covering investment, tax and public-private partnerships (PPPs) will support Jordan's bid to galvanise economic growth," Fakhoury told the global publishing, research and consultancy firm.
According to the statement, Fakhoury said the government was seeking investment for a broad range of projects worth almost $20 billion, in line with its 10-year development plan for the country, Jordan 2025, which was launched in May.
"Our message to international investors is that despite the regional circumstances, Jordan has succeeded in turning challenges into opportunities," he said, "and the economy has shown resilience evidenced by the positive momentum in growth and a strong external position."
Fakhoury added that most projects would take the form of PPPs. Areas earmarked for investment, he indicated, included energy, transport, water, infrastructure, urban development, tourism and ICT.
The Syrian refugee crisis in Jordan was another topic given extensive coverage in the interview. Fakhoury described the economic and social impact of the refugee influx as "a fundamental source of concern in the Kingdom".
He went on to say that it has had put a major strain on finances, services, infrastructure and host communities because donor support, which is much appreciated, is neither covering the annual burden nor keeping up with expanding needs.
"Today, the Jordan Response Plan 2015 is only 34 per cent funded," he added.
Even allowing for additional pledges, he warned, two-thirds of the funding needed will not be met. "Given the critical importance of mobilising additional financial resources, all options to support hosting refugees on behalf of the international community should be employed," Fakhoury told OBG.
Related Articles
Jul 01,2016
AMMAN — Jordan plans to introduce a programme of far-reaching structural reforms to counter economic challenges, Finance Minister Omar Malha
Jul 09,2014
Global publishing, research and consultancy firm Oxford Business Group (OBG) announced Wednesday in a press statement that Jordan's plans to reinvigorate its economy through new legislation governing the country's investment environment will be mapped out in its forthcoming report.
Feb 18,2015
Oxford Business Group (OBG) announced Wednesday in a press statement that Jordan's efforts to enhance its investment environment through new legislation will be given wide-ranging coverage in a forthcoming report.
Newsletter
Get top stories and blog posts emailed to you each day.