You are here
Pacific trading partners release trade pact details
By Agencies - Nov 05,2015 - Last updated at Nov 05,2015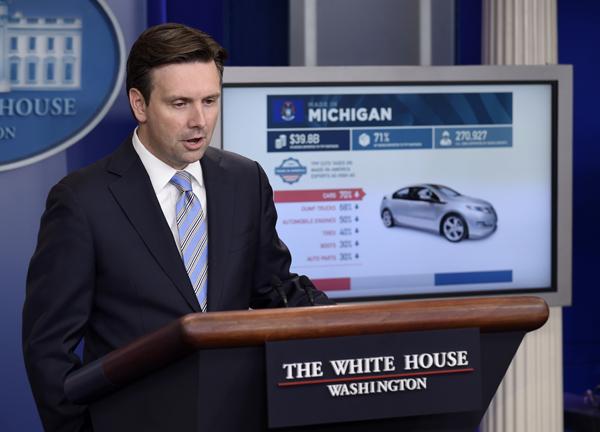 In this October 13 photo, White House Press Secretary Josh Earnest uses a graphic to discuss the Trans-Pacific Partnership during the daily briefing at the White House in Washington (AP photo)
WASHINGTON/SYDNEY — The long-awaited text of a landmark US-backed Pacific trade deal was released on Thursday, revealing the details of a pact aimed at freeing up commerce in 40 per cent of the world's economy but criticised for its opacity.
If ratified, the Trans-Pacific Partnership (TPP) will be a legacy-defining achievement for US President Barack Obama and his administration's pivot to Asia, aimed at countering China's rising economic and political influence.
Details of the TPP have been kept under wraps during the more than five years of negotiations, angering those concerned over its broad implications.
The agreement would set common standards on issues ranging from workers' rights to intellectual property protection in 12 Pacific nations.
"The TPP means that America will write the rules of the road in the 21st century," Obama said in post online. "If we don't pass this agreement — if America doesn't write those rules — then countries like China will."
China has responded with its own proposed 16-nation free-trade area, including India, that would be the world's biggest such bloc, encompassing 3.4 billion people.
The White House is likely to formally notify US lawmakers on Friday that the president intends to sign the deal, a senior Obama administration official said. That would start the 90-day clock before his signature triggers the next step in a process of seeking final congressional approval.
The earliest the TPP could come before Congress is March, just as the US presidential primary season is heating up, creating the risk that the deal becomes a campaign issue.
The TPP is opposed by labour unions and many of Obama's fellow Democrats who are worried about the impact on jobs, including presidential candidate Hillary Clinton, who backed the developing trade pact when she was secretary of state during Obama's first term.
Some pro-trade Republican lawmakers are also wary of the deal, heralding a tough fight to get the deal through Congress. Republican White House contender Donald Trump has labeled it a "disaster".
House of Representatives Speaker Paul Ryan, a Republican, said he was reserving judgement for now, and the US Chamber of Commerce, whose support will be key for passage through Congress, said it looked forward to examining the details.
US Trade Representative Michael Froman warned that trying to reopen the complex deal could unravel the whole package.
Fine print
Japan has pledged to ease trade barriers on imported french fries and butter, which have been in short supply in the Asian market, while Malaysia will eliminate tariffs on all imported alcohol for the first time in a trade agreement.
Other firsts cited by the partners — Australia, Brunei, Canada, Chile, Japan, Malaysia, Mexico, New Zealand, Peru, Singapore, the United States and Vietnam — include a prohibition on subsidies to harmful fisheries as well as commitments to discourage imports of goods produced by forced labour and to adopt laws on acceptable working conditions.
Malaysia will have to implement reforms to combat human trafficking, and Vietnam will have to allow independent labour unions before they can reap benefits of the pact.
But the deal does not include measures demanded by some US lawmakers to punish currency manipulation with trade sanctions, disappointing carmaker Ford Motor Co., although members pledged not to deliberately weaken their currencies.
The TPP would be a boon for factory and export economies like Malaysia and Vietnam. Anticipated tariff perks are already luring record foreign investment into Vietnamese manufacturing, and both countries are expected to see increased demand for their key exports, including palm oil, rubber, electronics, seafood and textiles.
That could put pressure on several of Asia's major developing economies, including the Philippines and Indonesia, which have recently expressed interest in signing up to the pact. Thailand said it was studying the deal and might consider joining.
Chinese officials recently softened their stance towards the pact after initially giving it a frosty reception.
Beijing's commerce ministry called it "important" and said China is "open to any mechanism that follows the rules of the World Trade Organisation and can boost the economic integration of the Asia-Pacific".
Some argue the deal could hammer Chinese manufacturers, already struggling with slowing growth in the world's number-two economy, by cutting off key export markets.
Ma Jun, chief economist at the research institute of China's central bank warned in an article this week that the textiles, clothing and electronics industries will miss out significantly.
And a study in 2014 by two US academics and a Chinese researcher estimated Beijing could lose out on a potential $1.6 trillion boost to its exports by 2025 by not signing up.
China and the US would be "the countries expected to benefit the most" from a widened TPP, they wrote.
Of the many free-trade agreements China has signed globally, five are with TPP members, including Australia and New Zealand, and as the largest economy in Asia, it is the biggest trading partner of many others.
Beijing is also pursuing a rival vision for trade, the Regional Comprehensive Economic Partnership, a 16-nation agreement that includes several TPP signatories.
"The impact of the TPP on China won't be a very painful one," Chun Jiangyue, director of a think tank affiliated to China's foreign ministry said. "China has its own theory for the development of international trade and commerce."
President Xi Jinping has pledged to roll out a massive investment scheme across Asia, known as "One Belt, One Road", as part of a drive to spread Chinese influence.
A plan to make the yuan a more internationally traded currency is also slowly taking shape.
"China has been progressively building an extensive web of free-trade agreements", said Alice Ekman, head China researcher at the French Institute of International Relations.
The country has been "particularly proactive" in promoting regional economic integration, a "long-term trend unlikely to be altered by the signing of the TPP", she added.
Those who wish for deeper free-market reforms in China hope that the pact's standards could drive domestic change, but officials are likely to drag their feet.
"If China wants to open up foreign trade relations according to TPP standards, there would likely be some negative impact to the Chinese economy," said Jia Qingguo, a professor at Peking University who is close to policy makers.
They also say it will be tough for Beijing to meet standards on the environment and worker's rights specified in the deal.
"Labour union provisions and Internet openness could be deal-breakers" which rule out Chinese participation, said Graham Webster, a researcher at Yale Law School.
But he added: "China designs its global and regional development efforts to be compatible with Chinese interests... TPP would do nothing to remove China from its central role in the Asia-Pacific economy."
Related Articles
Oct 11,2015
WASHINGTON — US President Barack Obama took a dig at China Saturday as he defended the new Trans-Pacific Partnership (TPP) free-trade deal,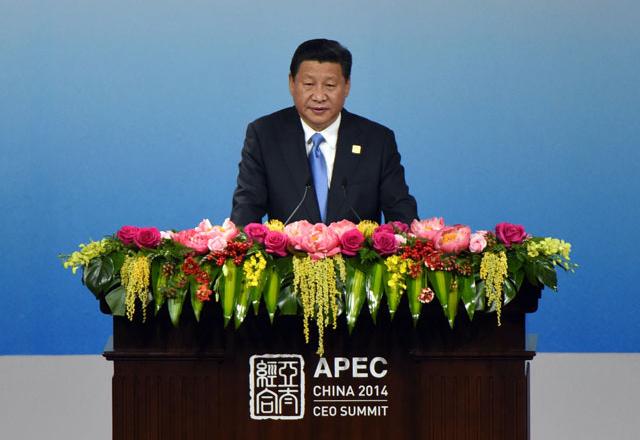 Nov 09,2014
President Xi Jinping offered the world a vision of a Chinese-driven "Asia-Pacific dream" on Sunday, as Beijing hosts a regional gathering that underlines its growing global clout.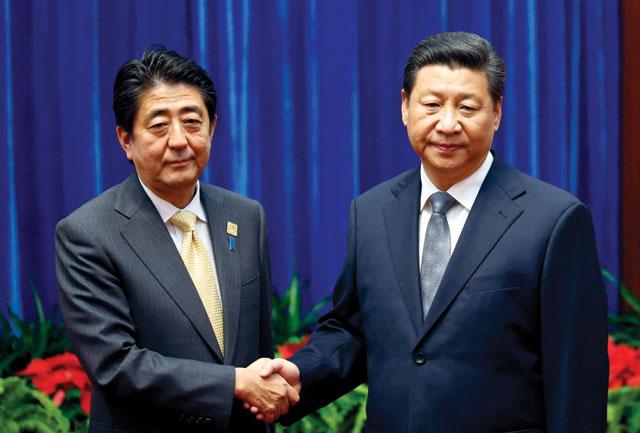 Nov 10,2014
An uneasy handshake Monday between Chinese President Xi Jinping and Japanese Prime Minister Shinzo Abe marked the first meeting between the two men since either took power, and an awkward first gesture towards easing two years of high tensions.
Newsletter
Get top stories and blog posts emailed to you each day.