You are here
Qatar Airways seeks up to 10% stake in American Airlines
By AFP - Jun 22,2017 - Last updated at Jun 22,2017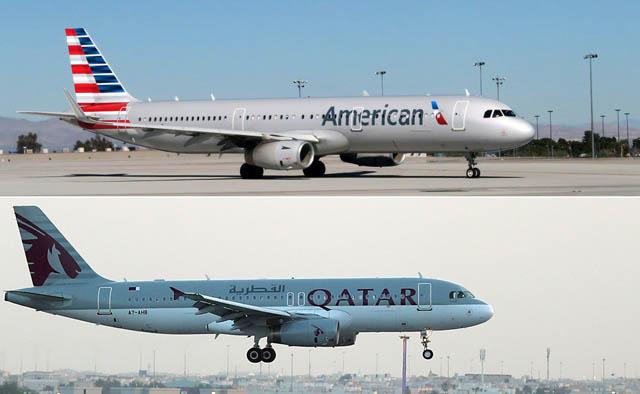 This combination of photos created on Thursday shows an American Airlines plane sitting on the tarmac of McCarran International Airport in Las Vegas, Nevada, on February 15, and file photo taken on June 12, showing a Qatar Airways plane landing at the Hamad International Airport in the Qatari capital Doha (AFP photo)
NEW YORK — Qatar Airways, its Middle Eastern business pressured by a diplomatic row with neighbours, is seeking as much as a 10 per cent stake in American Airlines, the US carrier said on Thursday.
The surprise investment push by Qatar Airways was disclosed by American Airlines in a securities filing Thursday saying the Qatari company planned to buy at least $808 million in American shares.
In addition, Qatar Airways' chief executive told his counterpart at American that the carrier sought a stake of about 10 per cent.
"The proposed investment by Qatar Airways was not solicited by American Airlines and would in no way change the Company's Board composition, governance, management or strategic direction," American said in the filing.
American's bylaws require board approval to stakes of 4.75 per cent or more. Qatar Airways said it would not exceed this level without board approval and would "make all necessary regulatory filings" when required.
"Qatar Airways sees a strong investment opportunity in American Airlines," the company said in a statement.
"Qatar Airways believes in American Airlines' fundamentals and intends to build a passive position in the company with no involvement in management, operations or governance."
The move comes as Qatar faces conflict with neighboring countries after Saudi Arabia, Bahrain, Egypt and the United Arab Emirates severed ties over Doha's alleged support for extremist groups and Iran. The countries have suspended all flights to and from Qatar.
Qatar's government denies all the allegations.
Qatar Airways has downplayed the impact of the dispute on its business, saying on June 14 that the "vast majority" of its network was unaffected. But analysts have warned the profitable carrier could take a hit should the diplomatic crisis drag out.
At the Paris Air Show this week, Qatar Airways was named the world's top airline for passenger service by Skytrax, a closely watched industry prize.
Akbar Al Baker, the outspoken chief executive of Qatar Airways, used the occasion to blast Qatar's rivals in the region.
"At these difficult times of illegal bans on flights out of my country by big bullies, this is an award not to me, not to my airline, but to my country," he said.

'Open skies' controversy
American also has had its differences with Qatar Airways, among other Middle Eastern carriers, over state subsidies the US air travel industry says violate international agreements.
American chief executive Doug Parker has joined an effort with the leaders of Delta Air Lines and United Airlines to urge a crackdown by President Donald Trump on an alleged $50 billion in state subsidies to Qatar Airways and two other state-backed Middle East carriers that they argue allows those carriers to illegally compete in the US market.
The Qatar stake in American "does not alter American Airlines' conviction on the need to enforce the Open Skies agreements with the United Arab Emirates and the nation of Qatar and ensure fair competition with Gulf carriers, including Qatar Airways", American said in the filing.
"American Airlines continues to believe that the President and his administration will stand up to foreign governments to end massive carrier subsidies that threaten the US aviation industry and that threaten American jobs."
Qatar Airways already holds stakes in other foreign carriers, including a large holding in International Consolidated Airlines Group, the parent of British Airways.
Shares of American Airlines jumped 1.7 percent to $49.24 in mid-morning trading.
Related Articles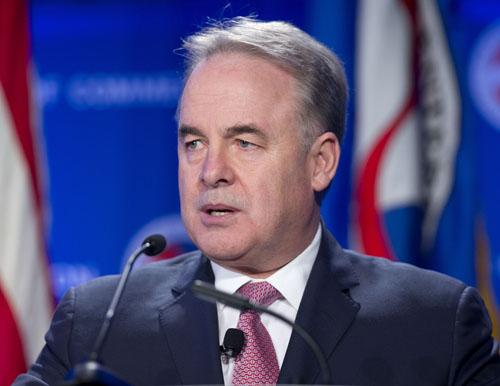 Mar 19,2015
The Obama administration said Wednesday that it is in the early stages of studying claims that Gulf airlines have received market-distorting subsidies, a review involving uncharted territory for the US government.
Oct 22,2015
DOHA — Qatar Airways Chief Executive Akbar Al Baker said Thursday that his company is helping to create jobs in the US despite an ongoing wa
May 05,2014
Qatar Airways has become 100 per cent state-owned after the government bought out private investors, including a former prime minister, its chief executive Akbar Al Baker said Monday.
Newsletter
Get top stories and blog posts emailed to you each day.