You are here
Saudi Arabian job creation dries up as oil price slump hits broader economy
By Reuters - Mar 10,2016 - Last updated at Mar 10,2016
Saudi men smoke waterpipes at a café in Dammam, Saudi Arabia, on Monday (Reuters photo)
RIYADH — Saudi Arabia's plans for economic reform foresee winding down "jobs for life" in an inefficient state bureaucracy and replacing them with new careers in a dynamic private sector.
That's the theory, at least. But in the short term, there is a problem: 2016 is set to be an abysmal year for job creation.
Public spending is being slashed and growth forecasts for oil and non-oil portions of the private sector are gloomy.
A tough market awaits first-time job seekers in the world's largest oil exporter, where "employment week" fairs are currently helping to pitch some 400,000 graduates to prospective employers.
For Nezzar, 26, who will finish a master's programme in computer systems at a US university in May, the scale of the problem became apparent when he received a phone call from home in Jeddah.
There were no jobs this year, his father told him, offering the advice: "'Don't come home'."
Saudi net employment rose by only 49,000 in 2015, its slowest annual increase since records began in 1999.
That is far short of the 226,000 jobs that the economy must create each year to accommodate new entrants to the labour market, according to a February report by Riyadh-based Jadwa Investments.
The number of working-age Saudis outside the labour force also rose by 85,000, most of them young people, said the Jadwa report.
That was nearly double the number entering the labour force, representing the first drop in the participation rate since 2009.
"Government hiring has slowed down due to austerity measures, while at the same time the private sector has started to stagnate," indicated Steffen Hertog, an academic at the London School of Economics.
"There's just a shortage of jobs," he said.
Signs of strain
In a country where nationals generally count on steady government paychecks to support them, Saudi citizens have so far been largely sheltered from the effects of prolonged low oil prices.
Even as the oil slump pushed the kingdom into a 367 billion-riyal ($97.89 billion) deficit last year, hefty public spending kept government salaries flowing and propped up the non-oil private sector, which depends heavily on state subsidies and contracts.
But as the economy has slowed and the government has begun tightening its purse strings, signs of strain in the labour market have started to show.
The government hired 10,000 fewer Saudis in 2015 than it did the year before, adding only 93,000 new employees to the public payroll compared to 103,000 in 2014.
Meanwhile, the number of Saudis employed in the private sector in 2015 fell for the first time since the Nitaqat labour market reforms began in 2011, introducing targeted hiring quotas for private companies to make their staffs more Saudi.
Even as the non-oil economy continued to grow overall, prompting companies to add some 369,000 non-Saudis to their payrolls in 2015, expansion slowed to its lowest rate since 2009.
They hired 43,000 fewer Saudis than they did the year prior.
A challenging year
Hiring prospects are likely to shrink even further in 2016, as proposed government spending cuts totalling some 135 billion riyals ($36.01 billion) take their toll.
The government's 2016 budget included explicit pledges to rein in state spending on "recurring expenditures" like salaries and benefits, which means curtailed public sector hiring.
Economic growth is widely expected to slow, with the International Monetary Fund projecting gross domestic product (GDP) growth of 1.2 per cent, only slightly lower than the central bank's own expectations of around 2 per cent.
Professionals surveyed by online job portal Bayt.com expressed diminished expectations: 65 per cent expected their companies to hire new employees in a year's time, down from 78 per cent last August.
"This is going to be a challenging year for employment. Employment generation in an economy slowing down is very difficult," indicated Said Al Sheikh, the chief economist of NCB Bank.
Some economists, including Al Sheikh, expect to see increased pressure from the ministry of labour for "job substitution", in which companies are compelled to swap out cheaper foreign workers for Saudis.
But upheaval in the workforce would place additional pressure on an already wobbly private sector, risking an even sharper slowdown.
Even then, no feasible amount of substitution would accommodate the hundreds of thousands of young Saudis about to start the job hunt.
Separately, the point man for a wide-ranging revamp of Saudi Arabia's economy to cope with an era of low oil prices is a former food executive and mayor of Jeddah with a reputation for pushing through politically sensitive reforms.
Economy and Planning Minister Adel Fakieh faced down strong opposition from the business community as labour minister in 2010-15 when he established quotas on the number of foreign workers companies could hire to boost local employment, the kingdom's biggest economic reforms in years.
With his troubleshooting reputation established, Fakieh was made acting health minister in 2014 to handle a major public health crisis when Middle East Respiratory Syndrome broke out.
Now he is being asked by Deputy Crown Prince Mohammed Bin Salman to develop reforms aimed at ending the kingdom's vulnerability to an unpredictable oil market.
Saudi Arabia's future stability, and the continued rule of the Al Saud family, rest upon its ability to transition away from the economy's almost total reliance upon income from crude exports, something that has eluded previous reform efforts.
A super committee on the economy led by Prince Mohammed is working with Fakieh's economy and planning ministry to develop a national transformation plan that may face opposition from business and bureaucracy when it is released, probably in May.
Fakieh's track record of effecting change in seemingly moribund situations and his skill as a communicator are widely admired by people who have worked with him, both in government and from his private sector days.
"He is very very good socially and at getting people to agree. He's witty. He's also quite sharp. He gets things done to an extent," said a person who worked with him and asked not to be named because he had signed a non-disclosure agreement.
"He's curious. He reads about behavioural economics, about international policy research," he added.
He also makes extensive use of Western consulting firms, including McKinsey & Co., Boston Consulting Group, Oliver Wyman and Bain & Co., several people who have been involved in economic planning under the new administration said.
Structural change
Unlike in past administrations, when reforms were decided by a clutch of Al Saud members and enacted by the finance ministry and central bank, Prince Mohammed now sets policy in his super-committee, the Council for Economic and Development Affairs.
The economy and planning ministry, once regarded as the junior partner in government policymaking, works under Fakieh like a secretariat to the council, taking its ideas and fleshing them out into complex proposals.
So central has Fakieh become since King Salman, Prince Mohammed's father, took power in January 2015 that his department drew up significant parts of this year's budget, a responsibility that has always belonged to the finance ministry.
When the 2016 budget was unveiled to media on a glitzy television stage decorated with pictures of Riyadh's modern skyline in December, it was Fakieh, rather than Finance Minister Ibrahim Alassaf, who presented the macro-economic figures.
The budget included a general policy statement pledging large-scale reforms including privatisation, the reduction of dependence on oil and subsidy reform. That night, petrol prices were raised for the first time in years.
A performance management body to ensure government departments are implementing policy goals was announced in October and key performance indicators to monitor government departments are being developed, both orchestrated by Fakieh at the prince's request.
The economy and planning ministry did not immediately respond to requests for an interview with the minister or members of his team.
Business elite
The Fakiehs owned a Mecca trading house and married into the Al Sulaiman family, whose patriarch Abdullah, Riyadh's first finance minister, built its bureaucracy in an age when national reserves were kept in a locked chest under the king's bed.
Fakieh was born in 1959, Asharq Al Awsat newspaper, owned by the Al Saud, reported when he was made a labour minister in 2010.
His wife, Maha Fitaihi, is a prominent businesswoman in her own right and founder of the kingdom's Girl Guides, a mark of Fakieh's membership of a business elite that has often pushed socially progressive policies while backing the Al Saud.
The Fakieh Group owns subsidiaries including a major poultry business, a nationwide restaurant chain, Jeddah hotels and tourist attractions, private schools and a land development in Mecca.
It was as an executive for other companies that the economy and planning minister made his name during the 1990s, first at Bank Al Jazirah and then at Savola, the kingdom's biggest food company.
As labour minister he introduced the Nitaqat programme, taking an ineffective and toothless quota system and refining it to take account of different sectors and company sizes. He was also given more scope to punish delinquent firms with fines.
Companies hated it, complaining of increased costs and lower productivity. An accompanying crackdown on the black market in foreign labour in 2013 led to over a million people leaving the country.
Central bank data showed the number of Saudis with private sector jobs more than doubled to 1.54 million from 2010-14.
Critics say he failed to institute deep-set change in either the labour ministry or health ministry, however, preferring the quick fix of setting up alternative departments.
"He starts too many things at once and promises too many things to people. He's delivered a lot of things at the labour ministry, but hasn't fixed it. It's still a bit of a mess," said the person who worked with him.
While the long-term success of reforms will probably ultimately hinge on Saudi Arabia's ability to improve the quality of its bureaucracy, the leadership may be betting that getting change started is the more urgent priority.
"He is seen by the top leadership as a doer," said John Sfakianakis, a Riyadh-based economist.
"Whether you think he was right or wrong on the labour reforms, he delivered. Of the group of senior ministers at that time, he was the only one who was delivering."
Related Articles
Sep 04,2014
Saudi Arabia is changing tack in its labour reforms, softening the blow to companies with money for subsidies and training while trying to lure Saudis to the private sector with more attractive working conditions.
Dec 11,2014
Abdul Aziz Al Jouf is in many ways a typical Web entrepreneur — the 34-year-old Saudi talks fast, works late and has big plans for his online payments system.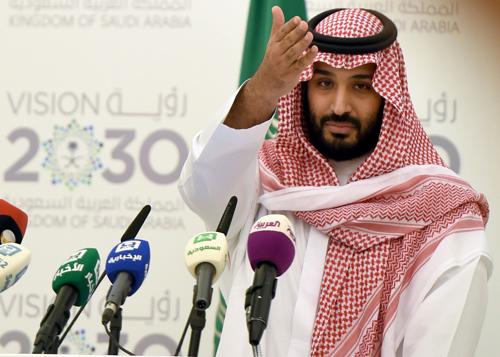 Apr 25,2016
RIYADH — The powerful young prince overseeing Saudi Arabia's economy unveiled ambitious plans on Monday aimed at ending the kingdom's "addic
Newsletter
Get top stories and blog posts emailed to you each day.