You are here
Singapore's GIC sees tough investment climate in next decade
By AFP - Aug 26,2014 - Last updated at Aug 26,2014
SINGAPORE — Singapore sovereign wealth fund GIC, which manages more than $100 billion of the city-state's foreign reserves, warned in its annual report of a tough investment outlook over the next decade as global central banks withdraw ultra-easy monetary policies.
According to GIC, prices of all major asset classes have been inflated by the massive stimulus measures, and now face weak future returns.
"Global financial markets have been recovering strongly from the 2008/09 global financial crisis, supported by low interest rates and unconventional monetary policies," GIC indicated in the report.
As central banks unwind monetary stimulus measures and interest rates increase, "financial assets will see diminished returns", it said.
The US Federal Reserve is expected to end multibillion-dollar bond purchases in October, winding up a five-year stimulus effort to support the world's biggest economy. The European Central Bank has said it will reassess its stimulus measures at the end of this year.
"The investment environment for the next 10 years will, therefore, be more challenging for global investors, including GIC," the fund added.
GIC indicated that its assets earned a 4.1 per cent annualised real rate of return over the past 20 years in the year to March 2014, almost the same as last year's 4 per cent. It does not report the value of its assets.
Lim Siong Guan, GIC's president, said the fund is committed "to ride out significant short-term volatility and focus on long-term fundamentals".
GIC last year unveiled a new investment strategy that split its global portfolio into three segments, a move it said was in anticipation of a "more challenging and complex investment environment".
In its annual report this year, the fund said the Americas region including the United States accounted for 42 per cent of its portfolio in the year to March 2014, 2 per cent lower than the previous year.
Its exposure to Europe was at 29 per cent, 4 per cent higher than in 2013.
Its holdings in Asia stood at 27 per cent, 1 per cent lower than 2013, while the remaining 2 per cent was concentrated in the Australasia region.
Twenty-nine per cent of its portfolio was in developed markets equities, 19 per cent in emerging markets equities, 31 per cent in nominal bonds and cash, 7 per cent in real estate, 9 per cent in private equity and the remaining 5 per cent in inflation-linked bonds.
Among its latest investments, in June GIC acquired a stake in US-based anti-plagiarism software maker iParadigms, and in May bought into a Philippine hospital group as well as Brazilian online sports retailer Netshoes.
GIC is one of two Singapore sovereign wealth funds, the other one being Temasek Holdings.
The net investment returns from GIC, the central bank, and Temasek account for about 15 per cent of the total government budget in Singapore.
Related Articles
Oct 14,2015
LONDON — The three biggest sovereign wealth funds (SWFs) of oil-producing countries have been selling European equity holdings since May, a
May 17,2015
While borrowers rejoice at the ultra low and even negative interest rates in Europe, savers fret and life insurance companies and pension funds face what is virtually a mission impossible.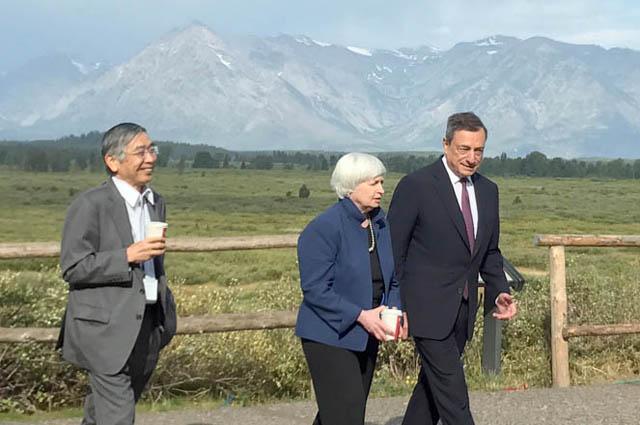 Aug 26,2017
JACKSON HOLE, WYOMING — The European Central Bank's (ECB) ultra-easy monetary policy is working and the euro zone's economic recovery has ta
Newsletter
Get top stories and blog posts emailed to you each day.