You are here
Stocks recover after volatility
European stocks show modest rises
By AFP - May 16,2019 - Last updated at May 16,2019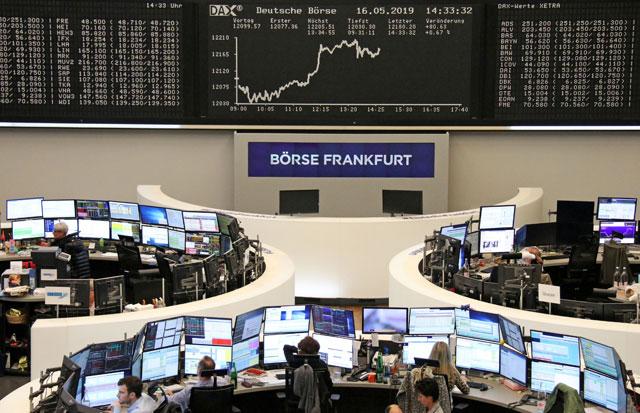 The German share price index DAX graph is pictured at the stock exchange in Frankfurt, Germany, on Thursday (Reuters photo)
LONDON — Stock markets rose on Thursday after recent volatility as investors weighed hopes for US-China trade talks against President Donald Trump's telecoms equipment ban that was seen as a kick against Beijing.
Trump has issued an executive order, citing national security grounds, that effectively bars Chinese giant Huawei from the US market.
Huawei was also added to a list that would make it much harder for the Chinese firm to access crucial US components, a move likely to ramp up tensions with Beijing as the two economic titans engage in a drawn-out trade war that threatens global business activity.
European stocks showed modest rises by the mid-afternoon, with Frankfurt's Dax index the standout, while on Wall Street the Dow was just over 100 points higher shortly after the opening bell.
'Quite a couple of weeks'
"It's been quite the couple of weeks on the trade war front," noted Craig Erlam, senior market analyst at Oanda trading group.
"We've gone from a deal being close to done, to talks collapsing and tariffs imposed and now Trump seeking to alleviate market concerns."
The Trump administration has for months tried to persuade allies not to allow China a role in building next-generation 5G mobile networks, warning that doing so would result in restrictions on sharing of information with the United States.
The announcement comes after the US last week hiked tariffs on $200 billion of Chinese goods, to which Beijing retaliated in kind, fanning fears their the trade war — which seemed all but over just weeks ago — could instead worsen.
In Hong Kong on Thursday, the main stocks index ended flat, although ZTE — another Chinese telecoms equipment provider — shed more than 6 per cent. Shanghai closed 0.6 per cent higher.
On foreign exchange markets, the dollar recovered some losses triggered by speculation that the Federal Reserve (Fed) could cut US interest rates to fend off the effects of the trade war and slowing economic growth.
Just months ago, some commentators had forecast up to three US rate hikes this year.
"Depending on how long this standoff with China lasts, that impacts growth for longer and might force the Fed's hand," Esty Dwek, at Natixis Investment Managers, told Bloomberg TV.
"I wouldn't expect any big change in the short term, but the possibility of a cut much later in the year has risen."
Newsletter
Get top stories and blog posts emailed to you each day.