You are here
Turkey cuts rates again, defying inflation leap
Inflation expected to shoot up by end of the year despite bank's optimism
By AFP - Aug 23,2016 - Last updated at Aug 23,2016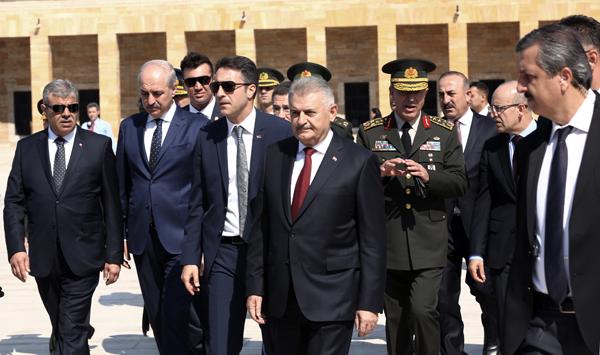 Turkish Prime Minister Binali Yildirim (front-centre), military commanders and ministers walk to the mausoleum of Turkey's founder Kemal Ataturk to pay respects in Ankara, Turkey, on Tuesday (AP photo)
ANKARA — Turkey's central bank on Tuesday cut its main interest rate by 25 basis points, defying a sharp jump in inflation following the failed July 15 coup.
The central bank said the overnight lending rate was trimmed to 8.5 per cent from 8.75 per cent and its one-week repurchasing rate remained stable at 7.5 per cent.
The overnight borrowing rate also remained intact at 7.25 per cent, it said in a statement on its website.
The cut was the fifth straight trimming by the central bank under new Governor Murat Cetinkaya amid strong pressure from President Recep Tayyip Erdogan for a more dovish monetary policy to stimulate growth.
However, inflation had ticked up to 8.79 per cent in July compared with 7.64 per cent in June, with the effects of the coup in particular putting pressure on food prices.
But justifying its decision, the bank said in a statement: "Processed food prices, which have recently shown marked increases, are projected to display a downward correction in the short term.
"Meanwhile, the core inflation trend is expected to improve gradually."
Despite a decline in tourism revenues due to the coup and a slew of militant attacks, it said that activity showed a "moderate and stable course of growth".
While inflation remains high, the bank has also been gladdened to see a rally of the Turkish lira which had crashed against the dollar in the wake of the coup but has rallied over 4 per cent in the last month.
But some economists expressed concern about the cut, saying that the bank needed to pay far greater attention to inflation.
The cut "provides further evidence that the council is paying scant regard to its inflation target", said William Jackson, senior emerging markets economist a Capital Economics in London.
He said the bank's "relentlessly dovish stance" suggests that further rate cuts totalling 50 basis cuts were in the offing before the end of the year.
"The council appears to be underestimating the risks facing the Turkish economy," he added, projecting inflation to shoot up to 10 per cent by the end of the year despite the bank's optimism that it would fall.
Turkey's inflation target has been set at 5 per cent for the last half decade.
Related Articles
Sep 22,2016
ANKARA, Turkey — Turkey's central bank cut a key interest rate for the seventh month in a row on Thursday as it tries to shore up an economy
Nov 24,2016
ISTANBUL — The Turkish central bank on Thursday announced it was hiking its main interest rate by 50 basis points, in a bid to counter a dra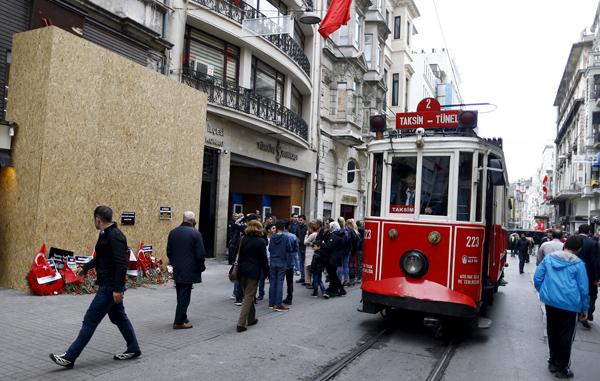 Mar 27,2016
ISTANBUL — Six suicide attacks in eight months and a spat with Russia have added to concerns for the Turkish economy as tourists flee, takin
Newsletter
Get top stories and blog posts emailed to you each day.