You are here
US auto sales end 2014 strong but slower growth looms
By Reuters - Jan 06,2015 - Last updated at Jan 06,2015
DETROIT — Automakers reported strong December US sales on Monday, boosted by falling gasoline prices, but industry executives and analysts cautioned that growth would slow in 2015 after five years of rapid recovery from the recession.
General Motors Co. easily beat analysts' expectations, logging a 19 per cent gain to 274,483 vehicles, the best December for the No. 1 US automaker in seven years. Ford Motor Co.'s December sales of 220,671 were up just 1.2 per cent, missing expectations.
"US auto sales are dancing to a very different [and we believe unsustainable] beat," Morgan Stanley analyst Adam Jonas said in a research note.
He suggested US auto demand has outpaced economic, wage and housing growth rates, thanks largely to easy credit access for consumers.
Even as the pace of sales growth is expected to slow this year, modest growth to the 16.7 million to 17 million vehicles seen by analysts is still encouraging, several company executives have recently said. Any deceleration in US growth could be damaging at a time when other global markets are slowing.
On Monday, Jeff Bracken, head of Toyota Motor Corp.'s Lexus brand in the United States, said of 2015: "Any way you slice it, whether it's 16.7 (million vehicles) or slightly below or above, it's still a very healthy industry."
Toyota executives said they conservatively expect 2015 sales of 16.7 million vehicles, while others, including LMC Automotive, expect this year's sales to hit 17 million.
In December, sales of pickup trucks and large SUVs surged, spurred by low gasoline prices.
Sales of General Motors pickup trucks Chevrolet Silverado and GMC Sierra surged 35 per cent to 81,273, outpacing the F-Series pickups from Ford, which were flat at 74,355 vehicles. Ford's F-150 pickup truck sales remain limited due to the rollout of a new version.
Fiat Chrysler Automobiles' (FCA) Ram Truck brand pickup sales soared 32 per cent to 44,222 vehicles.
Auto sales are an early indicator each month of consumer spending. Sales in December rose almost 11 per cent to more than 1.5 million vehicles, according to research firm Autodata, finishing in line with analysts' expectations.
US average gasoline prices are 34 per cent lower than a year ago, and in much of the country are less than $2 per gallon.
Full-year sales for 2014 finished just above 16.5 million vehicles, matching the tally in 2006. Rising demand has allowed automakers to boost prices for their vehicles, however.
Kelley Blue Book (KBB), an industry source for vehicle valuations, said Monday the average transaction price for a new vehicle sold in the US market in December was a record $34,367, up 2.5 per cent from a year ago.
General Motors's December transaction prices grew 4 per cent from a year earlier to $38,816, KBB said.
Fiat Chrysler's US sales jumped 20 per cent in December on strong Jeep SUV and pickup truck sales, but still missed analysts' expectations. FCA's sales of 193,261 for the month were the highest since 2006 for the company once known as Chrysler.
Nissan Motor Co. said on Monday its December US sales grew 7 per cent, stronger than expected, while Honda Motor Co.'s 1.5 per cent increase fell short of expectations.
In addition, Germany's BMW reclaimed the US luxury crown last year, topping Daimler's Mercedes brand by more than 9,000 vehicles.
Related Articles
May 10,2015
Detroit's automakers, on track for their best sales year since 2006, may want to brace themselves for rockier times ahead.
May 03,2016
DETROIT — America's love of trucks and SUVs helped push most automakers to healthy sales gains last month as Ford reported record SUV sales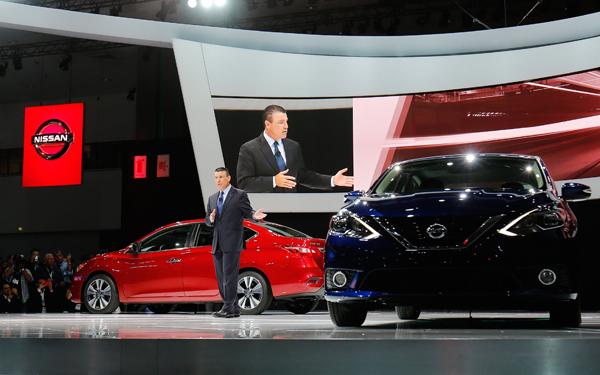 Jan 06,2016
CHICAGO — US auto sales were set to smash records in 2015 as easy credit, hot new vehicles and strong consumer confidence lured buyers to sh
Newsletter
Get top stories and blog posts emailed to you each day.