You are here
Volatile stock markets recover from US inflation scare
By AFP - Feb 14,2018 - Last updated at Feb 14,2018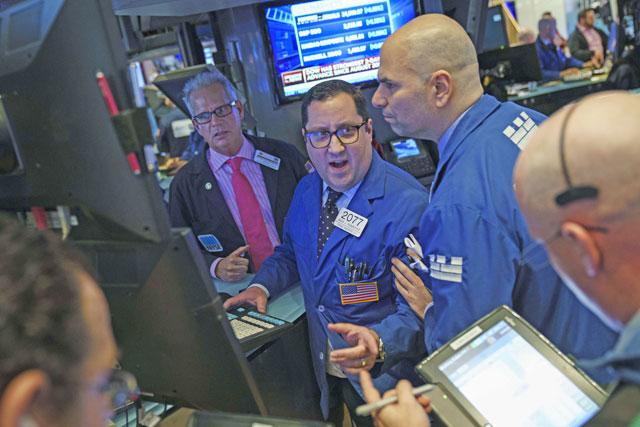 Traders and financial professionals work on the floor of the New York Stock Exchange ahead of the closing bell, in New York City on Monday (AFP photo)
LONDON — Stock markets see-sawed on Wednesday as volatility returned, sparked by surprisingly strong American consumer price data briefly rekindling inflationary fears that last week sent world markets into a tailspin.
European equity markets took fright, briefly tumbling into the red, as higher-than-expected US inflation fed expectations that borrowing costs might be ramped up very soon.
US consumer price inflation jumped to 0.5 per cent in January and the core consumer price index, which excludes volatile food and fuel categories, rose 0.3 per cent, the largest increase since January 2017.
Wall Street opened lower in a knee-jerk reaction to the data, but then turned positive as investors felt that the initial reaction had been overdone, particularly as US retail sales figures, released at the same time, showed a weak reading.
Wall Street's rebound helped soothe frayed nerves in Europe, where key indices closed with healthy gains and mostly at better levels than those seen before the US release.
No 'game-changer'
"This is not a game-changer," said Viraj Patel, strategist at ING, said of the data.
A Federal Reserve (Fed) rate hike was widely expected for next month, Patel said, but the market was not convinced of the central bank's "ability to deliver more than three hikes this year" overall.
However, while avoiding a rerun of last week's bloodbath that wiped trillions of dollars off stock valuations, "markets are responding with higher volatility in light of today's data", Marvin Loh, strategist at BNY Mellon said.
"Volatility has crept back into the market," he said.
Oliver Jones at Capital Economics, meanwhile, warned that the respite for the US stock market was probably going to be short-lived.
"Given how markets have reacted to recent data, it certainly seems likely that the stock market would remain under fire," he said.
So much for the calm
Earlier, analysts had noted the return of some semblance of calm to the markets following the recent volatility.
In Asia, Hong Kong's main stocks index had closed up more than 2 per cent, extending a rebound from the sell-off last week.
Tokyo, however, fell to another four-month low as the yen strengthened against the dollar, at one point hitting a 15-month high.
Investors were also unimpressed by weaker-than-expected economic data for Japan in the last quarter of 2017.
In Europe, the continent's biggest economy, Germany, expanded by 0.6 per cent in the final quarter of last year, official data showed.
Global stock markets have tumbled in recent weeks, wiping out previous strong gains, largely on concerns that high US inflation will force the Fed to tighten the cost of borrowing faster than anticipated this year.
"Given the recent stock market slump, risk aversion has grown," Shinichiro Kadota, foreign exchange strategist at Barclays Securities, told AFP.
In corporate activity, shares in pan-European TV giant Sky rallied after the satellite broadcaster beat rival BT to show the bulk of live Premier League football matches in Britain over the next few years.
As global stock markets rose, the dollar lost ground against its peers in the European afternoon, having started the session higher, while bond yields rose.
Related Articles
Dec 11,2017
LONDON — Most Asian and European stock markets rose on Monday, tracking fresh records on Wall Street after forecast-busting US jobs data, as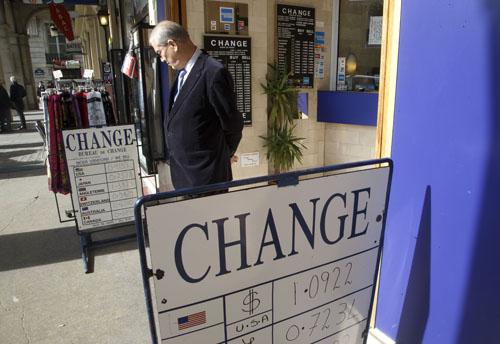 Mar 07,2015
The euro tumbled through the $1.09 level to strike a fresh 11.5-year low Friday as the ECB nears the launch of its massive stimulus package and strong US jobs data raises the possibility of a US rate hike soon.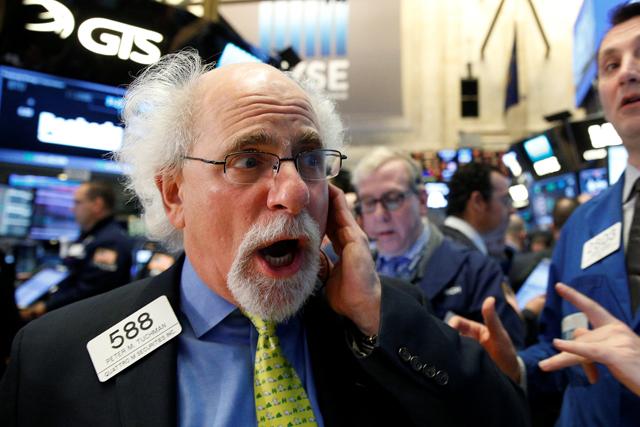 Apr 04,2017
LONDON — European shares edged lower on Tuesday, after falls on Asian bourses, and low-risk government debt yields fell as political risks f
Newsletter
Get top stories and blog posts emailed to you each day.