You are here
Audi A8 L 60 TFSI: Ahead of the pack
By Ghaith Madadha - Dec 05,2017 - Last updated at Dec 05,2017
Photos courtesy of Nissan
Set to join the already available entry-level V6-powered version of Audi's all-new and high tech fourth generation flagship the A8 L 60 TFSI is expected in global showrooms early in the new year. Set to be the intermediate A8 model the V8-powered A8 L 60 adds considerable muscle to the existing V6-powered A8 55 models and more handling finesse than range-topping W12-cylinder version expected to go on sale later still.
Driven back-to-back with short and long wheelbase entry-level V6 versions and optioned with four-wheel-steering and active electro-mechanical suspension, the A8 L 60 even proved to be the best drive in the A8 range.
Advanced and accomplished
A thoroughly accomplished technological tour de force and most advanced among luxury flagships, the new A8 is at least one step ahead of its German rivals and a couple or more ahead of rest. The world's first level three autonomous production car – in a scale going up to five – the A8's innovative and advanced features are centred around its Audi AI (Artificial Intelligence) processing capacity and systems, and its 48-volt mild hybrid technology. So advanced is the A8 that the full scope of self-driving features supported by its hardware will be gradually unlocked by software updates as legislation in various markets catches up.
Standard to all models, the A8's 48V mild hybrid system is charged by regenerative brakes, and operates independent of and without contributing to or corrupting driveline integration and fluency. Instead, it powers various electrical systems without unnecessarily taxing the combustion engine, and allows the car to coast briefly between 55-160km/h, and for the stop/start system to operate from 22km/h, to reduce fuel consumption. Additionally, the 48V hybrid system powers the A8's optional and fully independent active electromechanical suspension, which is controlled by the A8's zFAS AI brain leveraging various sensors, radars and cameras to independently control each wheel's vertical movement through individual electric motors, for enhanced ride comfort and handling prowess.
Agile ability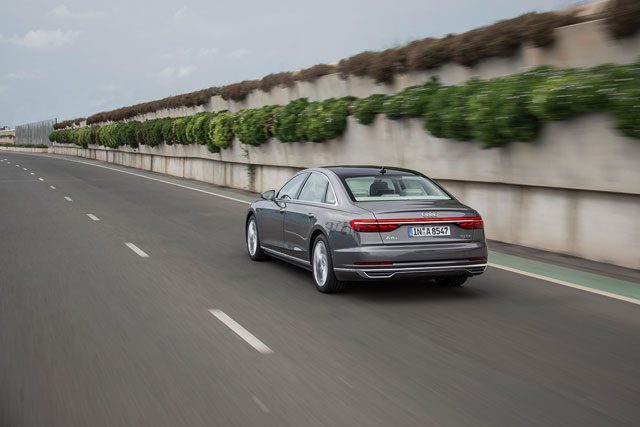 Built using lighter yet 24 per cent stiffer aluminium intensive construction, and with improved standard adaptive air suspension, the new A8 is a more comfortable and better handling car than its predecessor. However, with optional electromechanical suspension, and four-wheel-steering, the dynamic gap is even wider. Sublimely stable, planted, comfortable and composed at highway driving as it fluently adjusts to road texture. Longer and with a heavier V8 engine positioned ahead of the front axle the A8 L 60 was, however, surprisingly more nimble, agile and distinctly sportier through winding and narrow country lanes and hill climbs, than even the A8 55 TFSI, the lightest and smallest model in the range.
Carving through narrow and tight corners with the sort of agility and sure-footedness usually reserved for a considerably smaller car, the A8 L 60's active electromechanical suspension intuitively reads the road, the car's position and other parameters, to fluently, quickly and accurately adjust wheel position and ride firmness. Meanwhile its four-wheel steering turns the rear wheels in the same direction as the front at higher speeds for better agility, road-holding and tighter cornering lines. The combined result ensured that the A8 L 60 turns in keenly, crisply and with taut grip of the road and taut body control that keeps it flat, composed and poised through a string of switchbacks.
Comfort and control
Driven before market launch, the A8 60 L's electromechanical suspension will be even more sophisticated when it becomes available for sale and will feature a predictive element. Demonstrated during a short drive in controlled conditions in a pre-launch W12 engine model, the A8's electromechanical suspension is even more impressive with its predictive functionality enabled, during which it can raise or lower individual in time to keep the car level and smooth over even significant bumps, cracks and imperfections. Also using Audi AI systems, the A8's electromechanical suspension can predict a potential collision and raise the body to mitigate to alter the point of collision and protect occupants.
Belying its 5.3-metre length and well over 2- onne weight in its agility through country lanes, the A8 60 L also benefits from vice like road holding courtesy of its Quattro four-wheel-drive. Distributing power with a 60 per cent rear bias and able to alter this allocation, the A8's Quattro system ensures power goes where it is needed for tidy handling and grip, while an optional limited-slip differential further improves on this. Steering meanwhile is quick, precise and meaty, and with the rear wheels turning in the opposite direction to the front at low speed, the A8 L 60 becomes highly manoeuvrable in urban settings, with a tight 11.8-metre turning circle comparable to a much smaller car.
Generous refinement
A statuesque car with sculpted surfacing, great attention to detail and an elegant yet assertive look, the A8's design focal point is its vast hexagonal grille. Nestled just behind the single frame grille, the A8 L 60 is Audi's now familiar, smooth, powerful and efficient 4-litre twin-turbocharged V8 engine. Muscular and effortlessly flexible, its quick spooling turbos and short gas flow paths provide terrific off the line responsiveness, generous mid-range versatility and an urgent climb towards its rev limit. With more power and torque unlocked for service in the new A8, it develops 454BHP and a generous 486lb/ft throughout a broad mid range torque band.
Swift yet serene, the A8 L 60 accelerates to 100km/h in around 5-seconds and drives smoothly through, slick 8-speed automatic gearbox. Quiet and refined inside, the A8 features cabin high quality leathers, suede, metals and woods and extensive equipment, including a configurable instrument panel, a twin screen high tech infotainment system with haptic buttons and advanced voice recognition. Spacious inside, the long wheelbase A8 L's rear seats are particularly generous for legroom. A dizzying array of driver assistance systems includes Audi AI's self driving features, which, when enabled does not require constant monitoring and allows it to stop, start, steer and brake up to 60kph under the right circumstances.
TECHNICAL SPECIFICATIONS
Engine: 5.6-litre, in-line V8-cylinders

Bore x stroke (mm): 98 x 92mm
Valve-train: 32-valve, variable valve timing, DOHC, direct injection
Gearbox: 7-speed automatic, four-wheel-drive
Drive-train: Locking rear differential and low gear transfer case
Gear ratios: 1st 4.887:1 2nd 3.17:1 3rd 2.027:1 4th 1.412:1 5th 1:1 6th 0.864:1 7th 0.775:1
Reverse / final drive ratios: 4.041:1 / 4.357:1
Power, HP (kW): 400 (294) @ 5800rpm*
Torque, lb/ft (Nm): 413 (560) @ 4000rpm*
0-97km/h: 6.5-seconds (est.)
0-160km/h: 17.8-seconds (est.)
Fuel consumption, city / highway: 16.8 / 11.76 liters/100km (est.)
Fuel capacity: 100 + 40 liters
Height: 1940mm
Width: 1995mm
Length: 5165mm
Wheelbase: 3075mm
Approach / departure angles: 26.6° / 25.9°
Kerb weight: 2750-2800kg (est.)
Gross vehicle weight: 3500kg (est.)
Towing capacity: 2000kg
Seating capacity: 8
Steering: speed-sensitive power assisted rack and pinion
Turning radius: 12.1-metres
Suspension: Independent, double wishbone with active hydraulic damping

Brakes, F/R: Ventilated discs, 4- / 2-piston calipers
Tyres: 275/60R20
Price, as driven: JD98,000 (on-the-road, no insurance)
*Gross power and torque
Related Articles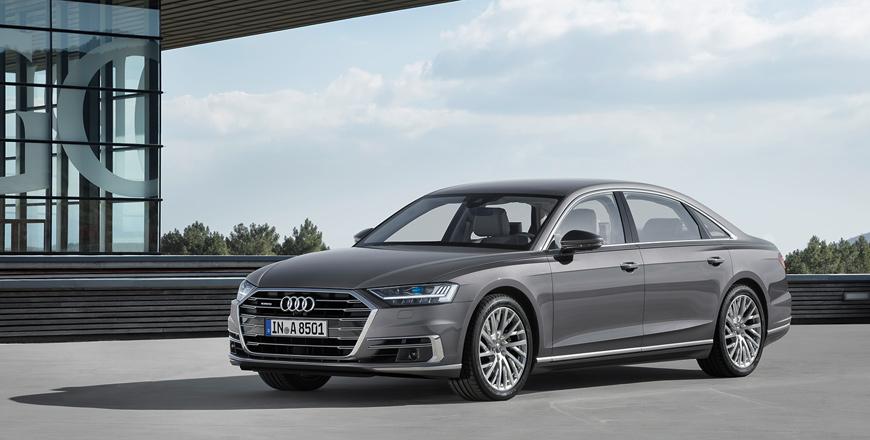 Mar 12,2018
Launched late last year, the latest iteration of Audi's luxury flagship A8 model promises cutting edge technology, comfort and safety.
Oct 23,2017
Launched globally last week and brimming with cutting edge technology, the latest Audi A8 throws down the gauntlet to its almost exclusively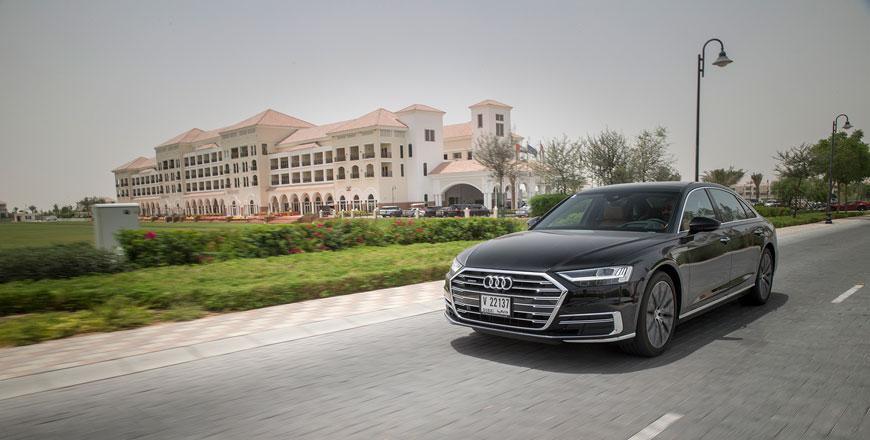 May 28,2018
Arriving to Middle East markets earlier this month and launched internationally late last year as a 2018 model, the fourth and latest genera
Newsletter
Get top stories and blog posts emailed to you each day.