You are here
'Baby Benz' matures nicely
By Ghaith Madadha - Apr 28,2014 - Last updated at Apr 28,2014
Larger and more comfortable, luxurious and advanced, the latest generation Mercedes C-Class however boasts significant weight, fuel consumption and emissions reductions. Successor to the 1980s 190 'baby Benz' saloon, the C-Class has long ceased being the smallest Mercedes but is now a junior executive saloon with luxury car refinement and equipment. Launched internationally just late last month in Marseille, France, the W205-series C-Class' high tech kit, flowing style and optional air suspension has led some to label it a 'baby S-Class' in reference to Mercedes' flagship luxury liner. One however found it to be a very well-sorted, smooth, elegant and balanced car.
Stylishly subtle
Understated but refined, with elegant curves, sporty proportions, and subtly toned surfacing and athletic tension, the new C-Class has a distinct air of confidence yet discrete luxury and none of the overt size, presence and detail of some sister models. Conveying much in a seemingly minimalist way and in such a small package, the new C-Class is one of Mercedes best designs in recent years. Offered with Sporty Avantgarde and AMG bodykits with a large grille-fitted tri-star, the featured Exclusive line however uses a more traditional and formal presentation, with a multi-slat grille and small hood-mounted emblem, and a less-is-more attitude to body kit.
With cabin set well back and big distance between A-pillar and front wheel-arch creating a distinct sense of luxury, the C-Class gently arced roof and subtly muscular shoulders converge to a tapered in boot with a discreetly sculpted spoiler. A wide grille is reflected by raised bonnet centre, while an under-grille curve flows through a line of headlight LEDs and smoothly continues to a descending upper side crease line — mirrored by an ascending lower line. Built from lightweight aluminium bodywork, the C-Class' smooth lines and the Exclusive model's automatically closing and opening grille vanes generate just CD0.27 aerodynamic drag, and contribute significantly to its improved efficiency.
Efficient engineering
Built using extensive aluminium construction accounting for 50 per cent of content, compared to its' predecessor's 10 per cent, the new C-Class benefits in terms of weight reduction and body rigidity. With a 70kg body weight loss and up to 100kg overall weight loss depending on the model, the trimmer new C-Class reaps fuel efficiency, performance and handling benefits, the latter of which was evident through back-road switchbacks, where it felt more agile, nimble and better controlled through corners. Meanwhile, body rigidity translates into ride refinement, crash safety and handling benefits, with noise and vibrations reductions, while a stiff body allows for more precise steering and suspension.
The W205 C-Class' lower weight, improved aerodynamics and other factors are said to reduce fuel consumption by up to 20 per cent, while a model-to-model comparison between the driven C250 BlueTec and its direct C250 CDI BlueEfficiency predecessor reveal an 0.5l/100km reduction in combined cycle fuel consumption, 18g/km less CO2 emissions, 0.5-second faster 0-100km acceleration and 7km/h higher top speed. With its lighter weight allowing for a bigger size, the new C-Class is 40mm wider and 95mm longer, 80mm longer of which is accounted for with a longer wheelbase, which provides improved cabin space, front and rear, while boot capacity increases to 480-litres.
Composure and control
The first car in its segment to feature optional air suspension — usually reserved for flagship luxury cars — the tested C250 Bluetec model rode smoothly and with air suspension providing a self-leveling function, remained composed through corners, with cornering body lean, acceleration squat and brake dive well-suppressed. Refined and stable on highways the C250 BlueTec took most lumps and bumps smoothly in its stride, remaining comfortable and composed throughout. In fact, even with stiff optional low profile 245/40R18 rear sports tires fitted rather than supple standard tires, only one particularly jagged, jarring and sudden low speed pothole disrupted the C250's silky ride.
The optional sports alloy wheels and tires however look great filled out the C250's wheel-arches well, and through brisk switchbacks provided lots of grip and handling composure, while the actively variable air suspension damping features four progressively firmer settings to suit different situations. The C-class' direct and efficient electro-mechanical steering features active variable assistance and speed, and is firmly for brisk roads and light for urban maneuverability. With extensive high tech safety and driver assistance systems the C-Class features a standard collision prevention system, which to prevent 40km/h collisions and can reduce severity up to 200km/h, while lane keeping and semi-autonomous driving systems are optional.
Refined ride
Driven at launch in Exclusive trim package with C250 Bluetec drive-train, one was surprised that the highly efficient and powerful 2-litre 4-cylinder common-rail turbo-diesel matches the turbo petrol C250's 6.6-second 0-100km/h acceleration and at 247km/h, nearly matches its 250km/h top speed. Spooling up quickly past low-end lag, the C250 BlueTec develops massive 369lb/ft torque throughout 1600-1800rpm, which allows for effortlessly confident uphill driving, overtaking or towing. With Diesel engines having come a long way in recent years, the C250 BlueTec 201BHP at 3800rpm power output is nearly on par with its petrol sister's 208BHP, while only consuming 4.3l/100km and emitting just 109g/km CO2 on the combined cycle.
With good cabin noise, vibration and harshness isolation, very little of the diesel clatter that was synonymous with diesel cars is audible in the cabin, while automatic gear shifts are smooth and drive-train refinement high. With seven speeds, the C250 BlueTec's gearbox utilises the relatively narrow turbo-diesel torque band for performance and efficiency, while the gear selector is now mounted on the steering column to free up more centre console space. Refined and well-space inside, the C-Class's ergonomic and versatile seat, and steering adjustments provided ideal driving positions for extremes of driver sizes, as was required by this writer and my co-driver during test drive in Marseille.
Seamlessly combining sporty and classy design elements, and in its well-appointed and finished interior, the new C-Class lakes a leaf from Mercedes' sports models with the use of an upright dashboard metal-ringed circular air vents, while its chunky steering and coned dials are similarly sporty. Light and airy, the C-Class features plenty of soft touch textures and leathers, while its classy wood grain centre console has a touch of the traditional and is juxtaposed by an internet-enabled and smart phone compatible tablet-style infotainment touchscreen. One can also access the numerous infotainment and vehicle menus through a centre console rotary selector and touchpad.
SPECIFICATIONS
Engine: 2.15-litre, turbo-diesel, in-line 4-cylinders
Bore x stroke: 83 x 99mm
Compression ratio: 16.2:1
Valve-train: 16-valve, DOHC, common rail direct injection
Gearbox: 7-speed automatic, rear-wheel-drive
Ratios: 1st 4.38:1 2nd 2.86:1 3rd 1.92:1 4th 1.37:1 5th 1:1 6th 0.82:1 7th 0.73:1
Reverse: 1st 3.42:1 / 2nd 2.23:1
Final drive ratio: 2.47:1
0-100 km/h: 6.6-seconds
Maximum speed: 247km/h
Power, BHP (PS) [kW]: 201 (204) [150] @3800rpm
Specific power: 93.8BHP/litre
Power-to-weight: 126BHP/ton
Torque, lb/ft (Nm): 369 (500) @ 1600-1800rpm
Specific torque: 233.3Nm/litre
Fuel consumption, combined: 4.3-litres/100km
CO2 emissions, combined: 109g/km
Fuel tank capacity: 41-litres
Length: 4686mm
Width: 1810mm
Height: 1442mm
Wheelbase: 2840mm
Track, F/R: 1548 / 1573mm
Aerodynamic drag co-efficiency: 0.27
Boot capacity: 480-litres
Payload: 565kg
Kerb weight: 1595kg
Steering: Power-assisted, rack and pinion
Turning circle: 11.22-meters
Suspension: Multi-link, adaptive air suspension, anti-roll bars
Brakes, F/R: Ventilated discs / discs
Tires, F/R: 225/45R18 / 245/40R18 (optional, as tested)
Related Articles
Aug 04,2014
Launched earlier this year the latest incarnation of Mercedes-Benz junior executive C-Class model line is a larger and more luxurious and high tech offering than the car it replaces.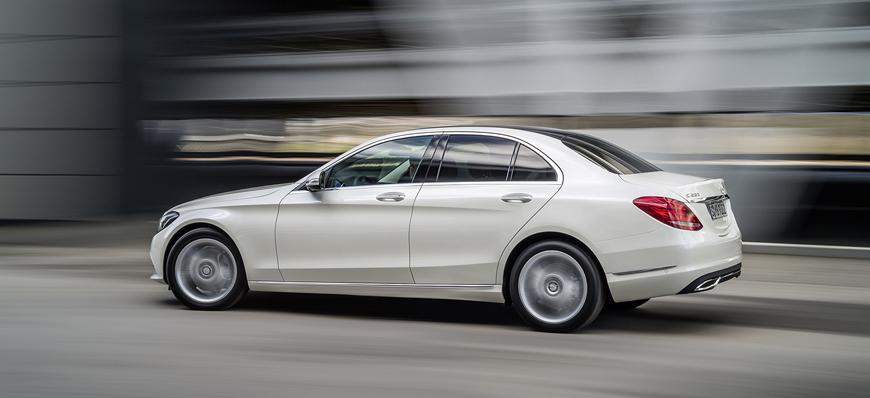 Jul 11,2016
Launched in 2014 as Mercedes' fifth compact executive saloon since the 190 first appeared in the 1980s, the C-Class has become a more luxuri
Jan 19,2015
The first in its compact executive saloon segment to offer optional air suspension, the new Mercedes-Benz C-Class is a more technologically advanced and well-kitted successor model with a distinctly more luxury-oriented approach than its predecessor. 
Newsletter
Get top stories and blog posts emailed to you each day.