You are here
Blonde connection
By Nickunj Malik - Jul 20,2016 - Last updated at Jul 20,2016
Recently I realised that I was getting a bit tired of colouring my hair the same shade of brown that I was born with. The wisps of grey that used to take a couple of months to accumulate were now appearing at faster intervals. Barely a fortnight went by after my trip to the hairdresser and it was time for me to revisit him again.
To cure this malady my hairstylist suggested I go blonde. As soon as he made this recommendation I doubled up with laughter. I thought he was joking but one look at his hurt expression convinced me that he was dead serious. People from the Indian sub continent don't have blonde hair, I told him. It did not match our dark eyes and eyebrows.
Even so, it was the most practical solution, he asserted. My grey tresses would merge with the golden ones and I would not need to dye my locks as often as I needed to. He got a magazine and showed me pictures of Indian and Arab actresses who had all coloured their hair ash blonde. As he was flipping the pages, I saw a man's face with a dishevelled mop of blonde unkempt hair. It was Boris Johnson, the former Mayor of London and the current British foreign secretary who was photographed with a comical smirk, holding both his thumbs up.
I grabbed the magazine to take a closer look at the face of Brexit. Here was the man who, after campaigning for it tirelessly, supposedly spent the Saturday, after the referendum, playing cricket at the ancestral home of Princess Diana's brother, Earl Spencer. There was also speculation that he had not really wanted Britain to quit the EU at all, just to put up a good fight and be hailed as a gallant loser by Brexit-hungry Conservative Party members who would then vote for him in their droves when the time came to elect a new leader.
I scrutinised the visage of this controversial man who had made international headlines with his flippant remarks on world leaders from Barack Obama to Hillary Clinton to Vladimir Putin. I was also reminded of his most famous quote where he said, "My chances of being PM are about as good as the chances of finding Elvis on Mars, or my being reincarnated as an olive."
All this went through my head as I contemplated changing my hair colour to golden. I was going to join a tribe that not only had many dumb jokes associated with it but its most famous proponent was the blonde king, Boris Johnson himself! The lesser said about the other blondie, Donald Trump, the better. Hillary Clinton was also a blonde but as I was given to understand by another of Mr Johnson's uncharitable observations, "She's got dyed blonde hair and pouty lips, and a steely blue stare, like a sadistic nurse in a mental hospital."
Right! So I told my hairdresser that I would think about his advice. Once I got home I realised that at least three of my friends and four aunties had suddenly turned blonde. They all carried the look pretty well so maybe it was time for my makeover too.
"Does Elvis live in Mars?" I asked my husband.
"No dear," he answered distractedly.
"Can I be reincarnated as an olive?" I queried.
"Yes dear," he responded.
"Should I become blonde?" I muttered.
"No! Never! Don't turn into Boris!" he exploded.
Related Articles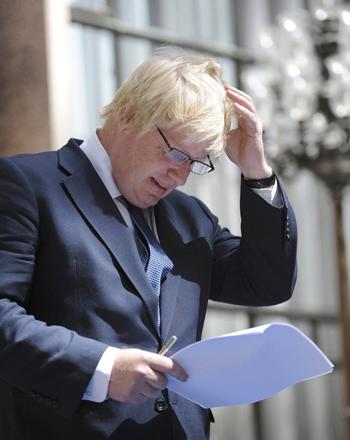 Jul 14,2016
LONDON — Boris Johnson, Britain's most colourful politician with a long record of gaffes and scandals, was appointed as foreign secretary on
Mar 09,2016
I have often wondered, for no particular reason, that if I ever met my mother again, would she be able to recognise me?
Jan 08,2018
LONDON — British Prime Minister Theresa May sought to refresh her government with a ministerial reshuffle on Monday as she faces a crucial y
Newsletter
Get top stories and blog posts emailed to you each day.