You are here
Caterham Seven 270S (SV): Compelling control and clarity
By Ghaith Madadha - Aug 15,2016 - Last updated at Aug 15,2016
Photo courtesy of Caterham Cars
First introduced in 1957 under the Lotus badge and in continual development since Caterham took over production in 1973, the Seven is — at face value — a simple but effectively minimalist recipe of undiluted and uncomplicated thrills. Capable of out-handling and out-performing far more complex and costly cars, the Seven's philosophy rests on meticulous weight saving and its character defined by a distinct connected driving purity.
From a range of visceral, fun and lightweight road- and track-oriented cars bookended by turbocharged three-cylinder 80BHP and supercharged 310BHP variants, the 270S is entry-level among Caterham's core naturally aspirated models. Accessible, affordable and more practical, the 270S is probably Caterham's most usably fun daily drive yet, and is pitched perfectly to unlock its high-revving, direct, responsive and agile characteristics on road rather than require a track.
Lightweight sensibility
Much evolved and honed but little changed in ethos, execution and basic iconic design over many years, the Seven is a back-to-basics car where form follows function and light weight is paramount. Light, low and small with front mid-engine, exposed side-mounted exhaust, rollover bars, aluminium panels, rear drive, rear seating position and wheels pushed far to corners, the Seven features ideal within wheelbase weighting, low centre of gravity and a big footprint for stability.
With Caterham's lightweight sensibility is a self perpetuating one where lightness adds lightness, even steering or brake servo assistance is omitted, as they are simply unneeded. Cutting out anything remotely superfluous to the driving experience, the Seven features exposed suspension and wheels and is built on a lightweight but stiff tubular frame allowing for a soft top design without dynamic penalties. Meanwhile carpet or heater is even optional, depending on model.
Based on Caterham's new nomenclature with S designation for more compliant road versions or R for stiffer hardcore track incarnations, and numerical model name denoting approximate power-to-weight ratio, the 270S develops 135BHP, yet weighs just 550kg, even with marginally heavier wide SV chassis — as driven — the 270S features light solid disc brakes all-round, while limited-slip differential and rear anti-roll bar are optional 270S features, but standard on the 270R.
Swift and sweet
Positioned far back in its chassis, the 270S is powered by a Ford-sourced 1.6-litre four-cylinder engine mated to a close ratio 5-speed manual gearbox driving the rear wheels. With variable valve timing and high compression and single — rather than more complex multiple independent — throttle body, the 270S' sweet high revving engine is honed by Caterham to develop 135BHP at 6,800rpm — 10BHP more than its predecessor — and 122lb/ft at 4,100rpm.
With a resonant baritone staccato urgently rising and hardening, the 270S is eager and long-legged as revs rise. Peaky yet flexible, the lightweight 270S pulls confidently and responsively hard from idle through mid-range. Versatile even when cruising at speed in top gear and progressive in delivery throughout, it is, however, at its best revved hard and high as torque builds and peaks before it unrelentingly bears down on its 6,800rpm rev limit.
With precise, sensitive yet intuitive throttle and clutch pedal, the 270S launches smartly off-the-line, with a slight chirp as rear tyres dig in to tarmac. Blasting through the 0-100km/h benchmark in just 5 seconds, the svelte and swift 270S is an intoxicating and addictive drive. Accurate, succinct, snappy and stiff, the 270S' gear change has a distinctly and satisfyingly mechanical feel. However, somewhat short ratios and old school aerodynamics limit the 270S' top speed to 196km/h.
Intuitively interactive
Riding on sophisticated independent suspension with double wishbones in front and De Dion rear axle, the 270S also features relatively small alloy wheels shod with 195/45R15 tyres, which given its low weight provide the necessary grip while keeping unsprung weight and costs low. Meanwhile, unassisted brakes and steering initially feel stiff, but are highly effective, soon becoming second nature and providing precise and natural feel and feedback to instil driver confidence and involvement.
Focused and connected, the 270S' low weight and small size allow for immediate, crisp, delicate and precise responses, with superb body and weight shift control. All about the driving experience and visceral, fun, natural and mechanical driver-car interactivity devoid of distraction, dilution or assistance like electronic stability control and ABS braking. Instilling a sense of clarity and control, and devolving driver responsibility for every input, the 270S focuses ones concentration like few other cars.
Tidy, exacting fluent through switchbacks, the 270S' low weight allows one to come on the brakes hard and late without fade, before crisply darting into a corner. Level throughout a corner, it exits with poised panache as one comes back on power early and progressively. And with balanced weighting, agile reflexes, connectivity, quick 1.93-turn steering and accurate throttle control to dial in power, one can intuitively and flawlessly correct any slight rear if induced.
Focus and fluency
Sat low within its cabin and exposed to the rushing wind and resonant engine and exhaust acoustics, the 270S is exhilarating, captivating and compellingly fun to drive through narrow sprawling and winding roads. At highway speeds it is settled and confident, requiring the occasional slight steering correction through strong crosswinds. And with its low and exposed driving position and lack of assistance, one instinctively becomes more, taking no unnecessary chances or making no careless input.
With Caterham's masterful knack for suspension set-up and tuning, the S270S is sure-footed, firm and settled on rebound and potentially ready for track driving. However, as the more road-biased version, it nevertheless is supple and fluent riding over imperfect British backroads and motorways. Owners can additionally opt for a personalised suspension and steering geometry set-up tailored to more precisely distribute weight to further improved handling, comfort, steering and braking abilities for a specific driver.
Minimalist inside, the 270S features clear instruments, gauges and toggle switches, generous legroom and an upright, alert and focused driving position with good visibility and perfectly positioned small steering and stubby gear lever. More comfortable and useable than expected on long journeys, hip and shoulder room are, however, at a premium, even in the wide chassis SV version tested. An elemental open top car, the 270S, however, feature removable doors and occasional use clip-on soft top.
TECHNICAL SPECIFICATIONS
Engine: 1.6-litre, front-mid, in-line 4 cylinders
Valve-train: 16-valve, DOHC
Bore x stroke: 79 x 81.4mm
Compression ratio: 11:1
Gearbox: 5-speed manual, rear-wheel drive
Power, BHP (PS) [kW]: 135 (137) [101] @6800rpm
Specific power: approximately 84.6BHP/litre
Power-to-weight: 245.5BHP/tonne
Torque, lb/ft (Nm): 122 (165) @4,100rpm
Specific torque: approximately 103.4Nm/litre
Torque-to-weight: 300Nm/tonne
Redline: 6,800rpm
0-100km/h: 5 seconds
Maximum speed: 196km/h
Fuel capacity: 36 litres
Length: 3,250mm
Width: 1,685mm
Height: 1,115mm
Wheelbase: 2,305mm
Track, F/R: 1,463mm
Weight: 550kg
Steering: Rack & pinion
Lock-to-lock: 1.93 turns
Suspension F/R: Double wishbones/De Dion axle
Chassis: Tubular space-frame
Brakes: Discs
Tyres: 195/45R15
Related Articles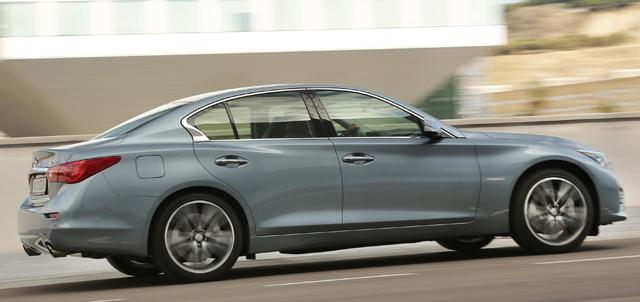 May 19,2014
A high-tech replacement for the Infiniti G Sedan, the new Q50 compact premium saloon is the luxury brand's first new offering since recently relocating to Hong Kong and reasserting itself as a global and urbane sports luxury brand.
Jul 18,2016
A practical high performance brute with turbocharged 5-cylinder engine and resolute four wheel-drive roadholding, the Audi RS3 Sportback is
Sep 26,2016
A special and particularly desirable breed of Lamborghini, the Huracan LP580-2 may not be the most powerful, expensive, extravagant or outla
Newsletter
Get top stories and blog posts emailed to you each day.