You are here
Celebrating cultural exchange
By Rand Dalgamouni - Oct 28,2014 - Last updated at Oct 28,2014
AMMAN — Artists from Jordan and Japan ask piercing, contemplative questions while celebrating cultural exchange at Dar Al Anda Art Gallery's "East to East" exhibition.
Celebrating 60 years of diplomatic relations between Jordan and Japan, the exhibition showcases paintings and sculptures by three seasoned Japanese and Jordanian artists.
In her colourful works of mixed media on canvas, Japanese artist Yuko Kawaguchi pays tribute to the closeness of Japan and Jordan.
The recurring motif of birds and butterflies, symbolising Jordanian-Japanese friendship, are hidden in her abstract artwork, with each piece offering a feast to the eyes.
Kawaguchi, who has been to Jordan nine times, uses traditional Japanese paper and acrylic mixed with ceramic powder to give her work a special character.
Highly detailed and layered, her artworks — dominated by hues of pink, blue and green — reward thorough examination with little nuggets of details and motifs hidden in plain sight.
For her contribution to the exhibition, Jordanian artist Juman Nimri chooses to pose vital questions about the future of a plight-ridden generation.
Paintings and installations by Nimri, who has often touched upon the issue of child abuse in her work, depict young children surrounded by bleak colours.
"I'm focusing on issues that affect children, especially in Arab countries, such as early marriage… but on top of all these problems, the wars and conflicts plaguing our region have exacerbated these children's plight," the artist said.
"We are all victims of what's happening, but the biggest victims are future generations," she told The Jordan Times.
The image of dolls is prevalent in Nimri's work — an echo of lost innocence.
In one of her installations, a doll is covered all over in black handprints. Her mouth is forever silenced under the grip of oppression and destruction.
"In this collection, I pose a number of questions without expecting answers… answers are only a way to escape the bitter reality," Nimri wrote, commenting on her collection.
The artist said her participation in an exhibition with Japanese artists enriches her experience and gives her a closer look at art from the East, having previously participated in exhibitions with Western artists.
In their sculptures, Japanese artists Norio Takaoka and Ryosuke Shibata opt for simplicity.
Working with marble, granite and other materials, Takaoka focuses on "the seeds" that grow into ideas, using nature as his inspiration.
Seeds for him are symbols of hope and new beginnings.
Mixing marble with metal to make a "flower", the sculptor makes a comment on the "hybridity" of our world that mixes the organic with the artificial.
His art pieces are also based on balance, another inspiration from mother nature.
Shibata's works of ceramic, porcelain and wood go back to the roots, the primitive image and design.
Each work is made up of carefully balanced pieces that form a simple image in what he describes as a "naïve style".
Although using similar moulds, Shibata makes each piece unique by adding different patterns to it.
Jordanian sculptor Samer Tabbaa uses wood, steel, aluminium and even feather to create intriguing sculptures that also pose many questions rather than offering answers.
The abstract nature of his work leaves much to the viewer to discern.
"Trying to explain my work would be as difficult as… trying to speak Japanese. I can only say that when I work I try to be true to the material and true to myself. I don't always succeed, but then the line in art between success and failure is very blurred," Tabbaa said, commenting on the sculptures.
"I have long admired Japanese culture and see similarities between my sense of aesthetic and theirs, so naturally the exhibition was valuable to me as an artist and I hope for more interactions," he added.
Jordanian artist Hani Alqam's works of acrylic on wood celebrate the grotesque, with a striking mixture of colours that draw the viewer.
Alqam mixes the holy with the profane, using unsettling colours to depict angelic figures, with the stark contrast adding another level of depth to his work.
The exhibition continues through October 31.
Related Articles
Oct 26,2017
AMMAN — Hundreds of Jordanians experienced Japanese art at Yuko Kawaguchi's "The Colour Stories" solo exhibition which concluded on Wednesda
Mar 29,2018
AMMAN — Three generations of Jordanian artists are currently on display at the Zara Gallery, as part of the group exhibition "From a Differe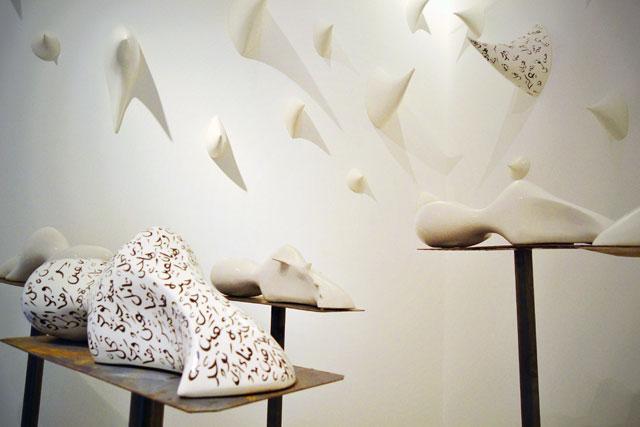 Oct 10,2017
AMMAN — Clay, Arabic calligraphy and creativity converge in the sculptures showcased at the Wadi Finan Art Gallery with "Elysian", the new e
Newsletter
Get top stories and blog posts emailed to you each day.