You are here
Chrysler Pacifica: Perky people carrier
By Ghaith Madadha - Mar 20,2023 - Last updated at Mar 21,2023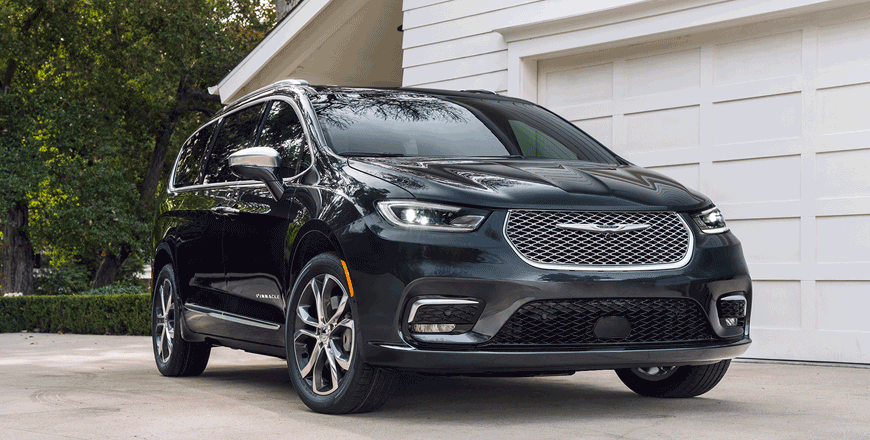 Photo courtesy of Chrysler
A niche manufacturer in an age of ever expanding, but little differentiated crossover-heavy model lines, US automaker Chrysler currently fields no SUV-like vehicle, but instead two distinct, more traditional models that it does well, including the chiselled 300 saloon and bullet train-like Pacifica MPV.
A standout player in the shrinking MPV market, the Pacifica was introduced in 2016 with a sleek design, eager engine and plenty of practicality, space and equipment. Revised for 2021 model year, it gained a sharpened up design, new drive-line options and improved tech and equipment.
Moody MPV
A sleeker and more swept design with a higher waistline than its predecessors, the contemporary Pacifica cuts a dramatic demeanour with swooping lines, defined creases and an urgent wedge like shape that carries its height and width with grace. Mildly revised for its mid-life face-lift, the Pacifica's fascia receives a clearer and better-defined treatment, with various elements being better defined and individualised. This includes sharper deep-set headlights, a bigger and bolder mesh grille, and more chiselled bumper, while the rear receives moodier new full-width lights.
Riding on a front-wheel-drive platform and powered by a transversely mounted naturally-aspirated 3.6-litre V6 Pentastar engine, the revised Pacifica, however, also introduces an optional all-wheel-drive variant for improved poor weather road-holding and an optional hybrid power-train available only for front-drive versions. With all versions sharing the same smooth, eager and now familiar Pentastar engine, and smooth and reasonably quick shifting 9-speed automatic gearbox, the latter's numerous ratios make best use of the former's linear delivery for efficiency, performance, versatility and refinement.
Sporty and seamless
A refreshingly engaging counterpoint to smaller turbocharged engines with low-end lag, a muscular mid-range burst and unwillingly low-revving top-end, the Pacifica's V6 is instead seamlessly progressive in delivery as it urgently sweeps through its rev range. Responsive off the line, the Pacifica's driven front wheels tug slightly under hard acceleration as its 235/60R18 tyres momentarily scramble to put power down to tarmac. Producing 287BHP at 6,000rpm and 262lb/ft torque at 4,000rpm, the Pacifica goes on to swiftly propel its 2,050kg mass through 0-100km/h in 7.4-seconds.
Responsively immediate at low-end from the get-go, and confidently flexible in mid-range for cruising, overtaking and inclines, the Pacifica is however best when racing to its high 6,400rpm rev limit. A sportier drive than to be expected from a two-tonne mini-van, the Pacifica's naturally-aspirated engine provides exact input and lift-off throttle response, and incremental delivery. With good on-throttle adjustability, the Pacifica allows one to accurately modulate power and torque application when powering out of corners to maintain traction and control, and tightening cornering lines.
Confident comfort
A sportier and more agile drive than a big three-row people carrier has a right to be, the Pacifica may not be an outright sports vehicle, but handles far better than expected, with responsively tidy turn-in and quick and direct steering. Eager into corners, its nose-heavy weighting and 5.2-metre length may prevent playful weight shifting adjustability through corners, but instead delivers reassuring rear grip. Pushed to its grip limit, the Pacifica's understeer instinct can, however, be easily and responsively countered by easing slightly off the throttle to tighten a cornering line.
If nimble hot hatch-like corner carving handling traits are not intended or expected for its class, the Pacifica nevertheless well-contains body roll through corners. It is however on highway where it excels as a smooth, stable and reassuringly refined long-distance cruiser at speed. Comfortably and forgivingly dispatching most road imperfections in its stride, the Pacifica is also easy to manoeuvre for its length, with its relatively tight 12.1-metre turning circle, high seating, and excellent visibility over its low and short bonnet.
Classy and cavernous
Adept in town, the Pacifica's manoeuvrability is aided by reversing sensors and cameras, and driver assistance systems like rear crosspath and blindspot warnings. For confined spaces, its wide sliding rear doors provide easy access to a spacious cabin, with many storage spaces and useful front and rear passenger features, low loading height, and enormous configurable cargo volume of between 914- to van-like 3,978-litres. Available as 7- or 8-seater with middle row captain or bench seats, the Pacifica delivers spacious seating either way, with wide front door swing angles.
The Pacifica features comfortable and well-adjustable front seating, practical, user-friendly forward folding middle row seats for rear row access, and electric seat folding controls in the cargo area. Premium but not 'precious', the Pacifica's cabin is convenient and classy in appointment, with welcoming in ambiance. Generously equipped with driver-assistance, safety, comfort and convenience features including child seat latches, advanced collision warning and lane departure systems, the face-lifted Pacifica also comes with a new Android Auto, Apple Carplay and Alexa enabled 10.1-inch screen infotainment system with dual phone Bluetooth connectivity.
TECHNICAL SPECIFICATIONS
Engine: 3.6-litre, transverse V6-cylinders
Bore x Stroke: 96 x 83mm
Compression ratio: 11.3:1
Valve-train: DOHC, 24-valve, variable timing
Gearbox: 9-speed automatic, front-wheel-drive
Ratios: 1st 4.7; 2nd 2.84; 3rd 1.91; 4th 1.38; 5th 1.0; 6th 0.81; 7th 0.7; 8th 0.58; 9th 0.48
Reverse/final drive: 3.81/3.25
Power, BHP (PS) [kW]: 287 (291) [214] @6,400rpm
Specific power: 79.6BHP/litre
Power-to-weight: 146.1BHP/tonne
Torque, lb/ft (Nm): 262 (355) @4,000rpm
Specific torque: 98.4Nm/litre
Torque-to-weight: 180.7Nm/tonne
Rev limit: 6,400mm
0-100km/h: 7.4-seconds (estimate)
Fuel capacity: 71.9-litres
Overhang, F/R: 972/1,127
Track, F/R: 1,735/1,736mm
Approach/break-over/departure angles: 14°/12.5°/18.7°
Drag co-efficient: 0.30
Seating: 7/8
Lift-over height: 617mm
Cargo volume behind 3rd/2nd/1st rows: 914-/2,477-/3,978-litres
Kerb weight: 2,050kg
Weight distribution, F/R; 55 per cent/45 per cent
Steering: Electric-assisted rack & pinion
Steering ratio: 16.2:1
Suspension, F/R: Macpherson struts/twist blade, coil springs
Brakes, F/R: Ventilated disc, 330 x 28mm/disc, 330 x 12mm
Tyres: 235/60R18
Newsletter
Get top stories and blog posts emailed to you each day.