You are here
Ford Fusion 2.5: Flavour fusion
By Ghaith Madadha - May 26,2014 - Last updated at May 26,2014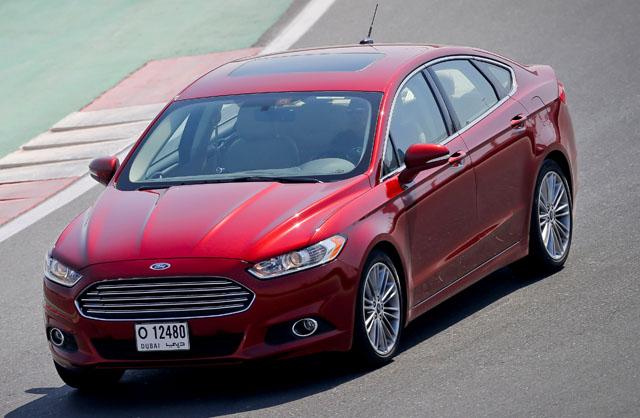 A product of the One Ford approach to developing cars for an ever more homogenised global car market, the Ford Fusion is an aptly named combination of Ford's previously distinct American and European flavours, and serves as replacement for both its outgoing US and global predecessor and the European Mondeo — which continues selling under the same name. Sitting in the particularly tough automotive D-segment where buyers look for value and premium brand comfort, tech and safety, the new Fusion scores particularly well in design, safety, refinement and driving dynamics. A striking and accomplished gambit, the Fusion should be cause for consternation for even its best-selling competitors.
With moody browed and slim headlights slightly angled in and flanking its broad gaping trapezoidal grille and lower intake assembly, the Ford Fusion cuts a distinctly dramatic and assertive figure. Extending from the top of its current corporate-style grille, the Fusion's ridged bonnet bulge extends to the base of the A-pillars and flows along a sleek and low roofline silhouette towards a rakish coupe-like rear slant and high rear deck. Aerodynamically slippery and with a stylishly urgent demeanor, the Fusion's high waistline features lower and upper character lines to keep it interesting, while large optional 235/45R18 tyres aesthetically fills its wheel-arches and complements its relatively long wheelbase.
Smooth and refined
Offered with an all four-cylinder engine range including 1.5-, 1.6- and 2-litre turbocharged Ecoboost engines for some markets, the Middle East however gets the 2.5-litre naturally aspirated engine option, mated to a six-speed automatic gearbox, and returns 9L/100km combined cycle fuel efficiency. Developing 172BHP at 6,000rpm and 170lb/ft at 4,500rpm and with well-chosen gear ratios, the Fusion delivers respectable in-class off-the-line acceleration, with progressive power delivery and good mid-range flexibility. A quick and smooth-shifting gearbox complements the Fusion's engine, and features electronic sequential manual shifting. Actuated by a small shift-lever mounted button, rather than lever movement, one found it more convenient to use accelerator pedal kick-downs shifting.
Where the Fusion excels is, however, in how it drives, and especially in terms of refinement and driving dynamics. With its aerodynamically efficient shape — including door mirrors that are extended away from the body for smoother airflow — and excellent in-class noise, vibration and harshness isolation, the Fusion remains refined and quiet as it slips through wind resistance, even at speed on track. Smooth riding and stable, the Fusion is comfortable with high speeds, while through simulated sudden lane change evasive manoeuvres it flicked to the next lane tidily and remained remarkably composed, with excellent body control, while secondary weight transfers were well suppressed.
Distinctly dynamic
Driven back-to-back against a 2,500km used example of the D-segment best-seller, the new Fusion had a distinct dynamic advantage, with better body roll and weight transfer control at high speed evasive maneuvers and medium speed slaloms. With superbly sporty, responsive and agile dynamics typical of contemporary Ford front-drive chassis platforms, the Fusion's quick 2.7-turn steering sliced through the tight slaloms' repetitive direction changes with quick wrist movements. With crisp front wheel grip, tidy body control, steering clarity and directness, the Fusion proved more agile and weaved through slaloms with greater concision and precision. Lining up to entering the Autodrome's fast 180° sweeper at 140km/h, the Fusion was planted, stable and settled throughout the descending and slightly banked roller coaster-like curve.
Reapplying the throttle by the sweeper's apex, the Fusion's front wheels dig in and pull through a clean cornering line and onto the straight. Though not noticeably faster in a straight line, the Fusion clearly had the upper hand through corners, and peeled away from the competition. Most evident through a 90° right hand corner followed by a tight ascending chicane segment, the Fusion remained composed and agile as it darted through with mere hints of under-steer and electronic stability control intervention if pushed too hard. Carrying similar speed, the competitor lurched through with noticeable body lean, stability control intervention and considerable understeer requiring excessive steering input and more throttle lift-off to follow an approximation of the desired line.
Sensibly safe
With its ride and cabin refinement a telltale sign of the precision, forethought, build quality, sound engineering and safety, the Ford Fusion earns the US Insurance Institute for Highway Safety's (IIHS) coveted Top Safety Pick+ when first tested last year, which requires four "good" and at most just one "acceptable" ratings of five tests. Significantly, the test included the IIHS' tough new "small overlap front" collision test, where it scored the second highest "acceptable" rating, while its prime competitor earned a "poor" rating — which has since been improved on — owing to some deformation of its A-pillar and because its front wheel intruded on the passenger cell's foot well.
Well designed to absorb collision force by sacrificing the car's deformable extremities and dissipate the impact throughout and along the structure, with the aim of maintaining passenger cell integrity, the Ford Fusion's IIHS test videos attests to its crash safety. Demonstrably retaining A-pillar integrity as collision force was dissipated through along the roof, sides and floor, the Fusion front wheel was also safely torn off to the side, without compromising the passenger cell. In addition to its structural safety, the Fusion comes with an extensive range of passive safety features and optional driver assistance and semi-autonomous safety systems.
Technology and refinement
The first car in its segment with inflatable rear — and front — seatbelts to mitigate impact force, the Ford Fusion also features a Personal Safety System that tailors the deployment of various airbags according to both passenger size and position. Offered with rear view camera and rear cross-traffic sensors, the Fusion's suite of driver assistance and semi-autonomous systems includes blind spot warning and driver alert systems. A Lane-Keeping System warns and then nudges the car back into lane if necessary, while Pull-Drift Compensation can apply subtle steering input to compensate for crosswinds. Adaptive cruise control can follow the car ahead at a safe distance and alert the driver of imminent collision.
Comfortable and refined inside, the Ford Fusion features good front space and seat adjustability, well-assembled interior construction and a quiet ambiance. With clean and contemporary styling and user-friendly layouts, the Fusion also features quality dash and console plastics and textures, while front visibility is also good. An accommodating mid-size saloon, the Fusion features good rear seat legroom and width, while headspace is generous for most passengers, but the rakishly slanted roofline does reduce headspace for taller passengers. Rear boot space is also accommodating at 453 litres. Well kitted with infotainment features, the Fusion also features a parallel parking assistance system that can automatically steer the wheels.
SPECIFICATIONS
Engine: 2.5 litre, all aluminium, transverse 4-cylinders
Bore x stroke: 89 x 100mm
Compression ratio: 9.7:1
Valve-train: 16-valve, DOHC, variable valve timing
Gearbox: 6-speed automatic, front-wheel-drive
Gear ratios: 1st 4.58:1; 2nd 2.96:1; 3rd 1.91:1; 4th 1.45:1; 5th 1:1; 6th 0.75:1
Final drive: 3.07:1
Power, BHP (PS) [kW]: 172 (175) [127] @ 6,000rpm
Specific power: 68.3BHP/litre
Power-to-weight ratio: 109.4BHP/tonne
Torque, lb/ft (Nm): 170 (230) @ 4,500rpm
Specific torque: 92.4Nm/litre
Torque-to-weight ratio: 148Nm/tonne
Fuel economy, city / highway / combined: 10.6 / 6.9 / 9 litres/100km
Fuel capacity: 62.5 litres
Length: 4,869mm
Width: 1,852mm
Height: 1,476mm
Wheelbase: 2,850mm
Track, F/R: 1,593 / 1,585mm
Headroom, F/R: 995 / 960mm
Legroom, F/R: 1,125 / 972mm
Shoulder room, F/R: 1,468 / 1,445mm
Boot capacity: 453 litres
Kerb weight: 1,554kg
Suspension: MacPherson Struts / Multi-link, stabiliser bars
Steering: Electric power-assisted rack & pinion
Lock-to-lock: 2.7 turns
Brakes, F/R: Ventilated discs / discs
Tyres: 235/45R18 (optional)
Related Articles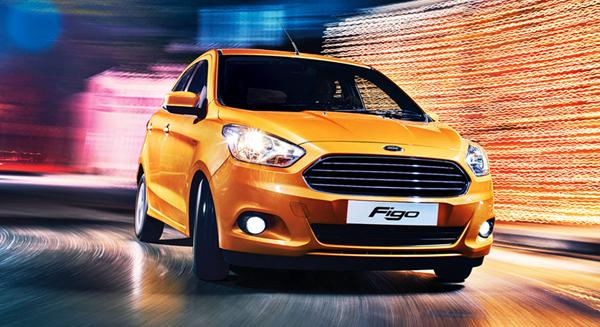 Apr 11,2016
An affordable, uncomplicated, practical and fun entry-level hatchback for developing markets including South Africa and the Middle East, the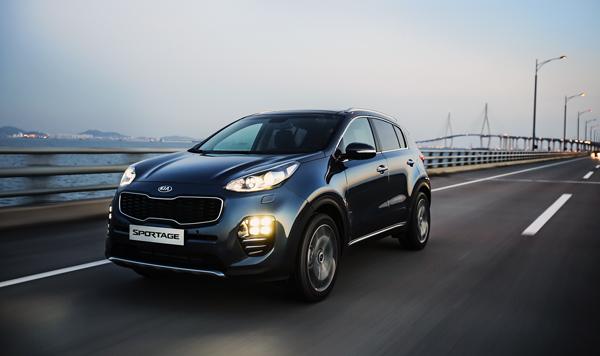 Mar 07,2016
A car-like SUV, the crossover segment's origins are difficult to pin down.
Mar 17,2014
One of the grandest of American cars, Lincoln — rather than Cadillac — had for a long time in the not distant past, supplied presidential limos to a succession of US presidents.
Newsletter
Get top stories and blog posts emailed to you each day.