You are here
Honda City 1.5 DX: Big city small saloon
By Ghaith Madadha - Sep 16,2019 - Last updated at Sep 16,2019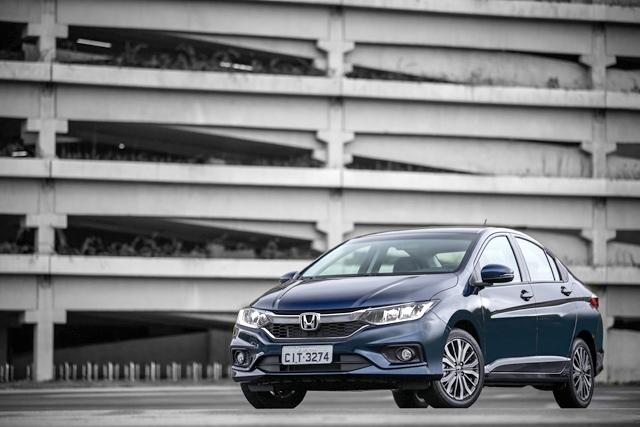 Reinvented in 1996 as a compact saloon car aimed largely at developing markets rather than small hatchback model that would be succeeded by the Jazz, the Honda City in many respects caters to similar clients as the Honda Civic in past generations.
A sub-Civic car designed as a saloon for developing market preferences, the first City was even based on a previous generation Civic. Having itself grown, become more sophisticated and moving slightly more upmarket itself, the City, however, still represents a good value gateway car to the Honda brand.
Narrower, shorter in length, taller and no longer sharing a platform, the City's design somewhat resembles a more compact and upright relation of the fancier, lower, wider, longer and sportier Civic. It features a prominently snouty grille and browed lights, while twin bonnet ridges and deeply creased side character lines lend its body an edgier look and greater presence than previous models' less textured surfacing.
Meanwhile at the rear, the City's boot is set high and with a big distance between the C-pillar and its standard 15-inch or optional 16-inch wheels.
Rev-happy delivery
Powered by a naturally-aspirated SOHC, 16-valve, variable timing 1.5-litre 4-cylinder engine, the front-drive City features Continuously Variable Transmission (CVT) in Jordan, with 5-speed manual versions available in other markets. Smaller than the Middle East entry-level Civic DX's 1.6-litre engine, the City DX's 1.5 engine, however, doesn't give away much in terms of out output, with 118BHP developed at a heady 6,600rpm and 107lb/ft torque peaking at a relatively high-revving 4,600rpm. Down just 5BHP and 4lb/ft, yet some 150kg lighter, the significantly more affordable City delivers similar performance as the Civic.
Seamlessly smooth and progressive in delivery from tick-over to rev limit, the City's engine offers decent, if not prodigious, low-end and mid-range response, ability and versatility, but gives its best effort at top-end.
Eager and willing right to redline, the hard-revving City seemingly comes to life at top-end. Meanwhile the City's CVT is, unlike most such systems, more willing to let it rev high, with a less elastic feel when driving in the more aggressive 'sport' setting. In regular driving mode, it is inclined to keep revs low for efficiency.
Agile and eager
Unencumbered by too many costly and heavy frills like a sunroof or electric seats and the like, the City is a compact four-door saloon, which at 1,095kg, is somewhat of a lightweight in this modern age of ever unnecessarily heavier cars.
Nearly as powerful as its more upmarket Civic sister, the City, however, has slight torque- and power-to-weight advantages, and can accelerate through 0-100km/h in about the same time or quicker at an estimated 11.5-seconds. Top speed is meanwhile marginally less owing to a marginal aerodynamic disadvantage, or gearing considerations, at 190km/h.
Designed to be a convenient, comfortable, refined, easy to drive and efficient small saloon for city driving and for commuting, the City's lightweight and small size, however, also make it fun and agile when driven briskly through narrow and winding roads.
If not quite as sophisticated, settled and buttoned down as the larger, independent rear suspension Civic, the City, however, feels more pointy and nimble and can seemingly turn on a dime with its shorter wheelbase and quick and direct steering, and also feels more edgy, engaging and alert at the limit.
Supple and smooth
Tidy and eager turning in, the City's slim 175/65R15 tyres provide delicately precise feel and feedback for the road and the cars' position and limits, but are also durable and supple as they well soak road imperfections. Turning with some slight lean, and with power shifting effectively to the outside wheel, the City, with its less sophisticated torsion beam rear suspension feels playful, adjustable and eagerly rewarding.
Easy and intuitive to manoeuvre through narrow switchbacks and city streets, the City also offer decent visibility and is a doddle to park in small spaces.
Refined and smooth riding in its segment, the City felt settled at speed and on rebound, if with a slight bounce over large speed bumps. Inside, it is comfortable and reasonably well-insulated, with high, upright seating. Convenient and efficient, it delivers around 5km/l quoted fuel consumption, and terrific real world efficiency.
Comfortable inside, if slightly narrow, it offers good front headroom, especially without sunroof, better rear headroom than many larger, lower cars, adequate rear legroom and generous 510-litre luggage volume. Design is classy, if not pretentious, while equipment levels cover important things without being excessive.
TECHNICAL SPECIFICATIONS
Engine: 1.5-litre, transverse 4-cylinders
Bore x stroke: 73 x 89.4mm
Compression ratio: 10.3:1
Valve-train: 16-valve, SOHC, variable valve timing and lift control
Gearbox: Continually variable transmission (CVT), front-wheel-drive
Power, BHP (PS) [kW]: 118 (120) [88] @6,600rpm
Specific power: 78.8BHP/litre
Power-to-weight: 107.7BHP/tonne
Torque, lb/ft (Nm): 107 (145) @4,600rpm
Specific torque: 96.8Nm/litre
Torque-to-weight: 132.4Nm/tonne
0-100km/h: 11.5-seconds (estimate)
Top speed: 190km/h
Fuel consumption, combined: 5-litres/100km (estimate)
Fuel capacity: 40-litres
Length: 4,455mm
Width: 1,695mm
Height: 1,475mm
Wheelbase: 2,600mm
Track, F/R: 1,490/1,480mm
Ground clearance: 150mm
Luggage volume: 510-litres (estimate)
Kerb weight: 1,095kg
Steering: Electric-assisted rack & pinion
Turning Circle: 10.52-metres
Suspension, F/R: MacPherson struts/torsion beam
Brakes, F/R: Ventilate discs, 355mm/drums
Tyres: 175/65R15
Price: JD17,500 (on-the-road, third party insurance)
Newsletter
Get top stories and blog posts emailed to you each day.