You are here
Jeep Grand Cherokee Trackhawk: Big beast among super SUVs
By Ghaith Madadha - Aug 20,2018 - Last updated at Aug 20,2018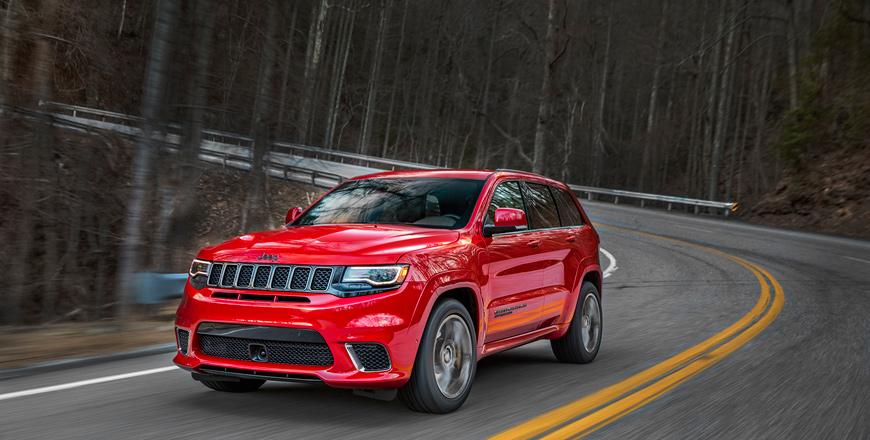 The most powerful of super SUVs, the Jeep Grand Cherokee Trackhawk creation was as inevitable as that Dodge's legendary modern muscle car "Hellcat" engine would find its way into another Fiat Chrysler Group (FCA) product. A popular, versatile and capable model best placed to harness such power in a different segment, the Grand Cherokee was the most likely candidate.
The resulting 707BHP Trackhawk is the Dodge Challenger and Charger Hellcat models de facto SUV sister and FCA's sledgehammer riposte to established Range Rover, Porsche and Mercedes-AMG super SUVs and Bentley and Lamborghini newcomers.
Imposing and urgent
Introduced for 2018 along with minor model-wide revisions that includes improved technology and trim, the Trackhawk arrives a year after the more off-road biased Trailhawk version. Sitting at the top of the Grand Cherokee hierarchy, the Trackhawk is an even more on-road focused and high performance model than the existing 475BHP SRT version. Subtly but effectively more muscular and assertive in aesthetics, the mighty Trackhawk sits with a seemingly lower, broad and more road-hugging posture that emits a more dramatic and urgent sense of purpose than garden-variety Grand Cherokees.
Imposingly high, and with aggressively squinting and heavily browed headlights, the Grand Cherokee Trackhawk features a bigger and lower bumper section with sharp lower lips, and vast gaping mesh covered centre and side intakes. Its Jeep trademark seven port grille meanwhile sits above three slim horizontal intake vents and its bonnet features large dual extraction vents. Gone is the lower black cladding of more off-road oriented Grand Cherokees, the Trackhawk instead gets wider, more muscular body colour wheel-arches and lower more pronounced sills. Riding on vast 295/45ZR20 tyres, the Trackhawk's rear meanwhile features quad big bore exhaust tips.
Immediate and intense
Developed during late FCA CEO Sergio Marchionne's tenure, the "Hellcat" engine — and yet more powerful iterations of — not to mention the Trackhawk itself, are testament to the Italian-American auto group's dedication to cater to motoring enthusiasts. A relatively compact and old school 16-valve OHV design, the Trackhawk's supercharged big displacement 6.2-litre V8 developing a colossal 707BHP at 6,000rpm and a gut-wrenching 645lb/ft torque at 4,800rpm. The most powerful production SUV in the world, the Trackhawk's headline figures are sensational, with the 0-97km/h benchmark dispatched in a supercar-like 3.5-seconds and a 320km/h top speed.
Among the greatest current production engines, headline figures, however, don't articulate just how immediate, intense and violent the Trackhawk's supercharged V8 is when prodded with intent. Bounding off the line with a chirp of the tyres and vicious immediacy, its given its mechanically-driven forced induction means there is no lag when launching from idling, as with an exhaust gas-driven turbocharger. Meanwhile, its tenaciously sticky four-wheel-drive ensures vice-like traction so that its full power can be fully and effectively deployed as forward motion and with no wheel spin or over-active traction control interventions.
Controlled and capable
Viciously swift through revs, the Trackhawk's delivery is a continuous volcanic torrent of escalating fury set to a deep bass burbling, growling, howling and bellowing acoustic medley underlayed by a distinctly urgent yet distant wailing supercharger whine. Disdainfully effortless achieving high speeds and increasing velocity when on the move, the Trackhawk channels its vast reserves through an 8-speed automatic gearbox. Refined, smooth and succinctly crisp shifting, its gearbox features manual mode sequential shifting, but with its redline arriving so quickly and with so much torque on tap at any time, it is just best left in auto mode.
Driving with a distinctly tauter, more focused and settled manner than regular Grand Cherokees, the Trackhawks' suspension and adaptive dampers feel tighter and firmer. With considerably more body control to contain its 2433kg weight through fast and tight corners, the Trackhawk similarly feels buttoned down and measured in vertical movement and on rebound, yet nonetheless remains smooth and comfortable riding during test drive on Austrian roads. Similarly, steering feels quicker, tighter, heavier and more direct, while immense 400mm disc six-piston calliper front and 350mm four-piston rear brakes prove effective dealing with the demands of such power and weight.
Adjustability and ability
Through more winding roads, it belies its size and weight in terms of control and precision, and pertinent for so powerful a vehicle, it effectively put power down to tarmac, with variable front-to-rear torque distribution and an electronic limited slip rear differential ensuring enhanced agility and that power is harnessed to go where it is supposed to for best handling, stability, performance, road-holding and safety. Equipped with five driving mode settings the, the Trackhawk's Sport and Track modes re-distribute more power rearwards, stiffen dampers and make gear shift times quicker, while Snow and Tow modes alternatively adjust such parameters for more utilitarian usage.
Reassuringly planted and stable at speed, the Trackhawk comfortably devours long distances with a refined ride and cabin ambiance. Spacious inside for passengers and cargo as all grand Cherokees, the Trackhawk is extensively well equipped with convenience, safety, driver assistance and safety systems equipment, including an improved and larger Uconnect infotainment screen. User-friendly and with highly adjustable driving position, the Trackhawk's cabin is distinctly sportier and features carbon-fibre and metallic trim, rich leather upholstery, Alcantary rooflining, chunky sports steering wheel with paddle shifters and heavily bolstered sports seats that are supportive and comfortable.
TECHNICAL SPECIFICATIONS
Engine: 6.2-litre, supercharged in-line V8-cylinders
Bore x Stroke: 103.9 x 90.9mm
Compression ratio: 9.5:1
Valve-train: 16-valve, OHV, variable valve timing
Gearbox: 8-speed automatic, four-wheel-drive, limited-slip rear differential
Gear ratios: 1st 4.71 2nd 3.14 3rd 2.11 4th 1.67 5th 1.29 6th 1.0 7th 0.84 8th 0.67
Reverse/final drive ratios: 3.3/3.7
Power, BHP (PS) [kW]: 707 (717) [527] @6,000rpm
Specific power: 114.7BHP/litre
Power-to-weight: 290.5BHP/tonne
Torque lb/ft (Nm): 645 (875) @4800rpm
Specific torque: 141.9Nm/litre
Torque-to-weight: 359.6Nm/tonne
Rev limit: 6,200rpm
0-97km/h: 3.5-seconds
0-100km/h: 3.7-seconds
0-400-metres: 11.6-seconds
Top speed: 320km/h
Fuel capacity: 93.1-litres
Wheelbase: 2,913mm
Track, F/R: 1,636/1,645mm
Kerb weight: 2,433kg
Weight distribution, F/R: 55/45 per cent
Payload: 612kg
Trailer towing: 3,266kg
Approach/break-over/departure angles: 18°/18.4°/23.1°
Aerodynamic drag co-efficiency: 0.37
Cargo volume, min/max: 1,027-/1,934-litres
Steering: Electric rack & pinion
Turning circle: 11.6-metres
Lock-to-lock: 3.2-turns
Suspension F/R: Unequal double wishbones/multi-link, adaptive dampers
Brakes, F/R: Ventilated perforated discs 400x36mm/350x28mm
Brake callipers, F/R: 6-/4-pistons
Tyres: 295/45ZR20
Newsletter
Get top stories and blog posts emailed to you each day.