You are here
Kilimanjaro: The beginning of the Rahhal project
Somewhere between the bottom of the climb and the summit is the answer to the mystery why we climb — Greg Child
By Alaa Juneidi - Apr 15,2019 - Last updated at Apr 16,2019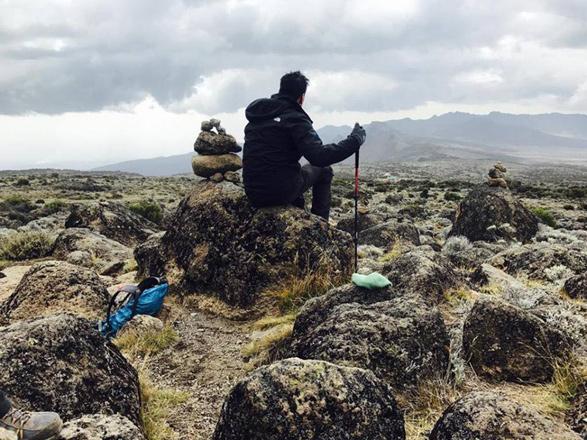 View from Mount Kilimanjaro, Tanzania, in January 2017 (Photo courtesy of Alaa Juneidi)
KILIMANJARO, Tanzania— It is estimated that each year between 35,000-50,000 people attempt to climb Mount Kilimanjaro, but only 60-70 per cent reach the Urhuru peak.
The decision to make the trek to Tanzania and climb Kilimanjaro could only be described as spontaneous. After reading an article about famed Jordanian mountaineer, Mustafa Salameh, I reached out to him through Facebook hoping just to ask him about his experience conquering the seven summits. Instead, I found myself receiving an invitation to join him on his next adventure to climb Mt. Kilimanjaro. It was the opportunity of a lifetime and, though I did not know it yet, the beginning of the Rahhal Project.
Over the next three months my cousin and I prepared for the trip by gathering supplies and gear, getting the necessary vaccinations and training in Wasfi Al Tal Forest. By the day of our trip, January 9, 2017, we were ready to go, but a huge snowstorm in Amman threatened to completely derail our plans. Despite everything, we managed to catch a flight the following day at midnight, finally moving towards our destination.
After a transit flight to Qatar and nine long hours from there to Tanzania I saw the mountain for the first time… The great peak rising up through the clouds with such a quiet and commanding majesty that all thoughts and plans in my head paused to take in the sight in awed silence.
We began our decent from there to land and deplane on the runway leading to a tiny two-room building that made up the airport. The excitement of finally reaching our first destination grew greater on the one and a half hour bus ride to the city of Arusha, where our hotel and the true beginning of our journey awaited us.
Upon arriving at the hotel, we immediately checked in and began to organise our packs for the trip the next morning to make sure they would not exceed the 15kg limit; with no time to have dinner, we retired early to rest for our trip. The next morning, we embarked with the people who would be our companions for the next eight days on a lively three-hour bus ride full of laughter, excitement and singing "Hakuna Matata…" to the base of Mt Kilimanjaro.
When we reached the gate at the bottom of the mountain, each person registered their name and had a light lunch in the two hours before beginning the first of many treks.
Our journey to the first camp was four hours of hiking through a thick forest of massive, ancient trees while enthusiastically chatting about the adventure ahead as we all got to know each other. I noticed myself becoming more open and welcoming to these people who, just hours before, were complete strangers. Once we reached the first camp, we settled in our tents and then sat down for one of the best meals I've had in my entire life; crispy fried chicken seasoned with warm, aromatic spices and fresh, revitalising fruit. After dinner and a few rounds of Jenga, we finally retired to get some much-needed rest for the road ahead.
We began our morning at 6am, having breakfast and coffee before checking our packs and oxygen levels and by 8am we were on our way to the next camp. As we climbed higher, I marvelled at the ways the environment had begun to change; the trees became shorter and sparser, the temperature steadily began to decline, forcing us to wear more layers and to find the balance between staying warm enough and becoming overheated.
Each day for seven days, we would hike six to eight hours and cover between 10-12 kilometres to reach each new stopping point. As we progressed to higher altitudes, it became more and more vital to use the breathing technique we were taught; in through the nose and out through the mouth, to make sure we were getting oxygen efficiently.
On the fourth day we arrived at a natural barrier known as the Barranco Wall, an obstacle made more challenging by the loose footing. After four long days, I had started to lose motivation, but upon reaching the other side of the wall, the view that waited was more than enough to renew my determination. I stood, surrounded by clouds and felt pride at the achievement of coming so far, with a renewed sense of purpose I pushed on.
On the 6th day, we saw the summit for the first time…I remember thinking to myself that maybe I was crazy for taking this challenge on, but still, we continued. Soon we reached the high camp which sits at 4,600 metres. In the pitch black at 12am on the 8th day, we began the hardest trek of the trip — 35 kilometres to the summit in extreme cold, the wind tearing at us so ferociously that we hiked with our heads, unable to see or speak.
At 5,400 metres it became clear that something was very wrong. My cousin could not see anything and began experiencing hallucinations, his oxygen level had dropped to a dangerous 65 per cent (the safest minimum level being 80 per cent); he was immediately carried down on the back of our guide, Mustafa Salameh, who ran the whole way back to high camp where my cousin would receive emergency medical attention. The absence of my cousin and our main guide hit me like a stone, but I felt determined that one of us should reach the summit. We carried on, the final 300 metres taking three hours to complete, through exhaustion and difficulty breathing in the high altitude.
At 5:30am we arrived at the summit, freezing and tired at -15ºC, to see what we had climbed eight long days for. A view that made every obstacle we faced, every impossible element, worth it; 360 degrees around for kilometres that was indescribable. We stayed only long enough to take a few pictures before we began our decent back to the high camp.
We returned to find my cousin well and recovering before we moved down to the next camp which sat at 3,200 metres. We stayed one final night on Kilimanjaro before an eight hour hike all the way down to the main gate the next day where we received certificates marking our achievement.
What started as a spontaneous trip, turned out to be a journey to discover the limits of will and the unbreakable bonds between people who dare to take on extreme challenges. Climbing Mt. Kilimanjaro was the true beginning of what is now the Rahhal project and will forever remain one of most incredible experiences of my life.
The writer is a Palestinian traveller that plans to visit 140 countries. He contributed this article exclusively to The Jordan Times.
Newsletter
Get top stories and blog posts emailed to you each day.