You are here
Mercedes-Benz C-Class Coupe makes regional debut
By Ghaith Madadha - Mar 14,2016 - Last updated at Mar 14,2016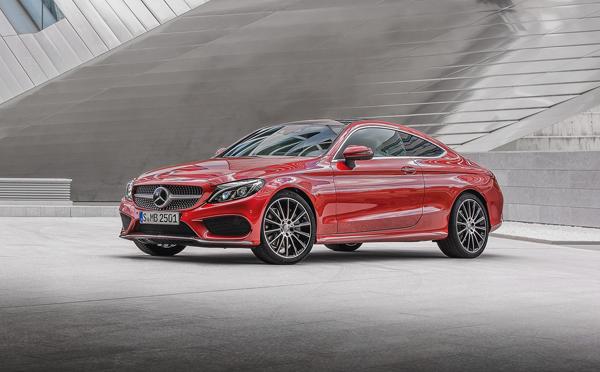 Mercedes-Benz C-Class Coupe (Photo courtesy of Mercedes-Benz)
First revealed late last year at the Frankfurt Motor Show and making its regional Middle East debut earlier this month, the Mercedes-Benz C-Class Coupe is a sporty complement to the tri-star brand's junior executive saloon. A sophisticated design that takes its cues from Stuttgart's full-size flagship personal luxury S-Class Coupe, the C-Class Coupe offers similar sense of glamour, but at a more accessible and affordable point.
Unveiled at a swanky event at the Dubai Design District to highlight its stylish aesthetics and its projected clientele of more youthful well-to-do professionals, the C-Class Coupe's wide snouty framed grille, browed swept back lights, and assertive bumper and bonnet closely reflect its four-door sister. From A-pillar back, the C-Class Coupe features a more rakishly elegant and low gently arcing roofline trailing off to a descending rear deck.
With big tri-star emblem framed by thick single slats embedded in its wide grille dominating front views, the C-Class Coupe's profile features a prominent sill line, and sculpted side character lines with concave surfacing. Complementing its slinky roofline, the C-Class Coupe features a rising waistline, and narrow glasshouse with blacked out hidden B pillars and frameless door windows.
Longer and wider than its predecessor and sitting 15mm closer to the ground than the current C-Class saloon, the new C-Class Coupe has a more luxurious presence, with a 60mm longer distance between firewall and front axle highlighting this. Meanwhile, a 40mm longer wheelbase more than the car it replaces improves cabin space.
Powered by a broad choice of efficient and effective turbocharged four and V8 engines driving the rear wheels through a seven-speed automatic gearbox — or with optional four-wheel drive for some models — the C-Class model range begins with the C180 with a perky 1.6-litre four cylinder developing 154BHP and 184lb/ft able to dash to 100km/h in 8.8 seconds. Mid-range engines include C200, C250 and C300 models using a 2-litre four-cylinder engine tuned to 181BHP and 208BHP and 241BHP, and 221lb/ft, 258lb/ft and 273lb/ft respectively.
Covering the 0-100km/h acceleration benchmark in 7.3 seconds in C200 guise, 6.8 seconds as a C250 and 6 seconds flat as a C300, the C-Class Coupe is also available in two high performance guises, courtesy of Mercedes' inhouse AMG skunkworks division. Built for better agility, stability, handling and overall performance, AMG variant receive more aggressive styling, including evocative dual bonnet ridges.
Powered by a 4-litre twin-turbocharged V8 engine, the standard C63 version develops 469BHP and 479lb/ft torque and can demolish the 0-100km/h acceleration benchmark in 4 seconds. Meanwhile, a more aggressively tuned C63 S variant produces 503BHP and 516lb/ft, and shaves 0-100km/ acceleration time down to a mere 3.9 seconds. Both can be specified with optional 4Matic four-wheel drive to better put their volcanic performance down to tarmac.
Built with lighter and stiffer components, including more aluminium content, for enhanced efficiency, handling, ride and safety, the new C-Class Coupe even features optional adaptive Airmatic air suspension for a smoother more supple ride and enhanced body control. Featuring various driving modes, the C-Class Coupe's suspension, steering, gearbox and throttle characteristics can be tailored for comfort, sporty driving and track duties.
Thoroughly well equipped with standard and optional features, the C-Class Coupe's long list of infotainment, convenience and safety systems include semi-autonomous driver assistance features such as attention, brake and collision prevention assistance systems. Meanwhile, adaptive cruise control and steering input lane keeping assist can operate at up to 200km/h.
Stylish and functional with quality leathers, metals and soft texture materials, the C-Class Coupe features circular vents, chunky sports steering wheel and a tablet-style infotainment screen. Advanced infotainment systems include Mercedes-Benz Apps, Bluetooth connectivity, voice command, interactive navigation and a Burmester sound system, standard to cars in some Middle East markets.
up
45 users have voted, including you.
Related Articles
Aug 04,2014
Launched earlier this year the latest incarnation of Mercedes-Benz junior executive C-Class model line is a larger and more luxurious and high tech offering than the car it replaces.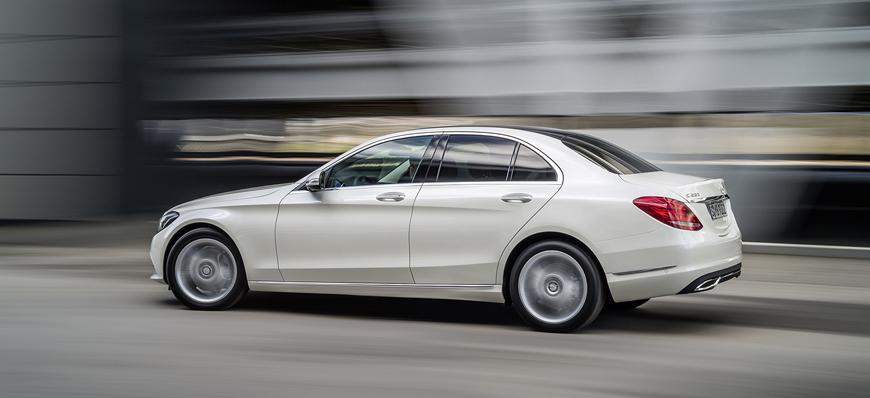 Jul 11,2016
Launched in 2014 as Mercedes' fifth compact executive saloon since the 190 first appeared in the 1980s, the C-Class has become a more luxuri
Apr 28,2014
Larger and more comfortable, luxurious and advanced, the latest generation Mercedes C-Class however boasts significant weight, fuel consumption and emissions reductions. 
Newsletter
Get top stories and blog posts emailed to you each day.