You are here
A moment of confrontation
By Rand Dalgamouni - Mar 22,2014 - Last updated at Mar 22,2014
AMMAN — In his photography exhibition "Orientalism" at Jacaranda Images, prolific Egyptian artist Mohamed Abouelnaga does not attempt to give a clear-cut answer to what the Orient is; instead, he chooses to play on its elusive and enigmatic nature.
Distorted by the subjective image drawn by European orientalists to depict it, the Orient — and Arabs in extension — is now at a struggle to come to terms with what it really is.
"The romanticised Orientalist vision of the East has affected how we view ourselves, to the extent that we have come to believe that depiction and use it to refer to ourselves," the artist told The Jordan Times.
Abouelnaga's art emphasises the foggy situation of Arab identity at the moment, stitching layer over layer of cloth over photographs of Arab women on backgrounds inspired by Arabic heritage, such as calligraphy, arabesque patterns and depictions of holy Muslim sites.
"I used many layers that imply a case of constant change and movement. Everything is out of focus," he explained. "With these Arab revolutions, we find ourselves once again discussing the concept of identity."
As Arabs delve deeper into this introspective review of culture and being, clarity continues to elude them.
Layers of tulle, silk and paper, and blotches of ink and colour obscure the images in Abouelnaga's works of mixed media, inviting a meticulous examination of each individual piece that never reaches a satisfying conclusion.
The viewer is left to wonder and debate what the multiple veils hide.
"This Orientalist view has rendered us unable to see the other or ourselves clearly," said the multidisciplinary artist, who has held exhibitions in the US, Mexico, and several European countries.
Heavily influenced by Edward Said's writings on Orientalism, Abouelnaga goes on to show that while Western scholars may have created an Orient that has little to do with the peoples living in the East, Arabs themselves are still struggling with their identity and how to define themselves.
"Is there an actual clear idea of what an Islamic or Arab identity is as a whole?" he asked.
In his book on "Orientalism", Said describes it as "a Western style for dominating, restructuring, and having authority over the Orient".
He argues that the West has depicted the Orient as strange, odd, bizarre, exotic and weirdly irrational in contrast with the "rational normality" of Western culture.
The Orient is also feminine, passive and submissive, in opposition to the West's "masculine" features of activity and domination.
Out of that conceptualisation, the images of females and nude women persisted in European Orientalist art.
Similarly, the Egyptian artist's work abounds with depictions of women, but most of them are dressed in more traditional attire.
Abouelnaga's idiosyncratic style and his depiction of what he perceives as the "New Orientalism" leaves viewers with more questions than answers, out of his belief that Arabs are still trying to come to terms with the aftermath of the latest revolutions.
His work brilliantly depicts "a moment of confrontation" that the Orient is going through to find itself.
But Abouelnaga is optimistic about the future.
"Just like Europe couldn't easily recover from two world wars to rebuild itself… it will take us time to find answers to questions of identity," he said.
The exhibition, which is held within the Institut Français' and Darat Al Tasweer's jointly organised fourth Image Festival, continues through March 31.
Related Articles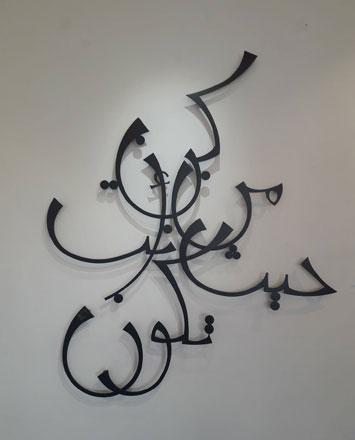 Oct 26,2017
AMMAN — Using Arabic calligraphy to convey her personal feelings towards the difficulty of change and the relation to one's home, artist Dia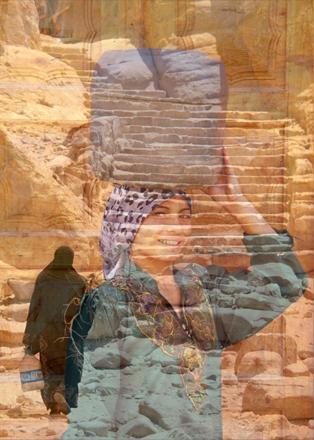 Apr 04,2017
AMMAN — Little over five years since her first exhibition at Jacaranda Images, and as part of The Image Festival Amman, now in its sixth edi
May 05,2018
AMMAN — Art enthusiasts of all ages on Saturday took part in a collage workshop held at local gallery Jacaranda Images, under the title "Col
Newsletter
Get top stories and blog posts emailed to you each day.