You are here
New mobile game goes viral
By Jean-Claude Elias - Apr 24,2014 - Last updated at Apr 24,2014
When it comes to high-tech innovation subjects abound, going from insane to realistic. With today's state of technology, however, even the insane doesn't seem quite impossible. It goes from British car manufacturer Land Rover's futuristic invisible car bonnet that lets you see the road under your car to emotion detectors that would make driving safer, and to the musical gloves experimented by avant-garde British musician Imogen Heap and that lets her play music just by intuitive hand motion. The media abound with such high-tech news.
And then comes the simple, down-to-earth, light and entertaining. Enter QuizUp.
I recently discovered this new mobile game. Essentially it is a quiz, general knowledge game for mobile devices. Yet it is like no other. First built for Apple's iOs towards the end of 2013, it has now a version for Android too, therefore making it available for a much larger, global community. Therefore, whether your smartphone or tablet runs under Android or iOs, you can play QuizUp.The game is different from the countless known quiz gamesfor many reasons; all good ones.
QuizUp has some 400 topics to choose from. If you are not good at classical music for example you can pick up logos guessing, or photography, or computer science, or the Beatles, etc. When you play it's against a real opponent, someone anywhere in the world. The opponent could be chosen for you at random by the network, or you can challenge someone you know is on the network. And you almost never wait to find an opponent.
The game is trendy for it relies on speed as much as if not more than it relies on actual. You have to read the question and find the answer, among a multiple choice of four, in a fraction of a second. Providing the correct answer but after your opponent will give you less points. Another smart aspect of the smart design is that each game consists of only seven questions, making it last less than 90 seconds. This alone entices you to come back and to play more frequently.
The simplicity and speed that are built into the game definitely make it smart and avant-garde. By today's standard, software — whether gaming or other — must take these two traits into consideration to compete. Intuitive is another quality of QuizUp. It also comes with a few other goodies.
By winning and moving up players are awarded "titles" that they can choose from and that then appear next to their name "beginner", "cool Chopin", "mathemagician", etc…. One can also sign in with a profile they already may have on other networks like Google+ or other. If you do particularly well in any given topic, say geography, in your region, QuizUp would bestow on you a title such as "Best in Jordan in Geography" and that will also be displayed under your name for all your opponents to see!
According to nymag.com (New York Online magazine) QuizUp is "the fastest-growing mobile game in history". Saying that it has gone viral is an understatement.
With each successful online game or social network comes the usual series of questions. Is there any trick out there? What about privacy? Do the games' developers have any hidden agenda? And so forth,,, Well, as much as I can see QuizUp hasn't asked me for much personal information at this point though I have been playing for a week or so. It didn't ask for a photo, an address, a birth date or even my gender. In that sense it has been more discrete and respectful of my privacy than any other network I deal with, including LinkedIn, Facebook, or Google+.
QuizUp is the brainchild of Plain Vanilla Games from Iceland, and as of yet, remains free.
Related Articles
May 05,2018
AMMAN — A thrilling technical presentation of LiFi, the latest trend in wireless communication technology, last Wednesday took place in Amma
Jul 21,2017
AMMAN — Believing in the power of cinema and the role it plays in people's everyday lives, Richard Peña has been tracing film history all ov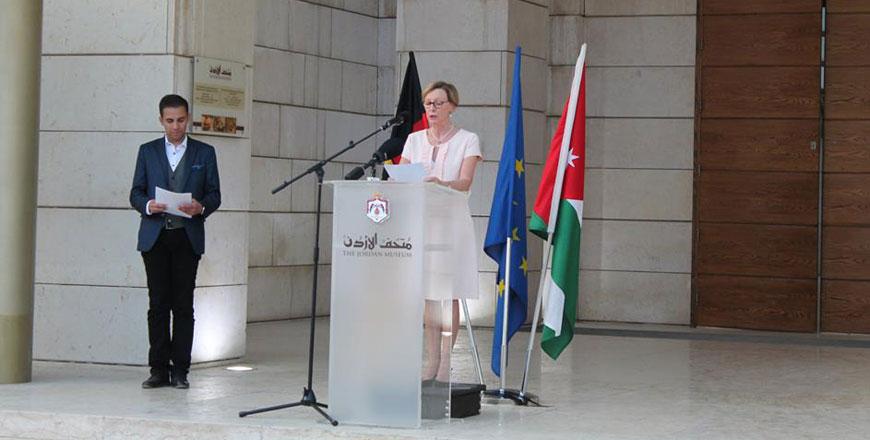 Sep 17,2017
AMMAN — Germany's Energy Transition (Energiewende) exhibition was inaugurated on Saturday, as part of the opening ceremony of the German Wee
Newsletter
Get top stories and blog posts emailed to you each day.