You are here
Nissan Pathfinder Hybrid: Effective and efficient
By Ghaith Madadha - Jan 05,2016 - Last updated at Jan 05,2016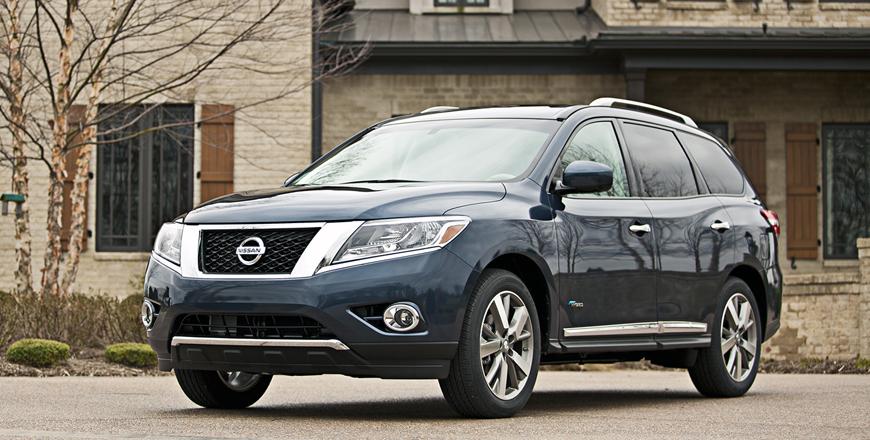 A comfortable and well-equipped large family SUV, the Nissan Pathfinder Hybrid offers competitively pricing and good fuel economy in its segment. Powered by a light hybrid drivetrain with a downsized supercharged four-cylinder engine doing the heavy lifting but supplemented by an electric motor, the Pathfinder Hybrid is effective and efficient.
A more frugal version of Nissan's practical and spacious seven-seat SUV, the Pathfinder Hybrid is powered by a 230BHP 2.5-litre supercharged engine and 20BHP electric motor, developing a combined 250BHP. Just 10BHP less powerful than the 3.5-litre naturally aspirated V6 Pathfinder, the Hybrid model's electric motor and mechanically-driven forced induction, however, provide muscular and responsive low-end torque.
Confident and consistent
Eager-off-the-line, the Pathfinder Hybrid can momentarily chirp its front tyres in 2WD mode but digs in and pounces off briskly with 4WD mode engaged. Confident and versatile with, early, broad and generous maximum torque peaking a 3600rpm, the Pathfinder Hybrid accumulates maximum power by 5600rpm and with faint evocative supercharger whine at full throttle, can achieve 0-97km/h in around 8 seconds.
Brisk in overtaking and confident and consistent uphill, the Pathfinder's light hybrid electric motor complements its petrol engine and isn't easily depleted of electric charge on extended inclines and heavy throttle load. Recharging batteries swiftly through the petrol engine and regenerative brakes that transform kinetic energy to electric, the Pathfinder Hybrid is frugal for its size and weight, consuming just 7.4l/100km, combined.
Silky smooth and efficient the Pathfinder Hybrid's continually variable transmission (CVT), however, doesn't feature manually selectable pre-set simulated "gear" ratios, but instead features a "low" modes for when wants more to keep revs high. Transmission "downshifts" at low speed could be slightly more responsive. However, a dual-clutch system ensures generally good integration between the petrol engine, electric motor and transmission.
Balanced and settled
Smooth, brisk and with good mid-range muscle, the Pathfinder Hybrid is in its element on the motorway, where it is stable, refined and comfortably able to soak up road imperfections despite big somewhat low profile 235/55R20 tyres. For a tall, comfortable and not overtly sporty vehicle weighing 2071kg, the Pathfinder Hybrid keeps body roll under good control and is settled on vertical rebound.
Unexpectedly agile, balanced and confident through sprawling and narrow but brisk countryside switchbacks, the Pathfinder Hybrid's light steering isn't the most direct there is, but weighs up nicely when leaned on through corners. Turning in tidy and early into a cornering line, the Pathfinder Hybrid is happy, and entertainingly, almost instinctively eager to be hustled along B-roads.
With a long wheelbase and intuitive four-wheel drive sending power to the rear wheels when necessary, the Pathfinder Hybrid grips hard and feels stable, predictable and controllable through brisk corners, with near perfect front-to-rear weight distribution and its hybrid battery pack located low beneath rear seats. Meanwhile, big disc regenerative brakes provide good and consistent stopping power even under heavy usage.
Cavernous and comfortable
Designed with an emphasis on width and a sense of movement, the Pathfinder Hybrid's bold grille and bonnet ridges trail away to bulging and arcing front wheel arches housing large 20-inch alloy wheels. Meanwhile, a rakish front screen angle, subtly descending roofline and bulging wavy rear haunches lend the Pathfinder and rear-heavy yet athletic and urgent stance from profile.
Both a design and engineering departure from its more traditionally boxy predecessor, the current Pathfinder is designed for improved driving refinement, ride comfort, and passenger and cargo space. Designed primarily for road use, it however features lockable four-wheel drive, 14.7° approach, 16.2° break-over and 22.3° departure angles and 180mm ground clearance for broken, rough and gravelly roads.
Spacious and practical, with between 453-2,259 litres cargo volume depending on seat configuration, the Pathfinder Hybrid offers good front visibility, driving position and ergonomics with 8-way adjustable driver's and seat. Convenient and comfortable with wide door swing angles, step-in running boards, low cargo loading height and power tailgate.
Versatile and practical
Generously accommodating in front two-seat rows, the Pathfinder easily accommodates larger occupants with good shoulder, leg and headroom. A versatile split reclining and sliding middle bench can be folded forwards even with childseat in place, to allow easy access to a decently sized rearmost third row seats.
Ergonomically laid out with intuitive controls and good storage space, the Pathfinder Hybrid also features plenty of soft touch textures and leather upholstery in either beige or black. With an airy and welcoming ambiance with large twin sunroofs, the Pathfinder Hybrid, the Pathfinder Hybrid also features tri-zone climate control and welcome lighting
Competitively priced at JD42,600, the Pathfinder Hybrid is well-equipped in SV spec as driven, and features, remote central locking and engine start and multi-function steering wheel. Also included are 6-speaker USB and MP3-enable infotainment, smart auto headlights, rearview monitor and reversing sensors and cruise control, among other features.
TECHNICAL SPECIFICATIONS
Engine: petrol/electric hybrid, 2.5-litre, transverse, supercharged 4 cylinders
Bore x stroke: 89 x 100mm
Valve-train: 16-valve, DOHC
Gearbox: Continuously variable transmission (CVT) 6-speed auto
Drive-train: Four-wheel drive
Gear ratios: 2.43:1–0.38:1
Reverse/final drive: 1.79:1/5.577:1
Power – petrol engine, BHP (PS) [kW]: 230 (233) [171] @5600rpm
Power – electric motor, BHP (PS) [kW]: 20 (20) [15]
Power – combined, BHP (PS) [kW]: 250 (254) [186]
Torque – petrol engine, lb/ft (Nm): 243 (330) @3600rpm
Torque – electric motor, lb/ft (Nm): 29 (40)
Torque – combined, lb/ft (Nm): 243 (330)
Maximum engine speed: 6200rpm
0-97km/h: 8 seconds (est.)
Fuel consumption, city/highway/combined: 7.8-/7.1-/7.4 litres/100km
Fuel capacity: 73 litres
Wheelbase: 2900mm
Ground clearance: 180mm
Approach/break-over/departure angles: 14.7°/16.2°/22.3°
Aerodynamic drag co-efficient: 0.33
Legroom, F/M/R: 1072/1059/781mm
Step-in height, F/R: 480/495mm
Cargo lift-over height: 798mm
Cargo volume, min/max: 453/2,259 litres
Kerb weight: 2071kg
Weight distribution, F/R: 56/54 per cent
Suspension, F/R: MacPherson struts/multi-link, anti-roll bars
Steering: Power-assisted, speed sensitive
Lock-to-lock: 3.3 turns
Turning circle: 11.8 metres
Brakes: Ventilated discs, regenerative braking
Tyres: 235/55R20
Price, as tested: JD42,600 (on-the-road)
Related Articles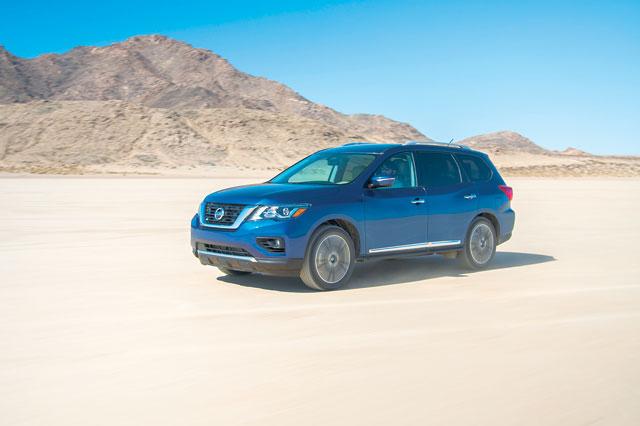 Nov 06,2017
Revised for the current model year and nominated for the coming Middle East Car of the Year Awards, the Nissan Pathfinder range may have dro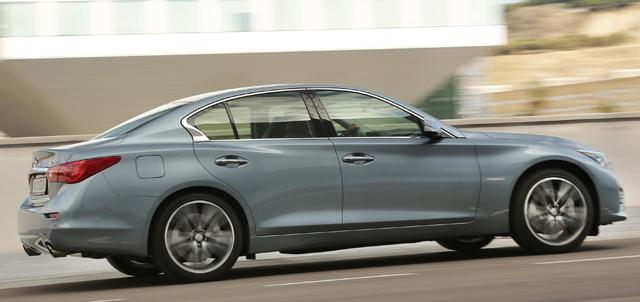 May 19,2014
A high-tech replacement for the Infiniti G Sedan, the new Q50 compact premium saloon is the luxury brand's first new offering since recently relocating to Hong Kong and reasserting itself as a global and urbane sports luxury brand.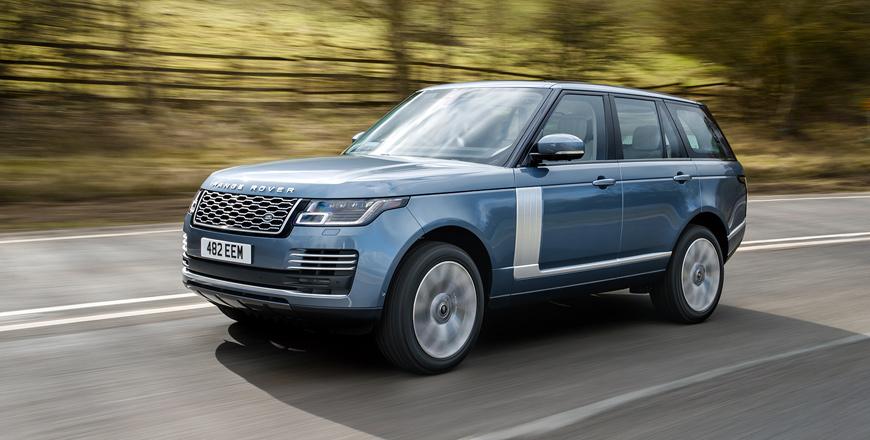 May 21,2018
Launched globally in recent weeks, the Range Rover P400e PHEV is Land Rover's entry into the full-size luxury hybrid SUV segment.
Newsletter
Get top stories and blog posts emailed to you each day.