You are here
Plagiaristic tendencies
By Nickunj Malik - Jul 27,2016 - Last updated at Jul 27,2016
I might not know much about Melania Trump, wife of the Republican presidential candidate, Donald Trump, but I have discovered this: the prospective next first lady of America never went to a convent school. If she had, there is no way she would have copied one and a half paragraphs of Michelle Obama's speech that she delivered at the Democratic Party conclave eight years ago, and pass it off as her own, at the Republican National Convention recently. Forget the plagiarism checker, the nuns would have instilled an invisible "originality checking" device into her conscience so effectively, that she would never think of imitating someone, even in her dreams.
The first time I peered into a dictionary I was around seven years old. The word I was looking for kept evading me. You have to remember that there was no Google to help us in those days. I went back and forth over the pages that had all the words with the letter "v" but for the life of me I could not find "voriginal". I was sure that was what our new English teacher told us to be, under every circumstance, especially while writing our essays, speeches or articles for the school magazine. The entire evening I could not locate the meaning of the term and was devastated at the thought of facing our strict nun the next morning. She had a habit of ramming a wooden ruler onto her table very loudly to make a point. The sharp noise it produced had me shaking in my shoes.
When my brother spied my tear stained face, his heart must have melted because he offered to help me. "Say the word out aloud", he urged. I complied. "You sillybilly, your teacher was telling you to be 'original' which means to be unique, genuine or authentic. Train your ear to her ethnic accent and you will get it," he laughed pulling my pigtails. I got it instantly. And I retained that knowledge for the rest of my life. Being original was the mantra that guided me and the lessons taught by our formidable nun stayed with me.
When I started my writing career more than two decades ago, I used to get derailed occasionally when I tried to impress the readers by using fancy language to describe simple things. It was an exercise in futility I soon realised, but at that time, I was full of my own importance. In one of the book reviews, instead of writing, "the skeleton came out of the closet", I wrote "a concatenation of skeletons came tumbling out of the closet in quick succession". The editor must be on leave because the entire phrase was carried verbatim, without any editing. I felt very uncomfortable about my showing off in the write-up, but a week later I read another writer's opinion piece in the same broadsheet. Somewhere between denouncing the government and its policies he plagiarised my whole exaggerated idiom, word for word! I was both annoyed and amused. Annoyed because he had pinched my creative hyperbole without giving me any credit, and amused because, well, imitation is the sincerest form of flattery.
"You know what I think?" I asked my husband.
He kept reading the newspaper.
"Melania's secret speechwriter is Michelle," I declared.
"More skeletons in the cupboard?" he quizzed.
"Tumbling out in quick succession," I laughed.
"Who," he was puzzled?
"Plagiarists," I said.
"Ok," he agreed, going back to the paper.
Related Articles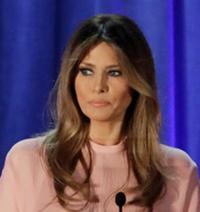 Nov 09,2016
NEW YORK — Melania Trump brings poise and glamour to the presidency of her husband Donald Trump, and will become America's first foreign-bor
Dec 10,2014
My grandmothers were constantly knitting, especially my father's mum who was called Bibiji. Her real name was not that, of course not. But from my early childhood I had always seen everybody refer to her in this extremely respectful manner. 
Jun 29,2016
Last week, along with everybody else, I suffered from an overdose of British politics via the international news channels.
Newsletter
Get top stories and blog posts emailed to you each day.