You are here
Shakira, Shakira: Latina superstar with tax woes
By AFP - Nov 18,2023 - Last updated at Nov 18,2023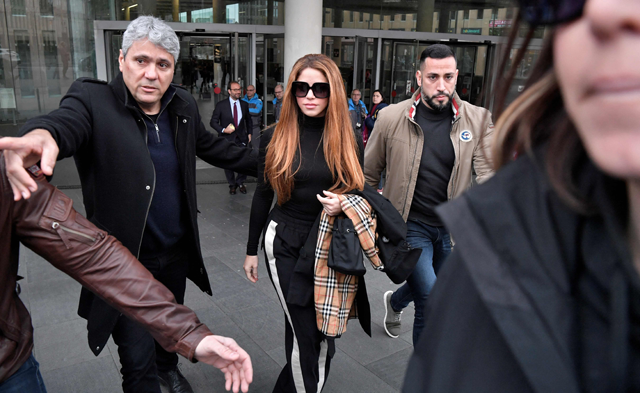 Colombian singer Shakira (centre) leaves the court in Barcelona on December 1, 2022, after she has attended the ratification of the separation demand with his ex husband Spanish football player Gerard Pique (not pictured) and the agreement on the custody of their children (AFP photo)
PARIS — Shapeshifting Colombian superstar Shakira is in comeback mode after a torrid, highly publicised split from her footballer ex, Gerard Pique.
But the trials of the woman dubbed the queen of Latin music since her 2005 smash hit "Hips Don't Lie" are far from over, with all eyes on Barcelona, where she will take the stand on November 20 on tax fraud charges.
Prosecutors are seeking a jail sentence of eight years and two months and a fine of nearly 24 million euros ($26 million) for the pint-sized 46-year-old diva, who previously lived in Barcelona with Pique.
They accuse her of defrauding the state of 14.5 million euros on income earned between 2012 and 2014, charges denied by the singer who says she only moved to Spain full time in 2015.
In September, she was hit with a second investigation into alleged tax fraud, this time amounting to a suspected 6.6 million euros.
Shakira now lives in Miami, with her two sons, Milan and Sasha.
Dark times
Both an icon of Latina girl power and a sex symbol, the "Whenever, Wherever" songstress and "Waka Waka" performer at the 2010 South Africa World Cup has sold some 80 million albums worldwide and won three Grammy awards.
But the last few years have not been easy for Shakira Isabel Mebarak Ripoll.
And in June 2022 she announced her split from Spanish football hero Gerard Pique, with whom she has two children, ending what had been one of the world's most famous celebrity couples.
Around the same time, her elderly father suffered a bad fall and sinister stalker-like messages were spraypainted outside her Barcelona home.
"Everything happened at once. My home was falling apart," she told People Magazine in 2023.
"I was finding out through the press that I had been betrayed while my dad was in ICU [intensive care].
"I thought I wasn't going to survive so much."
Picking herself up through her music, Shakira released a searing revenge song with Argentine DJ Bizarrap that has been viewed 645 million times on YouTube.
Slamming Pique and his new love interest, she sings: "You swapped a Ferrari for a Twingo/You swapped a Rolex for a Casio."
'Like a goat'
Her phenomenally successful career is a story of serial reinvention, from teen crooner to Colombian rock chick to Latina bombshell.
She grew up in a family of Arab descent in the Colombian port city of Barranquilla and began performing at the age of four, when she hopped up onto a table in a Middle Eastern restaurant and had the room clapping and cheering as she bellydanced.
"I fell in love with the sensation of being on stage," she told Britain's Guardian newspaper in a 2002 interview.
Her friends were less complimentary about her voice, declaring she sang "like a goat", but Shakira was undeterred, recording her first single "Magia" as a denim-clad 14-year-old pining for her first love.
Her breakthrough came in 1996 with her third album "Pies Descalzos", featuring a young rocker with jet black hair and a guitar slung across her shoulder.
'Innocent sensuality'
By 22, she had become Latin America's biggest pop star, with fans including Colombian Nobel literature prize laureate Gabriel Garcia Marquez, who declared she had "invented her own brand of innocent sensuality".
To help her break out of Latin America, US-Cuban diva Gloria Estefan encouraged her to sing in English and in 2002 she went on a world tour with her first bilingual album, "Laundry Service".
She had become blonde by this point, mixed salsa and merengue with RnB, electro and hip-hop on chart-topping tracks like "Whenever, Wherever", and infused her routine with the head-spinning hip gyrations that would become her trademark.
By the time she got to the World Cup South Africa, where she met Pique and headlined the closing ceremony, she was a superstar.
In 2017, she temporarily lost her voice after suffering a haemorrhage on her right vocal cord and was forced to call off a world tour for seven months.
But she recovered and enjoyed a new career high in 2020 when she shared a half-time show with Jennifer Lopez during the Super Bowl.
This year she collaborated with one of her new rivals on the Colombian music scene, Karol G, on the reggaeton hit "TQG" (acronymn for "Too Big for You" in Spanish).
It included further jabs at Pique and hit the top spot on Spotify.
Related Articles
Sep 13,2023
NEW YORK — Taylor Swift cleaned up at Tuesday's MTV Video Music Awards, as Shakira accepted the night's prestigious Video Vanguard prize wit
Nov 01,2020
NEW YORK — Ariana Grande had the twitterati abuzz on Friday after dropping her third album in three years, a pandemic-era meld of juicy pop
Feb 09,2017
LOS ANGELES — Streaming has rapidly transformed the music industry and if there is to be a single moment to confirm the format's arrival, it