You are here
Single fathers rate physical and mental health lower than if they have partner
By Reuters - Dec 27,2016 - Last updated at Dec 27,2016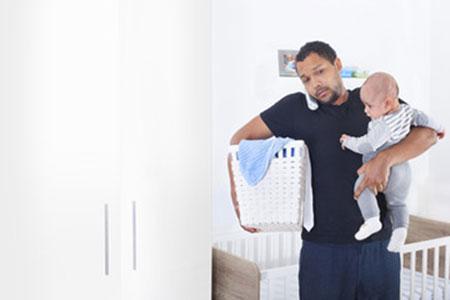 Photo courtesy of m.life.tw
Single dads are twice as likely to report poor physical and mental health as fathers with partners, according to a new Canadian study.
In addition, solo fathers experience the same stress and strain as single mothers, which is likely related to low income and unemployment, researchers say.
"We have long known that lone parenthood has negative effects on parents' health, but few studies focus on the single father population," said lead author Maria Chiu of the University of Toronto.
Single parent households make up 27 per cent of families in the US, 25 per cent of families in the United Kingdom and 16 per cent of families in Canada, Chiu and her colleagues write in Journal of Epidemiology and Community Health.
"We know that, in general, men are more reluctant to seek health services, especially mental health, because of the stigmas attached," she told Reuters Health. "We need to pay attention to the physical health and mental health of single dads in the same way we do with single moms."
Chiu and colleagues looked at responses from 1,058 lone fathers in Canadian Community Health Surveys between 2001 and 2013. About 12 per cent of single fathers and single mothers reported poor or fair health on a five-point scale ranging from "poor" to "excellent". Lone fathers were twice as likely as partnered fathers to rate both their physical and mental health as "poor/fair".
"The single-father household is the fastest growing family form in Canada," said Terrance Wade of Brock University in Ontario who was not involved in the study.
In Canada, the number of lone fathers has increased at a faster rate than lone mothers, and lone fathers now make up 21 per cent of lone parents, Chiu's team writes.
"Fathers are generally not perceived of societally as being the ones responsible for caregiving and raising children in a patriarchal society," Wade told Reuters Health by e-mail. "Lone mothers generally have more financial stress due to pervasive systemic gendered income inequality, while lone fathers generally have more caregiving stresses."
The majority of lone fathers included in the analysis were over age 45 and previously married. One in five earned less than $30,000 and 15 per cent were unemployed. One in five had two or more chronic medical conditions, and one in ten had a diagnosed mood or anxiety disorder. Compared to single mothers, single fathers also had lower fruit and vegetable consumption and were more likely to be overweight and binge drinkers.
Overall, after controlling for demographics such as age and race, lone fathers with poorer health and mental health were more likely to have lower income and lower educational attainment and to be unemployed.
Future research should look at whether single parenthood is a cause or a consequence of poor health, the study authors note. In addition, researchers should compare lone and partnered fathers to absent fathers, said Andrew Howlett of Mount Sinai Hospital in Toronto, who was not involved with the study.
"Absent fathers are another vulnerable male population that deserves attention," Howlett told Reuters Health. "It's unclear whether men who transition from being absent fathers to lone fathers experience deterioration or improvement in their well-being."
Public policy changes could help more single fathers access social assistance and child support, Chiu said.
"That's not to say that services available to moms aren't extended to single dads, but we do need to account for men being more reluctant to seek help," Chiu said. "There may be opportunities for us to examine structural barriers that exist so everyone can better receive the services they need."
Related Articles
Mar 11,2018
Mar 18,2014
Children whose mothers pay close attention to how much time they spend watching TV and playing video games tend to weigh less, according to a new study.
Oct 13,2014
Promoting mental health awareness will help eliminate the social stigma often associated with mental diseases, officials said on Monday.
Newsletter
Get top stories and blog posts emailed to you each day.