You are here
Sleep apnoea in children tied to changes in thinking and problem-solving areas of brain
By Reuters - Mar 18,2017 - Last updated at Mar 18,2017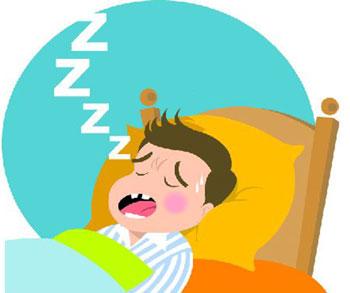 Photo courtesy of simplysenia.com
In children with a common condition that causes them to periodically stop breathing during sleep, areas of the brain involved with thinking and problem-solving appear to be smaller than in children who sleep normally, a study finds.
Researchers cannot say the brain changes actually cause problems for children at home or school, but they do say the condition, known as obstructive sleep apnoea (OSA), has been tied to behaviour and cognitive problems.
"It really does seem that there is a change in the brain or that the brain is affected," said study author Paul Macey, who is director of technology and innovation at the University of California, Los Angeles School of Nursing.
Macey and colleagues write in Scientific Reports that up to 5 per cent of all children are affected by OSA. The condition causes the child's airway to become blocked, which ultimately causes the brain to go without oxygen for short periods of time and may wake the child up.
Previous studies on lab animals and adults with OSA have shown changes in the brain due to nerve cells dying, they add.
For the new study, the researchers used magnetic resonance imaging to analyse the volume of children's grey matter, which is the outermost layer of the brain that allows for higher levels of functioning like problem solving.
They compared brain scans from 16 children with OSA and 200 children without the condition. All the youngsters were between 7 and 11 years old.
Overall, children with OSA had decreases in grey matter volume in areas of the brain important for controlling cognition and mood, compared to the other children.
Macey, who is also affiliated with the UCLA Brain Research Institute, said it's unclear how closely changes in the brain are connected to behaviour, cognition and other issues.
"We know these two things are happening, but we're not sure how much the reduced grey matter tracks with poor scores," he told Reuters Health.
The researchers also cannot say exactly why OSA is tied to reduce gray matter volume among children. A lack of oxygen may kill off brain cells or it may stop the brain from properly developing, for example.
Macey's team wants to see whether treating the condition helps children get back on track with their healthy peers.
"If we did that we would know better how people recover from it or not," he said.
Dr Eliot Katz, of Harvard Medical School and Boston Children's Hospital, said previous research shows treating OSA by removing tonsils and adenoids improves children's school performance, behaviour and sleep-related issues. Evidence is mixed on whether it improves cognition.
Katz, who was not involved with the new study, said the previous research on problems faced by children with OSA — like behaviour and cognition — is fitting nicely with the brain imaging studies.
"This is really the first large, really well controlled study that has found decrements in grey matter in children with obstructive sleep apnea," he told Reuters Health.
He said parents should discuss symptoms of OSA with children's healthcare providers. Those symptoms include chronic snoring and gaps in breathing while they sleep.
"Sleep complaints are often not addressed in well child care visits," he said, or in training programmes for paediatricians.
He advises parents to "take a brief phone video of the breathing pattern that's concerning to them and show it to their paediatrician".
Macey said daytime tiredness and mood issues can also be symptoms of OSA. Children who are overweight and obese are at higher risk for the condition.
up
27 users have voted, including you.
Related Articles
Jul 26,2015
WASHINGTON — The latest Alzheimer's research has a clear theme: Change your lifestyle to protect your brain.It will take several years for s
May 03,2016
Losing weight may help people with diabetes limit damaging changes to the brain that can result from the disease, a US study suggests.Resear
Jul 21,2015
WASHINGTON — New research suggests poor sleep may increase people's risk of Alzheimer's disease, by spurring a brain-clogging gunk tha
Newsletter
Get top stories and blog posts emailed to you each day.